Easter Tea Party
Apr 14, 2022
Thursday, April 14th    2pm – 5pm
Cornwall Square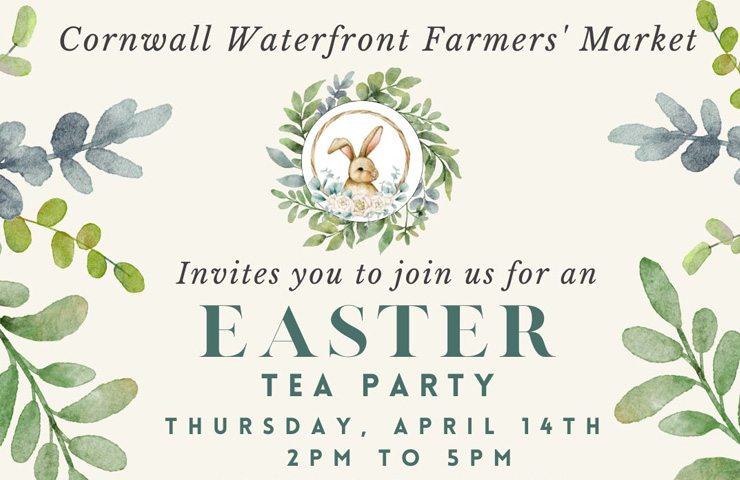 The Cornwall Waterfront Farmers' Market invites you to the Easter Tea Party from 2 pm to 5 pm in the centre court at Cornwall Square featuring locally grown teas and gluten free cookies by Cornerstone Organics and Easter treats from Ferme Butte & Bine and the Magic Cake House.
The Magic Cake House will be taking orders for Easter cookies and cupcakes and Mother's Day cakes. This is a fundraiser for the Cornwall Waterfront Farmers' Market.
Pick up your Easter dinner fruit wines from Les Vergers Villeneuve and Blueberry Farm, fresh greens, teas and other tasty delights from Cornerstone Organics, sourdough breads, granola, and specialty baked good from Ferme Butte & Bine Farm, South Asian prepared foods from Serendib Hut.
Shop for Easter gifts for yourself and others from Phoenix Bath & Beauty line of products. Visit the Market Community Table featuring hand made fairies & flowers, and precious stone pendant necklaces by Dragon Fly with Me, Emballage Bee Sustainable food wraps, garlic products from Kozroots Garlic and Herb Farm, and honey candy and honey from Road Apple Ranch. The Market Community Table is a way to fundraise and feature products from vendors who are not in attendance weekly.
Additional information
For additional information on the Cornwall Waterfront Farmers' Market, please check out their Facebook page.
We're here to help!
Got questions? Looking for recommendations? Cornwall Tourism is here to help! Text us anytime at 613-938-4748 and we will be happy to assist with any questions you might have.
#ExploreCornwallON
Looking for other fun things to do in Cornwall? Check out the Explore section of our website for other fun-filled activities to keep you busy. Better yet, consider extending your stay with a night at one of our great accommodations!