Eww… that science is gross!
Aug 31, 2023
Thursday, August 31
Ontario Power Generation Visitor Centre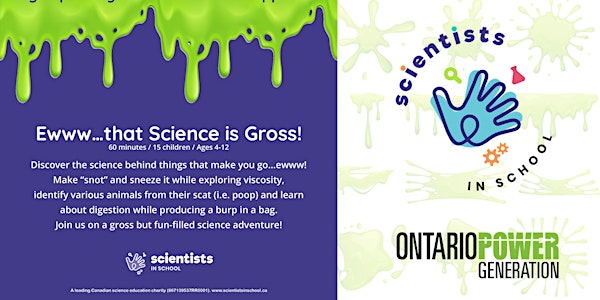 Get ready to delve into the fascinating world of all things icky and discover the science behind those things that make you cringe and say "ewww!" At this event, you'll have the unique opportunity to engage in hands-on activities that will challenge your understanding of viscosity. Create your very own "snot" and explore its slimy properties as you sneeze it out. But that's not all! Sharpen your investigative skills as you identify different animals by examining their scat (yes, poop!) and gain valuable insights into the wonders of digestion as you produce a burp in a bag. Join us for this gross, yet incredibly fun-filled science adventure that promises to leave you both amazed and entertained!
Admission is FREE. Registration is required. Recommended ages 4-12 years old.
We welcome families to participate and engage with the kids and workshop. ONE kit will be available per family.
Reserve your spot
To reserve your spot click here.
Additional information
For additional information check OPG Facebook page or Eventbrite events page!
We're here to help!
Got questions? Looking for recommendations? Cornwall Tourism is here to help! Text us anytime at 613-938-4748 and we will be happy to assist with any questions you might have.
#ExploreCornwallON
Looking for other fun things to do in Cornwall? Check out the Explore section of our website for other fun-filled activities to keep you busy. Better yet, consider extending your stay with a night at one of our great accommodations!