Guided bike tour (from Ottawa)
Oct 16, 2021
Saturday, October 16th
8:30 am
Departing from Escape Bicycle Tours (79 Sparks Street, Ottawa)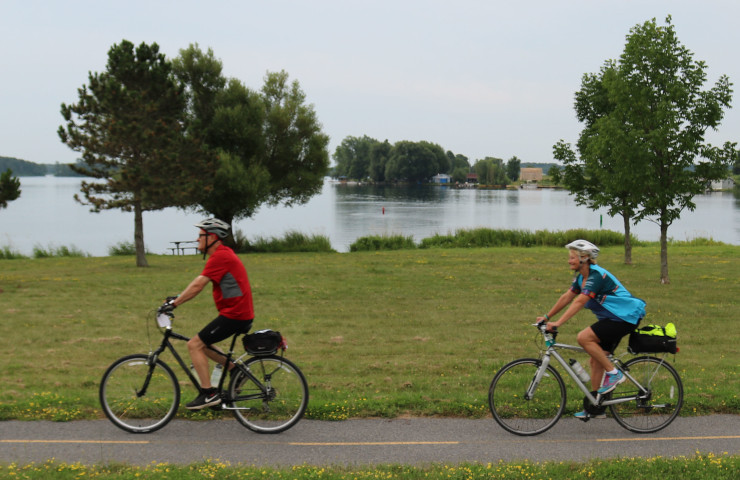 Enjoy a one-day biking adventure into nature and a ride back into history!
On this fun bike tour, you will discover the St. Lawrence River's scenic waterfront trails of Cornwall. Support services will be provided by Escape Bike Tours and Rentals.
The group will meet at 79 Sparks Street at Escape Tours at 8:30 am and board a luxury coach bus to Cornwall to start the tour at the impressive RH Saunders Power Generating Station. The bike ride will take you along the old Cornwall Canal to the local museum to learn about the fascinating history of this city. There will be a break for lunch at a local eatery on the nearby main street, Pitt Street. Following lunch, the tour will continue along the Waterfront Trail to the east and then head back Downtown through the historic districts for a well-deserved stop at Rurban Brewing before boarding the bus back to Ottawa.
The tour will include several stops where an experienced knowledgeable guide will relate stories about the landmarks and history of the region.
Cycling distance is approximately 25 kms at an easy pace.
Cost is $75 per person plus tax (includes transportation for person and bike, a snack and the tour guide). Bring your own bike (or rent one from Escape for $25 for the day) as well as some cash for lunch and the brewery.
Additional information
For additional information, please call Escape Bicycle Tours at 613-608-7407 or email info@escapebicycletours.ca. You can also check out the Escape Bicycle Tours website or visit them on Facebook.
We're here to help!
Got questions? Looking for recommendations? Cornwall Tourism is here to help! Text us anytime at 613-938-4748 and we will be happy to assist with any questions you might have.
Play it safe!
We all have a part to play in combating the spread of COVID-19. Residents are encouraged to wear masks, practice frequent hand washing and physical distancing, and stay home if not feeling well. For the latest guidelines and restrictions related to COVID-19, please visit the Eastern Ontario Health Unit website.
#ExploreCornwallON
Looking for other fun things to do in Cornwall? Check out the Explore section of our website for other fun-filled activities to keep you busy. Better yet, consider extending your stay with a night at one of our great accommodations!