La visite (French theatre)
May 14, 2023
May 5, 6, 7, 12, 13, 14
St. Lawrence Secondary School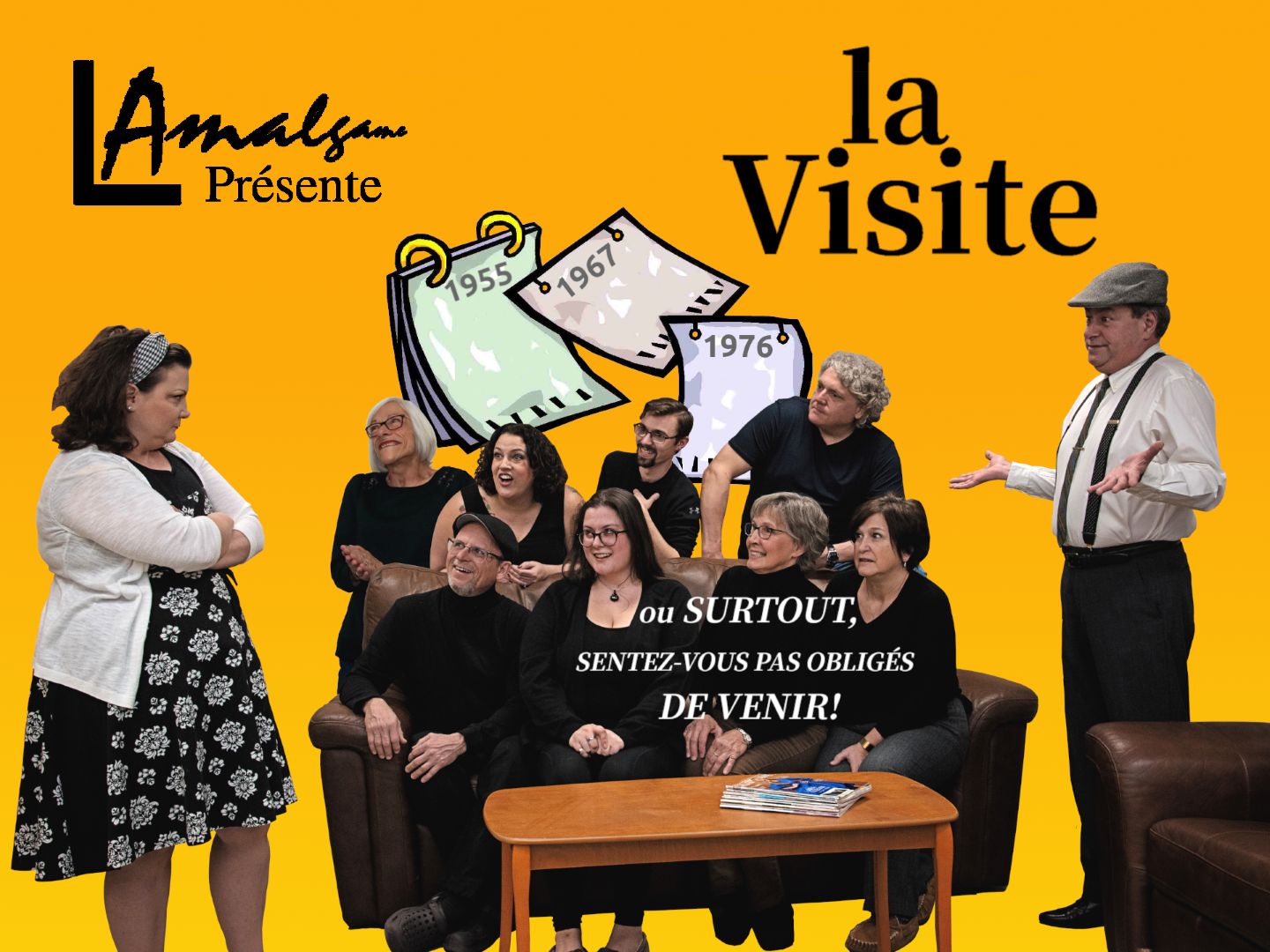 Don't miss "La visite ou surtout, sentez-vous pas obligés de venir," a French comedy by Robert Bellefeuille et Michel Marc Bouchard, presented by L'Amalgame des arts et du théâtre.
The production is directed by Mario Sarda and assisted by Ginette Girard and features 10 actors: Kimberlee Bruneau, Anne-Marie Paquette, Murielle Bourdeau, Chantal Ménard-Laliberté, Dianne Gauthier, Gabrielle Dignard, Victor Dupuis, Stéphane Bruneau, Jonathan Chevrier and Mario Gagnon.
Synopsis
The visit… What can we say except that we are happy when she arrives and just as happy when she leaves. But what to do – and what to say – when visitors arrive one after another, non-stop, without warning, and we dare not throw them out or say no to them?
Come to Monique and Roger's and feel the experience of impromptu and sometimes surprising visits. You will laugh at what they are going through but don't laugh too much because, who knows, the same thing could happen to you!
Show information
The show will be presented on May 5, 6, 12 and 13 at 7 pm well as on May 7 and 14 at 2 pm at St. Lawrence Secondary School (1450 Second Street East)
Ticket information
Tickets are on sale for $25 and they can be purchased online via Eventbrite (click here) or by calling 613-362-0931. Additional fees may apply for online sales.
Additional information
For additional information on the show and l'Amalgame, please click here.
We're here to help!
Got questions? Looking for recommendations? Cornwall Tourism is here to help! Text us anytime at 613-938-4748 and we will be happy to assist with any questions you might have.
#ExploreCornwallON
Looking for other fun things to do in Cornwall? Check out the Explore section of our website for other fun-filled activities to keep you busy. Better yet, consider extending your stay with a night at one of our great accommodations!