Living Culture with Mohawk Interpretation
Aug 9, 2021 - Aug 9, 2021
Monday, August 9
1 pm – 2 pm
Online experience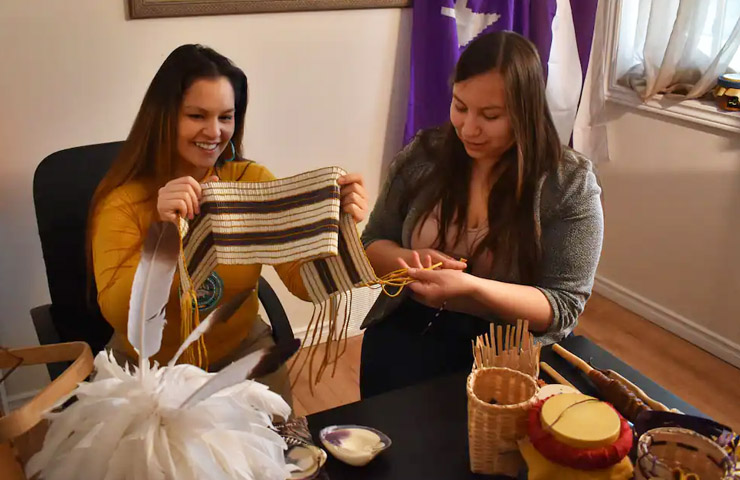 Travel to the sovereign territory of Akwesasne, a Mohawk nation situated on the St. Lawrence River on the border of the United States and Canada. Come on an interactive journey of Mohawk culture, starting with the Creation Story and ending with present day living with Lorna and Mikayla, cultural educators at Native North American Traveling College, a cultural centre dedicated to preservation, revitalization and education of Mohawk ways of life.
Lorna and Mikayla will teach you a few Mohawk phrases and offer friendly guidance on pronunciation. They will also share some music, life in the Longhouse and Wampum belts, early records of stories and treaties. You'll also get to see some artifacts from the expansive collection at the Native North American Traveling College.
Get tickets!
This online experience is available through Airbnb online experiences. Tickets are $12 each and private group bookings are also available.
About the Native North American Travelling College
The NNATC is located just south of Cornwall on 3 acres of waterfront property on Cornwall Island in Akwesasne, connecting it to the St. Lawrence River, the backbone of this Mohawk community.  Visitors are welcome to enjoy the NNATC's facilities which include a museum and Ista's Gift Shop.  The NNATC continues to promote and preserve Mohawk language, culture, and history.
For more information on the NNATC, please visit their website or check them out on Facebook or Instagram.
Play it safe!
We all have a part to play in combating the spread of COVID-19. Residents are encouraged to wear masks in indoor public spaces and practice frequent hand washing and physical distancing. For the latest guidelines and restrictions related to COVID-19, please visit the Eastern Ontario Health Unit website.