Men of the Deeps
Oct 23, 2022
Sunday, October 23     7pm
Aultsville Theatre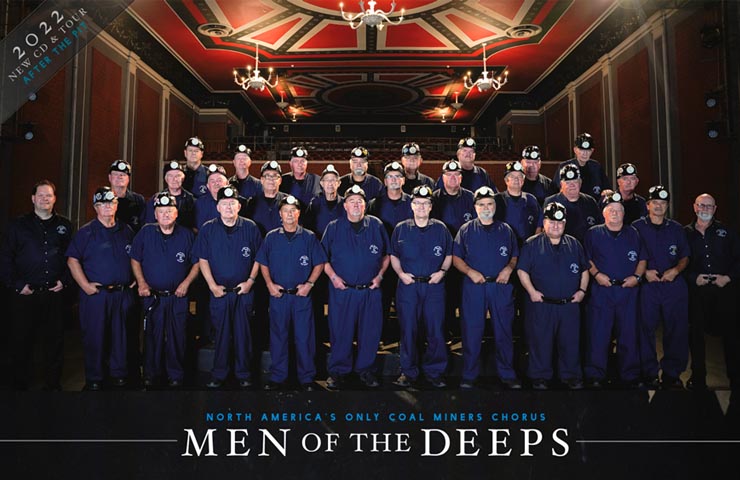 For over fifty years, Cape Breton's own Men of the Deeps (MOTD) choir have been travelling the world as Canadian Ambassadors, singing and storytelling their way into audiences' hearts. The group have spent the past five decades delivering emotional performances, on large and small stages; giving us a sense of what life was like as a miner in a mining town; preserving and presenting some of our rich Cape Breton folklore, culture and talent, touring throughout Canada and most of the United States, China and Kosovo.
They have been to the Northwest Territories and as far south as Arizona, Alabama, Florida and the Appalachian coal mining communities of Kentucky, Virginia and Pennsylvania. They have even performed in Las Vegas, Nevada. Today, the Men of the Deeps are so much more than just a singing group; they are a social institution. The camaraderie amongst the members carries over to their audiences wherever they perform, pulling show-goers to their feet, time and time again; making those who aren't home, homesick, and those who are home, proud. Clad in authentic mining coveralls and hard hats, they make an impressive impact when they enter a concert hall in total darkness with only the lamps on their helmets for light.
Ticket information
Tickets are $45 to $50 (pricing includes tax & facility fee; additional surcharges may apply upon purchase) and they can be purchased in advance at the City of Cornwall Box Office (located in the Aquatic Centre at 100 Water Street East) from Monday to Friday, 8:30 am to 4:30 pm, or by calling 613-938-9400.
Buy online!
Tickets can also be purchased online via TicketPro.
Click here to purchase tickets online
Tickets can also be purchased the day of the show (subject to availability) at the Aultsville Theatre Box Office one hour prior to the start of the show.
Additional information
For additional information on this show and other upcoming events at Aultsville Theatre, please check out the Aultsville Theatre website.
We're here to help!
Got questions? Looking for recommendations? Cornwall Tourism is here to help! Text us anytime at 613-938-4748 and we will be happy to assist with any questions you might have.
#ExploreCornwallON
Looking for other fun things to do in Cornwall? Check out the Explore section of our website for other fun-filled activities to keep you busy. Better yet, consider extending your stay with a night at one of our great accommodations!