Online event: Reading of Frontières Libres
Dec 10, 2022
Saturday, December 10     2pm  (Presentation in French)
Online event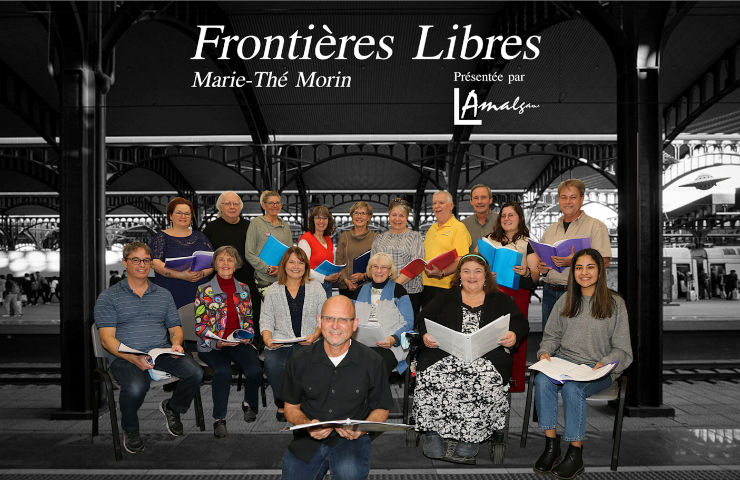 Join l'Amalgame for a virtual reading of Frontières Libres, a piece by Marie-Thé Morin.
Different people, each with their own destiny, find themselves aboard the same train and share only one objective: to go somewhere, elsewhere, in the most total anonymity. When disaster strikes the train, the passengers suddenly become survivors who need each other. The outside world holds its breath and watches what happens. But the wrecked train disappeared in thick fog, and the weather did not allow rescuers to be sent immediately. Without news, the outside world imagines the craziest scenarios. For their part, the survivors, cut off from the world, find a survival instinct long buried under the comfort of technology. The most unlikely alliances and friendships are forged as the characters, aware of their own mortality, confront the intimate boundaries that have always defined them.
This free online event will take place on Saturday, December 10t at 2pm and space is limited so don't delay in registering!
The presentation will feature 17 different lecturers: Murielle Bourdeau, Pauline Laneville, Alain St-Arnaud, Nancye Labrecque, Nicole Labelle, Robert Perron, Gabrielle Dignard, Jacqueline Petroq, Lucy Gail, JG Pepin, Marie-claude Lepage, Danielle Duplantie, Claude Villemaire, Victor Dupuis, Carol Boileau and Anita Bedi.
Additional information
For more information on the event, and to register, please click here.
We're here to help!
Got questions? Looking for recommendations? Cornwall Tourism is here to help! Text us anytime at 613-938-4748 and we will be happy to assist with any questions you might have.
#ExploreCornwallON
Looking for other fun things to do in Cornwall? Check out the Explore section of our website for other fun-filled activities to keep you busy. Better yet, consider extending your stay with a night at one of our great accommodations!