The Bowie Lives
Apr 15, 2023
Saturday, April 15     Doors: 7 pm, Show: 8 pm
The Port Theatre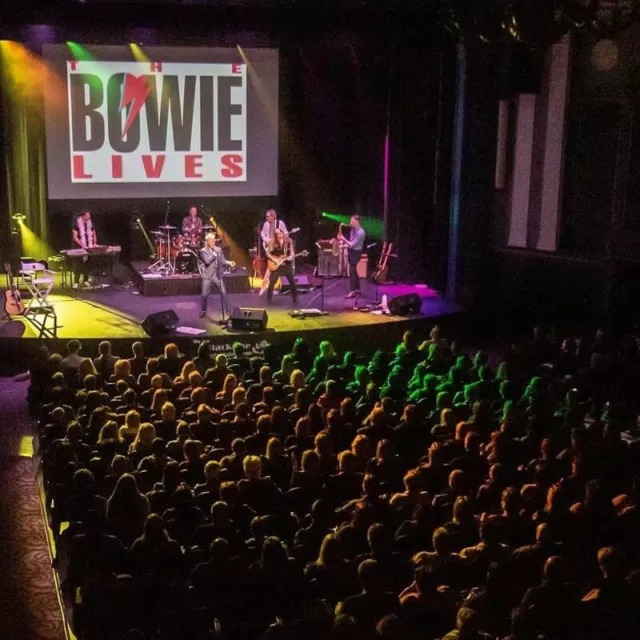 Sylvain Sound presents The Bowie Lives: Canada's Most Sensational Bowie Spectacular who returns by popular demand to The Port Theatre on Saturday, April 15th. Showtime is 8 pm and doors open at 7 pm for this all ages licensed event sponsored by Sylvain Sound, Stormont Stationers, P & L Printing and Front Line Assault Entertainment.
Rated "5 stars! Unbelievable!" from Richard Crouse of CTV's PopLife, The Bowie Lives is a performance you won't want to miss.
"By far the coolest Bowie tribute I've ever seen," says promoter Sam Grosso.
Michael Bell is an award-winning vocalist who channels the sound and styles of David Bowie together with the help of an all-star band, theatre, and costumes that capture the imagination of fans both young and old.
Michael's first theatrical production, "ChangesAllBowie," toured the "A circuit" in the late '80s, but he hung up his "Ziggy" in the early '90s. After David's untimely death on January 10, 2016, his calling returned, as did the industry interest. Contacting long-time musical director Michael Beauclerc, they began auditioning players to fill out a band capable of performing some of rock's most challenging material. The Bowie Lives brings all the sounds and visions to the stage, from Space Oddity to Lazarus.
"The show is more of a happening," explains Michael, who is the subject of an upcoming documentary "Being David Bowie," soon slated for release.
Audience members are inspired to adorn their favorite Bowie look – come dressed as Bowie and don't forget to get your Bowie on as free face painting is often offered in the lobby!
In addition, The Bowie Bazaar displays and sells Bowie collectibles such as t-shirts, merch, music, and more – so come early and browse!
Ticket information
Tickets are now on sale at Melody Music on Pitt Street and St. Lawrence Appliance on Montreal Road (across from The Port Theatre). Tickets are $25 for early bird, $35 for advance and $40 at the door.
Tickets can also be purchased online (click here to buy online)
Additional information
For more information on The Bowie Lives, check out the official website.
We're here to help!
Got questions? Looking for recommendations? Cornwall Tourism is here to help! Text us anytime at 613-938-4748 and we will be happy to assist with any questions you might have.
#ExploreCornwallON
Looking for other fun things to do in Cornwall? Check out the Explore section of our website for other fun-filled activities to keep you busy. Better yet, consider extending your stay with a night at one of our great accommodations!