The Cornwall Art hive – the Akwesasne Art Hive
Apr 8, 2023 - Apr 8, 2023
Native North American Travelling College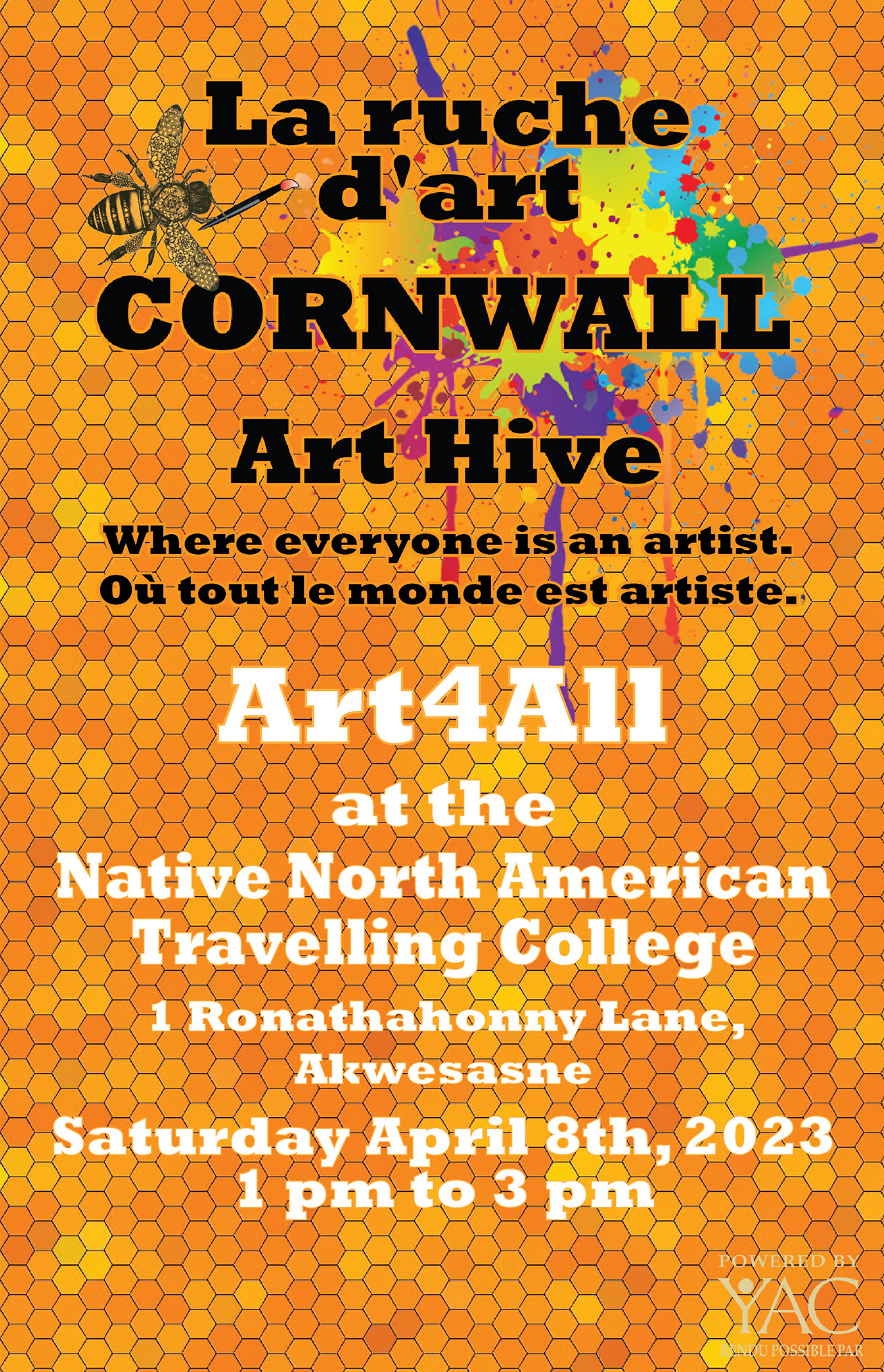 This will be a great event hosted by the Native North American traveling college –  It is an opportunity to know more about the place, the arts and culture , and through the inspiration of this visit, will together creating drawings and artistic handmade crafts.
What is the Art Hive Network?
The Art Hives Network connects small and  regenerative  community art studios (known as Art Hives) together in order to build solidarity across geographic distances. This effort seeks to strengthen and promote the benefits of these  inclusive, welcoming spaces across Canada, and throughout the world. Also known as  "public homeplaces," these third spaces, create  multiple  opportunities for dialogue, skill-sharing, and art-making between  people of different socio-economic backgrounds, ages, cultures and abilities.
An Art Hive:
welcomes everyone as an artist and believes art-making is a human behavior.
celebrates the strengths and creative capacities of individuals and communities.
fosters self-directed experiences of creativity, learning, and skill sharing.
encourages emerging grassroots leaders of all ages.
provides free access as promoted by the gift economy.
shares resources including the abundant materials available for creative reuse.
experiments with ideas through humble inquiry and arts-based research.
exchanges knowledge about funding strategies and economic development.
partners with colleges and universities to promote engaged scholarship.
gardens wherever possible to renew, regenerate, and spread seeds of social change.
What can you provide as a member of the committee?
– Support by attending and publishing events and inviting community members and friends
– Providing a safe and welcoming atmosphere for participants in events (children, families & adults)
-Helping the team in preparing for events
– Cleaning tools and encouraging attendance in a safe and non-competitive atmosphere
Please contact the Cornwall art hive page to confirm your attendance for our upcoming events