Wine & Wander
Mar 8, 2023
Wednesday, March 8th     4pm – 8pm
Best Western Parkway Inn & Conference Centre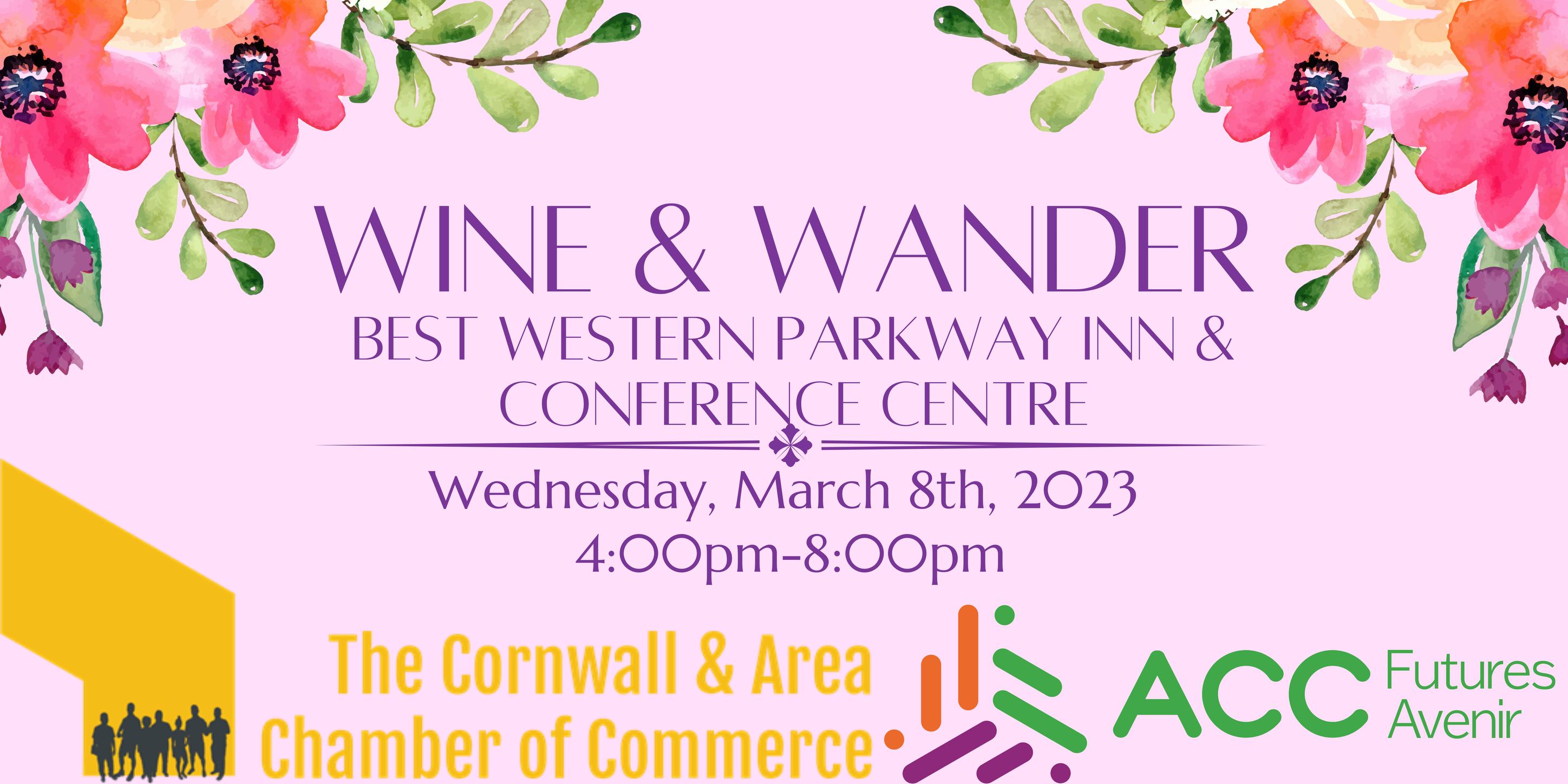 Do you like supporting women in business? Do you like shopping?
Then get ready for International Women's Day on Wednesday, March 8th where ACCFutures and the Cornwall & Area Chamber of Commerce join forces to host Wine & Wander, a market featuring women-owned businesses for you to shop while networking and enjoying some wine and hors d'oeuvres. There will be live music throughout the evening with a chance to win great prizes!
Ticket information
You can purchase your tickets right now and save!
Your Ticket includes entry as well as a glass of wine and hors d'oeuvres.
Click here to get your tickets!
Vendors
Here's who you can expect to see and shop from at the event:
– DG Vintage
– Spirit Roots Company
– MacDonell Family Physiotherapy
– Lavender Skincare Co.
– Mindful Feet
– Once Upon a Coffee Shop
– Archie's Family Golf Centre
– Lawrence Avenue Jewelry
– Phoenix Bath & Beauty
– Playbow Animal Rehab Clinc (PARC)
– Mohawk Coterie
– Peek-A-Boo
– Holistic Doula Services
– Copious
– Studio 101 Medi Spa
– The Happy Popcorn Co.
– Yafa Arts & Crafts
– Mary Kay
– Mortgage Brokers City & KW Realty
– Northern Lights Trading Post
– Cornwall City Press & The Sign Factory
– Wildflower Forest & Nature School
– Lost Villages Candle Co.
We're here to help!
Got questions? Looking for recommendations? Cornwall Tourism is here to help! Text us anytime at 613-938-4748 and we will be happy to assist with any questions you might have.
#ExploreCornwallON
Looking for other fun things to do in Cornwall? Check out the Explore section of our website for other fun-filled activities to keep you busy. Better yet, consider extending your stay with a night at one of our great accommodations!