Woven Woods Exhibit
Oct 29, 2022
September 8 – October 29 (select dates)
Cline House Gallery
Free admission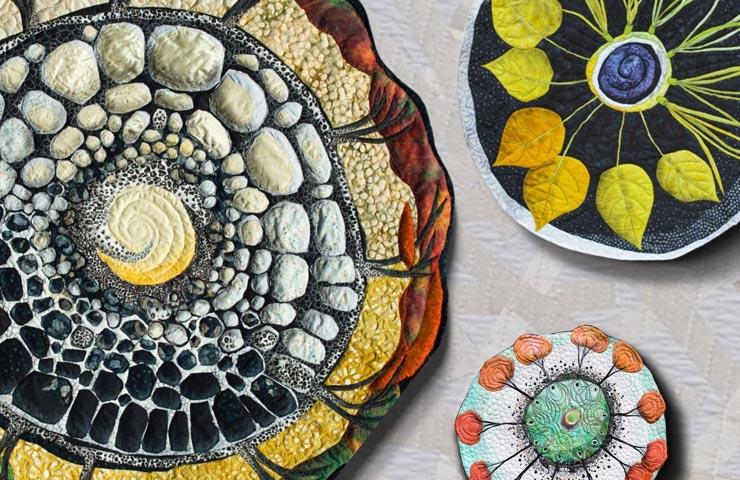 The Cline House Gallery is pleased to present Woven Woods: A Journey through the Forest Floor by scientist turned textile artist, Lorraine Roy.
As part of a Canada-wide tour, her unique exhibition of 12 oversized quilted wall hangings will make its eastern Ontario debut in Cornwall on Thursday, September 8th, 2022 and will run until Saturday, October 29th.
"We are delighted to host Lorraine and her work in Cornwall," says Emily MacLeod, Visual Arts Coordinator, Cline House. "Her incredibly intricate pieces truly put the spotlight on nature's wonders."
Through Woven Woods, Roy explores the interconnectedness of art, science, and nature using raw edge machine appliqué techniques and embroidery. With a B.Sc. in Horticultural Sciences and decades of exploration in art textiles, the Dundas, Ontario artist spent five years realizing her vision and approached the unique series with an eye toward what lies beneath the surface of the forest floor. The results are beautiful, oversized, and infused with the symbolism of trees and their communication patterns.
"My intention is to arouse emotional connection by shining a warm light on nature's unforeseen forces," says Roy.
Roy's exhibit will also be complemented by the work of esteemed artist Carmella Karijo Rother.
The Gatineau, Quebec artist has been creating simple and sophisticated organically shaped vessels of rope and other textiles for more than two decades. Her Affinities exhibit will highlight both previously produced and new works.
Show hours
Cline House Gallery is open Thursday to Saturday from 10 am to 4 pm and visiting the gallery is free. There is ample parking on site.
The Woven Woods exhibit runs until October 29th.
Additional information
For additional information, please visit the Cline House Gallery website or Facebook and Instagram pages.
We're here to help!
Got questions? Looking for recommendations? Cornwall Tourism is here to help! Text us anytime at 613-938-4748 and we will be happy to assist with any questions you might have.
#ExploreCornwallON
Looking for other fun things to do in Cornwall? Check out the Explore section of our website for other fun-filled activities to keep you busy. Better yet, consider extending your stay with a night at one of our great accommodations!