Everything old is new again at Wonderflea Vintage
February 17, 2023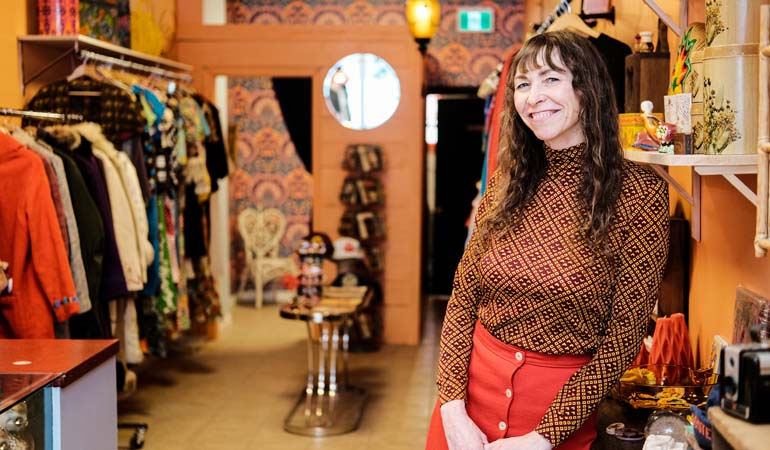 Downtown Cornwall is home to a new vintage clothing store specializing in vintage clothing and housewares from the 50's to 80's, with a strong focus on the 60's and 70's.
Located at 23 Second Street East, Wonderflea Vintage offers a wonderful mix of rare finds that are sure to interest shoppers from near and far. Owner Dana De Kuyper has created a cozy, sunny shop with vibrant orange walls to showcase her eclectic mix of products.
"Running a vintage store has been a longtime dream of mine. I have been a collector, hoarder and huge fan of all things vintage for over 20 years," says Dana with a big smile.
In 2022, Dana moved to Cornwall and discovered an opportunity to open a vintage store that carried older pieces dating as far back to the 1950's. She found that many people in the community expressed an interest for more unique places to shop in the city and knew she had something to offer.
A former Montrealer, Dana started Wonderflea Vintage in southern Ontario with a friend. Currently the two continue to curate a booth at the Hamilton Antique Mall which will compliment the new retail store downtown.
"I want shoppers to have a fun and happy shopping experience when they come into the store," says Dana. "I'm not a fan of grey or beige, so you won't find much of that in Wonderflea Vintage! The everyday can be drab enough, so when designing the shop, I wanted to create a little escape with a pop of much needed colour."
Dana will be welcoming customers at the official grand opening on Saturday, February 18th from 12 pm to 6pm.
Additional information
For more information on Wonderflea Vintage, check out their Facebook page and Instagram account.
#ExploreCornwallON
Looking for other fun things to do in Cornwall? Check out the Explore section of our website for other fun-filled activities to keep you busy. Better yet, consider extending your stay with a night at one of our great accommodations!
Got a question?
Got questions? Need recommendations? We're here to help! Call or text us at 613-938-4748 or email us at info@cornwalltourism.com and we'll be pleased to help you with any questions you may have!
Also make sure to check us out on Facebook and Instagram for updates and more great reasons to visit Cornwall!