Explore Cornwall & SDG Counties with Raisin Region GeoAdventure
October 18, 2021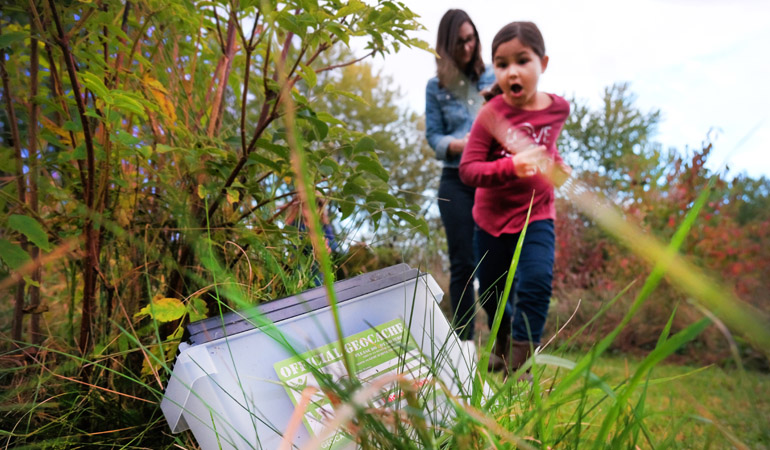 The Raisin Region Conservation Authority (RRCA) is inviting the public to join the Raisin Region GeoAdventure, a geocaching treasure hunt aimed at finding 20 caches concealed in environmentally significant sites throughout its watershed jurisdiction in eastern Ontario.
Geocaching, a world-wide outdoor activity, lets participants use smartphones or other GPS devices to find secret containers hidden by other geocachers.
"The Raisin Region GeoAdventure is an engaging way for both new and seasoned geocachers to explore the RRCA's jurisdiction and learn about natural features and environmental projects in the region," says Vincent Pilon, RRCA's Public Information Coordinator. "Some of the cache sites include an edible forest, habitat restoration projects, and watershed management infrastructure, to name a few."
All 20 GeoAdventure caches, hidden throughout Cornwall and SDG Counties, contain a unique QR code leading to hidden digital content about each cache site. Some of the caches also contain secret codes, which, when added up, allow the final cache site to be unlocked.
Click here to download the printable Raisin Region GeoAdventure Map
"The first 100 families to unlock the final cache will earn a limited-edition, Raisin Region GeoAdventure geocoin," Pilon said. "Each geocoin is engraved with a unique tracking number, and can be either kept as a trophy, or placed inside a cache, to then be set in motion by other geocachers who move the coin from cache to cache, with its progress on display at geocaching.com."
While caches have been hidden throughout the RRCA's jurisdiction, with the addition of several caches in Akwesasne, Pilon says all code-containing caches are accessible in the Cornwall area without the use of a personal vehicle.
"It's a great way to explore the area, either by walking, cycling, or using Cornwall Transit," he said, adding that the cache sites were selected in consultation with municipal, community, and indigenous partners.
Additional information
Those interested in participating can find detailed instructions, as well as a downloadable map at rrca.on.ca/GeoAdventure.
Limited print maps will also be available at the RRCA office at 18045 County Road 2 in Cornwall, and at other select locations.
For more information, please visit rrca.on.ca/GeoAdventure or contact 613-938-3611 or info@rrca.on.ca.
Funding for the Raisin Region GeoAdventure was provided by the City of Cornwall.
Got a question?
Got questions? Need recommendations? Cornwall Tourism is here to help! Call or text us at 613-938-4748 or email us at info@cornwalltourism.com and we'll be pleased to help you with any questions you may have!
Also make sure to check us out on Facebook and Instagram for updates and more great reasons to visit Cornwall!
Play it safe!
We all have a part to play in combating the spread of COVID-19. Residents are encouraged to wear masks, practice frequent hand washing and physical distancing, and stay home if not feeling well. For the latest guidelines and restrictions related to COVID-19, please visit the Eastern Ontario Health Unit website.
#exploreCornwallON
Looking for other fun things to do in Cornwall? Check out the Explore section of our website for other fun-filled activities to keep you busy. Better yet, consider extending your stay with a night at one of our great accommodations!