Cornwall is conveniently located along the banks of the St. Lawrence River and offers many great ways to enjoy the water.  From fishing to water sports to watching the big ships float by there is something for everyone.
Marinas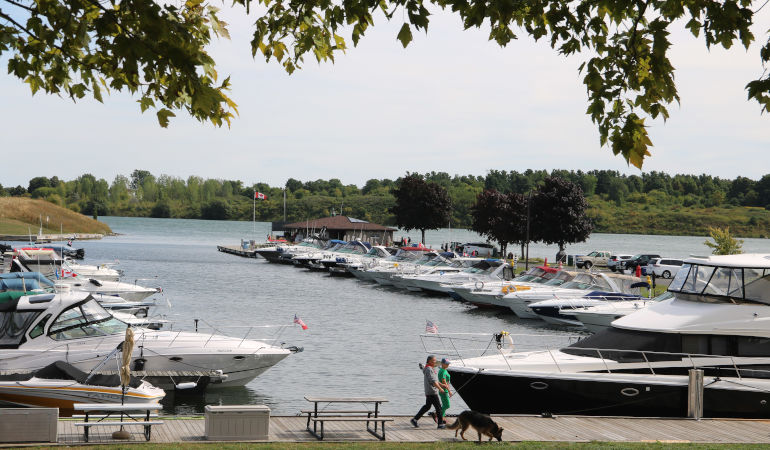 Marina 200
Google Maps
The hub of boating activity on the Cornwall waterfront, Marina 200 is a first-class facility located immediately east of the Cornwall Civic Complex on the St. Lawrence River.
This season, Marina 200 is open from May 10 to October 4. It is open to both seasonal and transient boaters.
Looking for Marina 200? Use chart 1433. You can reach the Marina on VHF 68. You can also contact the marina at 613-932-8301.
For more information on Marina 200, please click here.
Gray's Creek Marina
Google Maps
Located at the mouth of Gray's Creek at the eastern edge of Cornwall, Gray's Creek Marina provides boaters and anglers with immediate access to the St. Lawrence River.
The marina has over 100 boat slips along with parking, a launch ramp and other services and amenities.
You can contact the marina at 613-938-2298.
For more information on Gray's Creek Marina, please click here.
More options
Other marinas in the region include Crysler Park Marina near Morrisburg, Roger's Marina in Summerstown and Mac's Marina in Lancaster.
Boat Launches
Access the water with 3 launches located in the city.
Gray's Greek – 18045 County Road 2
Lamoureux Park – 252 Water Street East
Guindon Park – 3260 Vincent Massey Drive
Fishing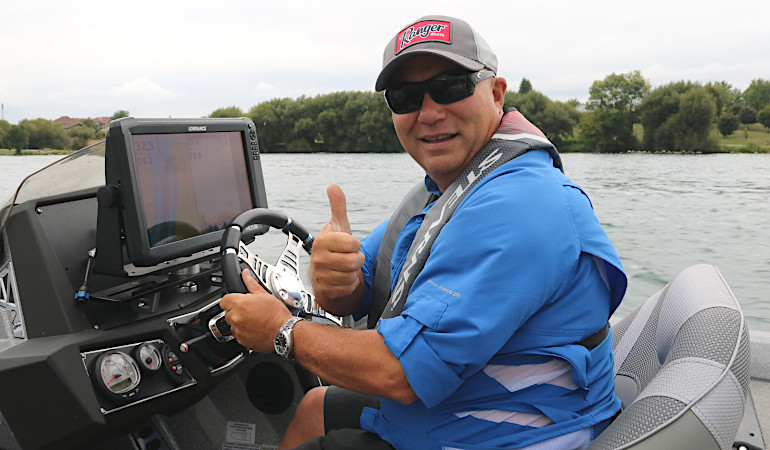 Whether you're in search of a fun fishing outing with the kids or on the hunt for a trophy fish, you'll find it in Cornwall.
The Cornwall region forms part of Ontario's Fisheries Management Zone 20. This zone includes the Canadian waters of Lake Ontario, the St. Lawrence River and the Lower Niagara River.
There are zone wide seasons and limits that anglers must adhere to, as well as specific exceptions within the zone.
For more information on limits and restrictions in the zone, please click here.
A prize catch
The St. Lawrence offers anglers a bit of everything, with a myriad of warm and cool-water species calling the river home.
Bass, walleye, northern pike, muskie and perch are the most common targets for anglers, but you will also find carp, sunfish, catfish and even the mighty sturgeon (a protected and endangered species).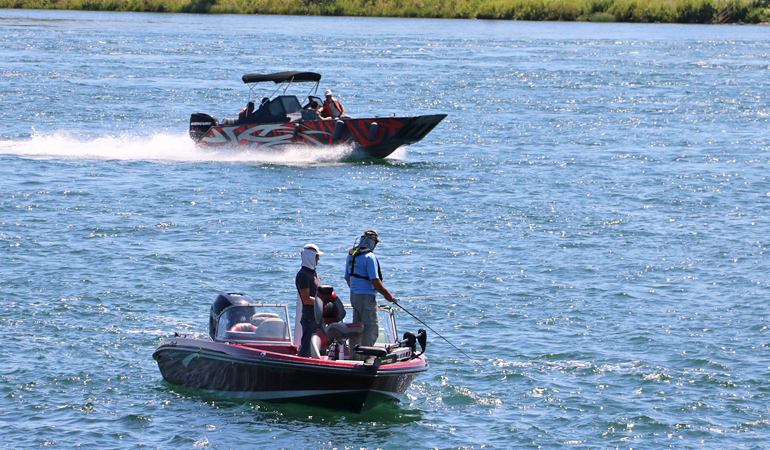 Shoreline fishing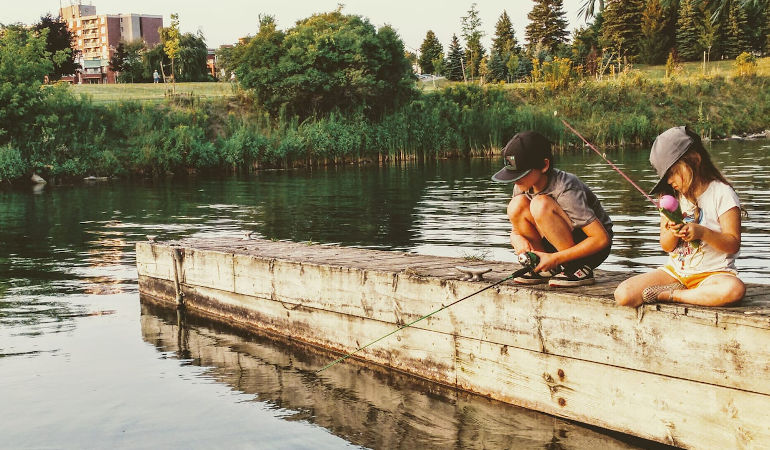 The next best thing to being on the water is being next to it – and there's a bunch of great spots in Cornwall to fish from shore. In fact, urban fishing in Cornwall is a whole other experience unto itself, with some great fishing holes being located right in the heart of the city!
One great place to start is Lamoureux Park, Cornwall's downtown waterfront park. The park offers a number of good spots to cast out – and some kid-friendly ones to boot – including the point and the bay just east of the public boat launch at the west end. These spots are great for children and with some worms on the line you could catch anything from perch and sunfish to pike, bass and more!
Further west, the Cornwall Canal offers some fun shoreline fishing in a distinctly historic environment. There's plenty of space to pull up a chair or grab a seat along the canal wall and cast out.
Heading east, the Cornwall Harbour offers another access point directly to the water's edge. There's fish to be caught but be warned, the current is strong so extra weight on your line is a good idea.
East of the harbour, the mouth of Gray's Creek provides another scenic spot to test your shoreline fishing skills and potentially come up with a memorable catch.
There are a ton of other great shoreline spots beyond the city's borders, including the Lancaster wharf to the east and the entrances to the Long Sault Parkway in the west.
Of course, every spot is a potential fishing hole waiting to be discovered so have fun exploring. Just remember to be safe and only fish where you're allowed to do so!
Fishing gear and tackle
There are a number of local establishments ready and waiting to help you with all of your fishing tackle needs, from bait and lures to fishing rods, line and everything in between.
Fence Depot 
3045 Pitt Street
613-932-0717
Website
Google Maps
Fence Depot offers a full line of fishing supplies from rods and reels to bait, lures, clothing and accessories. Fence Depot is also an authorized fish licence issuer – you can purchase yours in person at the store.
Canadian Tire
201 Ninth Street East
613-933-0592
Website
Google Maps
Canadian Tire has a full selection of fishing supplies and gear to meet all needs. It is also an authorized fish licence issuer – you can purchase in person.
Peavey Mart
1850 Vincent Massey Drive
613-933-6712
Website
Google Maps
TSC Stores has everything you need to gear up for your next fishing adventure, from rods and reels to lures and accessories.
Walmart Cornwall
420 Ninth Street West
613-933-8366
Website
Google Maps
Walmart offers a convenient spot to pick up those last-minute fishing supplies – or grab a few new lures or pieces of tackle.
Relic Outfitters
15010 Colonial Drive
Ingleside
613-537-2773
Website
Google Maps
Located a short drive west of Cornwall, Relic Outfitters offers fishing tackle as well as live bait like minnows, leeches and worms.
Worms are a popular choice for live bait in the area and they're not difficult to find! Most convenience stores in Cornwall and area have worms available for anglers (look for the fridge or ask upon entering)!
Family Fishing Week
This year's Family Fishing Week in Ontario has been extended by 7 days!
Running from July 4 to July 19, Family Fishing Week is a province-wide opportunity for Canadian residents to fish Ontario waters without the otherwise mandatory fishing version Outdoors Card.
There's never been a better time to give fishing a try – or to introduce friends and family to fishing.
The summer event is one of four license-free fishing periods designated by the Ontario government throughout the year.
For more information on Family Fishing Week, please click here.
Additional Resources
Scuba Diving
Divers, from beginners to experts meet to experience vibrant underwater plant and animal life and explore over 40 dive sites throughout the region. From Glen Walter, to Iroquois sites include the famous Eastcliffe Hall shipwreck, a Great Lakes cargo ship that sank in the 1970s, the underwater remnants of the famous Lost Villages, which were flooded during the construction of the St. Lawrence Seaway Project and the Rail Bridge and Lock 21—known as one of Canada's top five shore dives.
You can rent diving equipment at 02togo Dive Centre
Check out some of these dive sites
Beaches
Dive in and enjoy the views and cooling effect of the beautiful St. Lawrence river at one of the many amazing beaches in the area.  Bring a picnic and make a day of it. For a little extra fun check out Mike & Jenny's Paddle Fit for paddle and watersport rentals.
Charlottenburgh Park Beach
19788 County Road 2, Summerstown, ON
613-931-0944
Google maps
More info
Glengarry Beach
20800 SDG County Road 2, Lancaster, ON
1-800-437-2233
Google maps
More info
Milles Roches
15890 Long Sault Parkway, Long Sault, ON
613-534-8202
Google maps
More info
Woodlands Beach
15174 Long Sault Parkway, Ingleside, ON
Google maps
More info
Crysler Beach
13480 County Road 2, Morrisburg, ON
Google maps
More info