Get locked up at the Historic SDG Jail
May 1, 2019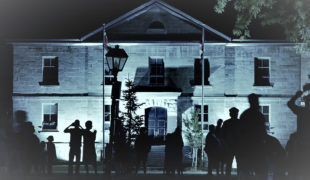 Having worked in corrections for the past 10 years, Elliott Luijkenaar has heard a lot of stories from inmates – including those who spent time at the Historic SDG Jail.
"They tell me the stories about their time there," he says. "Some said they heard screaming. That place is haunted."
The historic building in Downtown Cornwall will come to life in a whole new way on Friday, May 10th and Saturday, May 11th when Luijkenaar and his team from Phantoms of Yore lead two paranormal investigations inside the jail. The best part? You can go along and investigate with them.
The Paranormal Lock Up events will give fans of the supernatural a chance to experience the jail's creepy history first-hand. Participants will have an opportunity to explore the 200-year-old jail and learn the basics of paranormal investigation with this late-night adventure.
For those interested in taking their paranormal pursuits to the next level, the Historic SDG Jail is a pretty good place to start. The building has been featured on such shows as 'Ghost Hunters' and 'Creepy Canada,' helping to create a buzz for the building as a paranormal hot spot.
The jail was originally constructed in 1833 and was in use for 168 years until it was closed in 2002. From petty criminals to known murderers, the jail housed them all.
"It's been featured on shows and it's on all of the (paranormal) lists. Cornwall has a lot of history we can dig into," says Luijkenaar. "I think people will be interested in learning about it and experiencing it for themselves."
Previous endeavors into the jail by Luijkenaar and his team lead to some startling discoveries.
"We did get a few voices," he says matter-of-factly.
Both through their own work and in hearing from others, Luijkenaar says there have been numerous 'anomalies' at the jail – everything from unexplainable sights to sounds like footsteps and jail cell doors shutting.
For the Paranormal Lock Up events, there will be a limited number of spots available for those interested in taking part. The night will begin with a briefing on the basics of paranormal investigation where participants will learn varous tips and tricks to catch anomalies on film. Participants will have a chance to use night-vision cameras and see how highly-sensitive ghost-hunting microphones and equipment work.
With every team being given the freedom to explore the jail at their own pace, Luijkenaar hopes to catch some anomalies from multiple different perspectives. All footage captured by fellow ghost hunters will be uploaded to the group's Facebook page to allow guests to review their recordings.
"It's amazing what people will find (in their investigations)," said Luijkenaar, whose group is associated with Bytown Paranormal.
Luijkenaar hopes there will be sufficient interest to turn the paranormal excursions at the jail into a regular event. In addition to providing an otherworldly experience, it's also a unique way to generate public interest in a historically-significant property.
"It's a great way to bring attention to our historic sites and generate interest in them," he added.
Tickets
Tickets for the Paranormal Lock Up are $64.99 each and they are limited so don't delay! They can by purchased online (click here).
Additional information
For additional information on Paranormal Lock Up, please click here.
About the Historic SDG Jail
Located at the corner of Pitt and Water Streets in the heart of Downtown Cornwall, the Historic SDG Jail was constructed in 1833 and was active until 2002, serving as both a minimum and maximum security facility throughout it's history. The building now operates as an attraction with tours offered during the summer months. The jail will open for the season on May 25th.
For more information on the Historic SDG Jail, please click here.
Additional Events
Looking for other fun things to do in Cornwall? Make sure to check out our Events page for info on upcoming events in the area!
Stay with Us!
Planning to explore Cornwall? Extend your stay at one of our many great accommodations! For a listing of local accommodations, click here.
Additional Information
Planning a visit to Cornwall? Cornwall Tourism can help. Email us at info@cornwalltourism.com to request a copy of our Visitor Guide or contact us at (613) 933-0074. You can also stop by the Cornwall Tourism office inside the Cornwall Civic Complex at 100 Water Street East. The office is open Monday to Friday from 8:30 am to 4:30 pm.
Follow Cornwall Tourism on Facebook
Follow Cornwall Tourism on Twitter
Article by Laiah Pare
www.CornwallTourism.com