Giant snow sculpture takes root in Lamoureux Park
January 31, 2022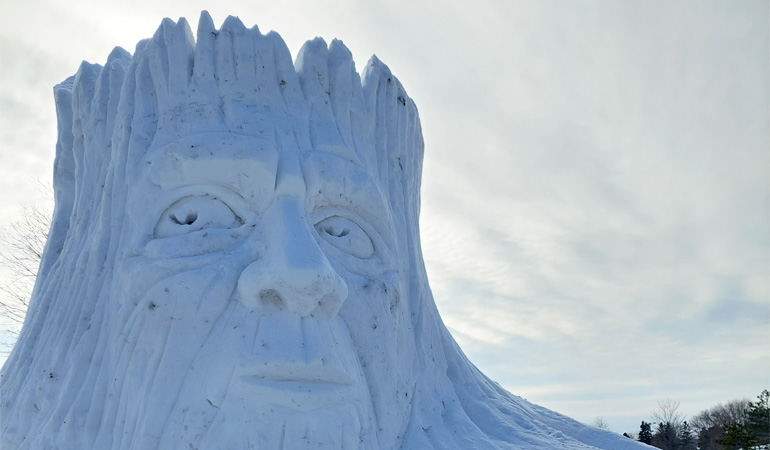 A new snow sculpture has taken root in Lamoureux Park – and it's generating plenty of smiles for residents and visitors alike.
Sculptor Ryan Hill of Woods Edge Gallery in Akwesasne has brought some extra winter wonder to the Cornwall waterfront with his new snow sculpture entitled 'King of the Forest.' The now-completed sculpture measures over 8 feet high and 15 feet wide, and was designed to show a tree stump with a thoughtful facial expression.
"My family and I really enjoyed building Myrtle (a dragon) last year so as soon as the snow came, I contacted the City of Cornwall about doing this year," said Hill, who completed the sculpture in 10 hours over the past weekend with the help of Corrine Hill.
With many winter carving events canceled or online due to the pandemic, Hill was happy to spend some time in the park showing off his skills.
"It was a very cold weekend for sculpting outside but the results are worth it," said Hill. "Surprising visitors to the park and talking with them about this sculpture was a great reminder of why I love this type of winter art."
Hill's sculpture is located in Lamoureux Park near the Cornwall Civic Complex, and will remain visible for as long as the weather permits.
For more information on Hill's work, visit www.woodsedgegallery.com.
Winter fun
Looking for other ways to enjoy winter? From snowshoeing and skating to togogganing and snowboarding, there are plenty of winter activities in Cornwall to keep the family entertained! Check out our Winter Fun page for more information!
#ExploreCornwallON
Looking for other fun things to do in Cornwall? Check out the Explore section of our website for other fun-filled activities to keep you busy. Better yet, consider extending your stay with a night at one of our great accommodations!
Got a question?
Got questions? Need recommendations? We're here to help! Call or text us at 613-938-4748 or email us at info@cornwalltourism.com and we'll be pleased to help you with any questions you may have!
Also make sure to check us out on Facebook and Instagram for updates and more great reasons to visit Cornwall!