Glengarry Highland Games Nominated as 2022 Event of the Year
January 6, 2023

The pipes|drums Magazine has awarded its 22ndannual New Year's Honours to recognize the greatest collective performances, results and contributions made in the world over the past year. The Honours are decided by a panel of 20 pipers and drummers evenly dispersed around the world who are in tune with what's going on with piping, drumming, politics, products and events.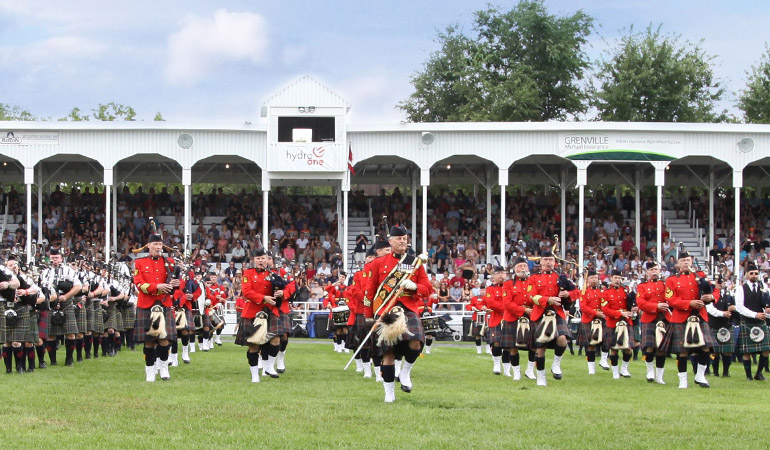 The Glengarry Highland Games was nominated in the Event of the Year category and was the only Canadian nominee in a field of six. Games President Eric Metcalfe was thrilled and states, "It's always nice to be recognized for what we do, especially at this level. Through the hard work of our directors and volunteers, each year we strive to present the best celtic festival possible. "The winner of this year's Honour was the World Pipe Band Championships held in Glasgow, Scotland which brings together the finest pipers and drummers in the world. The panelists in commenting on the Glengarry Highland Games nomination stated,"…in terms of paying audience, there's no bigger event in the world. Like almost every other contest, competing numbers were down, but there was no decline in optimism and energy for the future. Haste ye back, indeed."

The pipes/drums Magazine adds, "Congratulations to all winners and nominees and those who contributed so much to piping and drumming over the last 12 months." The 2023 Glengarry Highland Games will be held in Maxville, Ontario on August 4 and 5.
glengarryhighlandgames.com

#ExploreCornwallON
Looking for other fun things to do in Cornwall? Check out the Explore section of our website for other fun-filled activities to keep you busy. Better yet, consider extending your stay with a night at one of our great accommodations!
Got a question?
Got questions? Need recommendations? We're here to help! Call or text us at 613-938-4748 or email us at info@cornwalltourism.com and we'll be pleased to help you with any questions you may have!
Also make sure to check us out on Facebook and Instagram for updates and more great reasons to visit Cornwall!