Great Waterfront Trail Adventure lands in Cornwall
August 12, 2023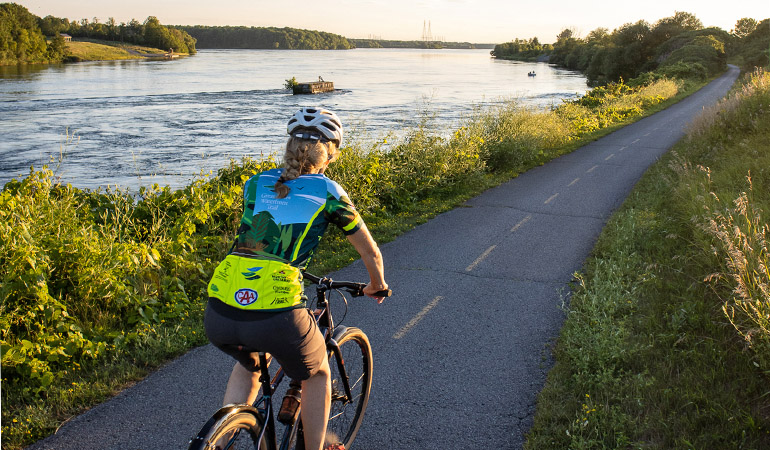 The 15th annual Great Waterfront Trail Adventure will touch down in Cornwall this weekend.
One of Ontario's most anticipated bicycling traditions, the Great Waterfront Trail Adventure (GWTA) showcases the exceptional cycling tourism attraction that is the Great Lakes Waterfront Trail.
The 2023 adventure – running from August 8 – 14 – includes overnight stays in the communities of Quinte West, Kingston, Brockville and Cornwall as well as community-hosted welcome stops at Brighton, Bath, Syndenham, Gananoque, Prescott, Edwardsburgh-Cardinal, South Stormont and South Glengarry, to a name a few.
"The GWTA has become a way to introduce riders who come from all over Canada and the US to many other wonderful cycling assets connected to the trail," says Jo Sharland, tour director for the Waterfront Regeneration Trust.
Cyclists can customize their ride as well. In Kingston, participants can choose between a fully-supported, 77-km exploration of the K&P Trail to Sydenham in Frontenac County, or a visit to the town's historical and beach attractions (including a Penitentiary Tour, Fort Henry, Gord Downie Pier, Breakwater Park, and Richardson Beach).
In Cornwall, the choice is between a fully-supported ride of the 52-km Cheese' n Crankers cycling loop (a regional loop starting from Gray's Creek Conservation Area, with a rest stop hosted at Cooper Marsh Conservation Area), or a ride directly along the Great Lakes Waterfront Trail to its eastern terminus at the Quebec border.
"We look forward to welcoming the Great Waterfront Trail Adventure to Cornwall, and showcasing our region and waterfront, including the recreational path," said Mayor Justin Towndale, City of Cornwall. "We are truly fortunate to have these amenities in our community and I invite visitors and residents alike to explore them fully."
The GWTA was created in 2008 by Waterfront Regeneration Trust and its community partners to invite the public to experience what was, at that time, the entire Great Lakes Waterfront Trail – from Niagara-on-the-Lake to South Glengarry (and the Quebec border) over 8 days. Riders began to ask the Trust when the GWTA would tour the other Great Lakes, which helped set the stage for the expansion along Lake Erie.
Today the Great Lakes Waterfront Trail stretches for 3,600 km from Quebec to Sault Ste. Marie, connecting 155 communities and First Nations – a celebration of nature and culture. It represents over 30 years of public and private investment in our Great Lakes and St. Lawrence River waterfront in hundreds of projects from small to large. The GWTA has launched every new expansion.
Riders will see a number of improvements to the Trail and waterfront this year including: Kingston's refurbished Richardson Beach, and new dedicated cycling infrastructure along HWY 33, Cornwall's urban loop that connects many of the City's major tourism assets, and Glen Walter waterfront park in South Glengarry.
"The success of the GWTA is, of course, a testament to the exceptional cycling experience the Trail provides", says Marlaine Koehler, Executive Director of the Waterfront Regeneration Trust. "But it's just as much due to the hospitality, hard work, cooperation, and support of participating communities and other partners, who welcome cyclists and invest in the Trail."
Get rolling!
Looking for a fun new destination for a cycling adventure? Look no further than Cornwall! Check out our Cycling page for cycling maps, park-and-ride information and other resources to make your cycling trip to Cornwall a success.
#ExploreCornwallON
Looking for other fun things to do in Cornwall? Check out the Explore section of our website for other fun-filled activities to keep you busy. Better yet, consider extending your stay with a night at one of our great accommodations!
Got a question?
Got questions? Need recommendations? We're here to help! Call or text us at 613-938-4748 or email us at info@cornwalltourism.com and we'll be pleased to help you with any questions you may have!
Also make sure to check us out on Facebook and Instagram for updates and more great reasons to visit Cornwall!