Historic SDG Jail opens for season
May 24, 2019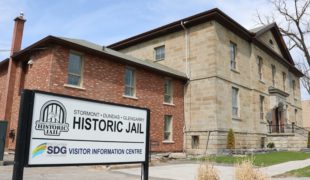 One of Cornwall's coolest – and creepiest – attractions is open for another season.
The Historic SDG Jail opens for the summer season this weekend, providing visitors and residents with a chance to get an up-close look at one of the city's oldest structures.
Guided tours of the facility are provided by knowledgeable guides who are well-researched on the building and its storied past. The tour goes through every accessible area of the jail, including the cell blocks, surveillance room, exercise yard, the gallows and even the original coutroom for the district which sits atop the jail.
Tour Schedule
Tours begin on the hour every hour.
(Maximum of 15 people per tour)
Wednesday through Saturday 10 am – 4 pm
(last tour of the day begins at 4 pm)
Sunday 10 am – 2 pm
(last tour of the day begins at 2 pm)
Tours are offered in both English and French.
Tours are mostly done on a walk in basis, every hour, however if you want to guarantee an availability, feel free to contact the Jail at 613-935-4891 to reserve a tour!
Pricing
Adults: $10
Seniors – Students: $8
Children(5-11): $5
Children (under 5): Free
Family (2 adults, 2 children): $25
Please contact for group discounts. All pricing includes HST/GST.
In addition to the guided tours, the Historic SDG Jail is also home to the SDG Tourism Visitor Information Centre and staff are on hand to provide materials, information and recommendations on other great things to see and do in the area.
About the Historic SDG Jail
Located at the corner of Pitt and Water Streets in the heart of Downtown Cornwall, the Historic SDG Jail was constructed in 1833 and was active until 2002, serving as both a minimum and maximum security facility throughout it's history. Following its decommission, the facility was transformed into an attraction with tours offered during the summer months.
For more information on the Historic SDG Jail, please click here.
Additional Events
Looking for other fun things to do in Cornwall? Make sure to check out our Events page for info on upcoming events in the area!
Stay with Us!
Planning to explore Cornwall? Extend your stay at one of our many great accommodations! For a listing of local accommodations, click here.
Additional Information
Planning a visit to Cornwall? Cornwall Tourism can help. Email us at info@cornwalltourism.com to request a copy of our Visitor Guide or contact us at (613) 936-0842. You can also stop by our seasonal Visitor Information Centre inside the Cornwall Community Museum in Lamoureux Park. The Museum is located at 160 Water Street West, just steps away from the children's splashpad and play structure. Free parking is available immediately north of the Museum along Water Street.
The seasonal Visitor Information Centre is open seven days a week (8:30 am to 4:30 pm) through the summer months.
Follow Cornwall Tourism on Facebook
Follow Cornwall Tourism on Twitter
Article by Kevin Lajoie
www.CornwallTourism.com
L'une des attractions les plus cool et les plus effrayantes de Cornwall est ouverte pour une nouvelle saison.
La prison historique de SDG ouvre ses portes pour la saison estivale cette fin de semaine, offrant aux visiteurs et aux résidents l'occasion de voir de plus près l'une des plus anciennes structures de la ville.
Les visites guidées du site sont assurées par des guides bien informés qui font des recherches approfondies sur le bâtiment et son histoire. La visite passe par tous les endroits accessibles de la prison, y compris les blocs cellulaires, la salle de surveillance, la cour d'exercice, la potence et même la salle d'audience originale du district qui se trouve au sommet de la prison.
Heures des visites
Les visites commencent à l'heure toutes les heures.
(Maximum 15 personnes par visite)
Du mercredi ou samedi, de 10 h à 16 h.
(la dernière visite de la journée part à 16 h)
Le samedi, de 10 h à 14 h.
(la dernière visite de la journée part à 14 h)
Les visites sont proposées en anglais et en français.
Les visites guidées se font la plupart du temps à pied, toutes les heures. Cependant, si vous voulez être certain d'avoir de la place, contactez la prison au 613-935-4891 pour réserver une visite !
Tarifs
Adultes : 10 $
Seniors – Étudiants : 8 $
Enfants (5 à 11 ans) : 5 $
Enfants (moins de 5 ans): Gratuit
Famille (2 adultes, 2 enfants) : 25 $
Veuillez communiquer avec nous pour obtenir des tarifs de groupe. Les prix comprennent la TVH/TPS.
En plus de proposer des visites guidées, la prison historique de SDG abrite également le centre d'information touristique de SDG où le personnel vous attend pour fournir du matériel, des informations et des conseils sur les nombreuses choses intéressantes à voir et à faire dans la région.
À propos de l'ancienne prison de SDG
Située à l'angle des rues Pitt et Water, au cœur du centre-ville de Cornwall, la prison historique de SDG a été construite en 1833 et est restée en activité jusqu'en 2002. Elle a servi d'établissement à sécurité minimale et maximale tout au long de son histoire. Depuis son démantèlement, l'installation a été transformée en une attraction et des visites guidées sont proposées pendant les mois d'été.
Pour en savoir plus sur la prison historique de SDG, veuillez cliquer ici.
Autres événements
Vous recherchez d'autres activités amusantes à Cornwall? Assurez-vous de consulter notre page sur les événements pour connaître les événements à venir dans la région!
Prolongez votre séjour
Vous prévoyez découvrir Cornwall? Prolongez votre séjour dans l'un de nos nombreux lieux d'hébergement exceptionnels! Cliquez ici pour obtenir une liste des hébergements locaux.
Information supplémentaire
Vous prévoyez venir à Cornwall? Cornwall Tourisme peut vous aider. Envoyez-nous un courriel à info@cornwalltourism.compour demander un exemplaire de notre Guide du visiteur ou appelez-nous au 613‑936‑0842. Vous pouvez également vous arrêter au centre d'information de Tourisme Cornwall à l'intérieur du musée communautaire de Cornwall dans le parc Lamoureux. Le musée communautaire de Cornwall est situé au 160, rue Water Ouest, à quelques pas de la structure de jeux pour enfants et du Waterfront Trail. Le stationnement gratuit est disponible immédiatement au nord du musée, le long de la rue Water.
Le centre d'information est ouvert tous les jours (de 8 h 30 à 16 h 30) du mai à la fin août.
Suivez Cornwall Tourisme sur Facebook
Suivez Cornwall Tourisme sur Twitter
Article de Kevin Lajoie
www.CornwallTourism.com