Lamoureux Park hosts Incredible Edible Plant Festival
May 18, 2019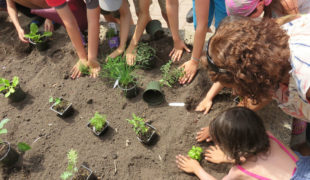 On Saturday, May 25th, grab your gardening gloves and head down to Lamoureux Park between 10:30 am – 2 pm for the 7th annual Incredible Edible Plant Festival.
Hosted by Transition Cornwall + Food Action Group in partnership with the Edible Cities Project, this year's festival will offer some exciting additions to the famous edible plant give-away.
"Our former event location near City Hall is being renovated this year so we had to look for a new spot that would still allow us to run our free edible plant give-away and community garden planting," explains Penny Batemen of Transition Cornwall+ Food Action Group. "It has been a dream of ours to expand into Lamoureux Park, but it wasn't until connecting with the Edible Cities Project that the move made sense."
The Edible Cities Project aims to advocate for and implement edible ecosystems design on underused public land and will be piloted this summer around the bandshell at Lamoureux Park. Attendees of the festival will be welcome to assist in planting fruit trees, shrubs, herbs and vegetables plants, all while learning about the benefits of edible ecosystems design in our community and at home.
"We are creating the edible gardens in Lamoureux Park as a space for learning as well as eating," Says Alain D'Aoust, coordinator for the Edible Cities Project. "As leaders in our edible community and major supporters of our project, we were happy to join forces for this event."
Those looking for the festival's regular highlights will not be disappointed. Over 400 heirloom vegetable and fruit plants have been generously donated for residents to take home. The only difference this time around – participants can decide whether to take home a large pot or just the seedling to plant in a garden bed at home.
"We have noticed that some attendees don't want to take home the large pot but instead want to plant their seedling in a garden bed," says Penny. "We are happy to provide the option this year and our gardening experts will be on site to help residents pick the right plant for their home."
As a final twist, workshops and edible foraging tours along the St. Lawrence River have been arranged in collaboration with the Seaway Valley Community Health Centre, Alain D'Aoust and Zach Loeks, and Kymberly Pedicelli of Medicinal Health.
Led by the Food Action Group of Transition Cornwall+ (a working group of the Cornwall Social Development Council), the Incredible Edible Plant Festival is supported by members of the All Things Food Network, the City of Cornwall municipal services, and numerous organizations, and volunteers.
Full Schedule of Events
10:30 am – Event opens
10:30 am – 2 pm – Plant giveaway and gardening advice
10:30 am – 2 pm – Children's Activities
11 am – Early ON local food snack
11:30 am – Foraging Walk along the river with Kymberly Pedicelli of Medicinal Health
12 pm – Seaway Valley Community Health Centre – food snack activity for children
12:30 pm – Planting of vegetable raised beds behind bandshell
1 pm – Edible Cities Project planting of edible ecosystem around bandshell with Alain D'Aoust and Zack Loeks
Additional Information
For additional information on the Incredible Edible Plant Festival, please click here.
About Transition Cornwall+
Transition Cornwall+ supports Cornwall and neighbouring communities in facing challenges such as the rising cost of energy and food, extreme weather, and financial uncertainty.
The TC+ Food Action Group aims to build food security by promoting the local food economy and food skills.
For more information on Transition Cornwall+, please click here.
Additional Events
Looking for other fun things to do in Cornwall? Make sure to check out our Events page for info on upcoming events in the area!
Stay with Us!
Planning to explore Cornwall? Extend your stay at one of our many great accommodations! For a listing of local accommodations, click here.
Additional Information
Planning a visit to Cornwall? Cornwall Tourism can help. Email us at info@cornwalltourism.com to request a copy of our Visitor Guide or contact us at (613) 936-0842. You can also stop by our seasonal Visitor Information Centre inside the Cornwall Community Museum in Lamoureux Park. The Museum is located at 160 Water Street West, just steps away from the children's splashpad and play structure. Free parking is available immediately north of the Museum along Water Street.
The seasonal Visitor Information Centre is open seven days a week (8:30 am to 4:30 pm) through the summer months.
Follow Cornwall Tourism on Facebook
Follow Cornwall Tourism on Twitter
Article by Kevin Lajoie
www.CornwallTourism.com