Kinsmen Farmers' Market returns for third season
May 20, 2019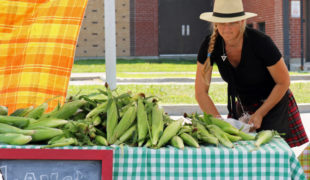 The Cornwall Kinsmen Farmers' Market is set to return for the 2019 season with its winning recipe of locally grown and locally made offerings.
"We are an all local, producer-only market. That means that everything for sale is grown or made by the people selling it, with the majority being within Cornwall and SDG," said Kinsmen member and Market Manager Neil Benjamin. "It's a great way to showcase our community and all of the great things that exist here."
The market is hosted in the north parking lot of St. Lawrence College on Sundays from 11 am to 3 pm, with opening day set for Sunday, May 26th. It runs every Sunday until the end of October. A total of 38 vendors have signed on for this season with the possibility of even more joining.
Visitors can expect a regular offering of locally grown produce, fresh meats, homemade preserves, baked goods, and artisan products. The vendors are complemented by special events, entertainment, food-related demonstrations and family and children's activities in a fun, friendly atmosphere.
Think of it as a social event and community showcase all in one.
"It's a great place to make new friends and learn about and support local vendors," added Mr. Benjamin. "The great thing about this market is that it's bringing healthy and nutritious local food to people and it's also showcasing the great artisan talent that exists in Cornwall and area. Cornwall and SDG is truly a wonderful corner of the province to live in and enjoy."
In addition to the long list of popular returning vendors – like Langview Farms, Just Farms, Stewart's Honey and Wild Rose Organic Farm – Mr. Benjamin said there are some new attendees including a chai tea vendor (coming in September), a smoked meat and rib vendor and a fruit wine vendor, to name a few.
"There really is something for everyone at the market," he added.
Those interested in becoming a vendor at the Cornwall Kinsmen Farmers' Market can contact info@cornwallkinsmenfarmersmarket.ca for more information.
Additional information
You can find out more about the Cornwall Kinsmen Farmers' Market by checking out the market website. Also, make sure to check out the market's Facebook page for ongoing updates.
Additional Events
Looking for other fun things to do in Cornwall? Make sure to check out our Events page for info on upcoming events in the area!
Stay with Us!
Planning to explore Cornwall? Extend your stay at one of our many great accommodations! For a listing of local accommodations, click here.
Additional Information
Planning a visit to Cornwall? Cornwall Tourism can help. Email us at info@cornwalltourism.com to request a copy of our Visitor Guide or contact us at (613) 936-0842. You can also stop by our seasonal Visitor Information Centre inside the Cornwall Community Museum in Lamoureux Park. The Museum is located at 160 Water Street West, just steps away from the children's splashpad and play structure. Free parking is available immediately north of the Museum along Water Street.
The seasonal Visitor Information Centre is open seven days a week (8:30 am to 4:30 pm) through the summer months.
Follow Cornwall Tourism on Facebook
Follow Cornwall Tourism on Twitter
Article by Kevin Lajoie
www.CornwallTourism.com