Melanie Brulée joins #CanadaPerforms roster
April 5, 2020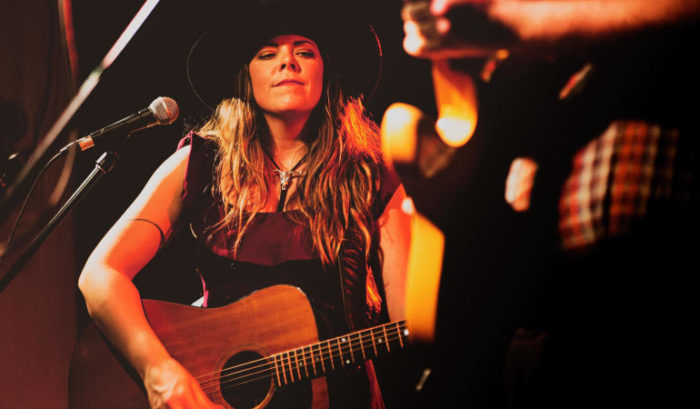 From intimate theatres to big-name festivals, Cornwall native Melanie Brulée has played just about every type of concert you could imagine.
Her next show, however, will be unique it's own way. The songstress will be playing live from her Toronto home, to an audience across Canada and around the world.
The online show – set for Tuesday, April 7th at 7 pm – is part of #CanadaPerforms, an innovative campaign by the National Arts Centre, Slaight Music and Facebook to showcase and pay Canadian artists for online performances during the COVID-19 pandemic.
With entertainment venues closed and gatherings temporarily ceased, artists have seen their income dry up. Many have turned online during this difficult time to showcase their material while also giving people a reason to smile – and potentially attracting some new fans at the same time.
"I've done a few online shows before but haven't done so in a few years since I've been touring so heavily in Canada and the US," said Brulée. "I think it's a brilliant initiative and I'm honoured to have been selected. We're certainly in a big global change at the moment so it's nice to see organizations come together to help keep the arts afloat."
True to her form, the songstress is promising a bilingual show – and fans might be in for a few surpises.
"I've been writing new songs lately so you might hear a couple during the live stream," she added. "Can't wait!"
Fans can tune in to the livestream through Melanie's official Facebook page.
Online fun
The #CanadaPerforms series is just one example of how a growing number of people are going online for entertainment, education and some levity in the face of the COVID-19 pandemic.
This trend is growing in Cornwall too, with musicians, artists and creative entrepreneurs showcasing their skills and entertaining residents through livestream events. Local musicians like Rodney Rivette and Tommy Heatley have done live shows, while entrepreneurs like cartoonist Frank Burelle and yoga instructor Paula McDermid have been offering free sessions to people from the comfort of their homes. The artist collective at 125 Pitt Street Studios is planning a week-long livestream event, Our Living Earth, later this week.
Local DJ Martin Pilon even got in on the action on Friday night by offering a live dance party through Zoom.
"I noticed a few of my DJ colleagues were doing it and I thought it would be fun to try," Pilon said. "I loved seeing the kids dancing and having a good time. We had a lot of people join in, even some from Quebec and New Brunswick!"
Cornwall Tourism events calendar
To help keep tabs on the online happenings, Cornwall Tourism has added some livestream events to its online event calendar. Enjoy some great music or learn a new skill right from the comfort of your own home! Additional events will be added in the weeks ahead so make sure to check back often!
About Melanie Brulée
Melanie's striking stage presence and unique vocal stylings have helped her gain media acclaim, industry awards and a loyal following of fans. Her singles have been on regular rotation on CBC, Radio-Canada and Sirius XM satellite in North America, allowing her to grow her international audience and tour the continent, playing nearly 100 shows per year. In 2015, she released the French album Débridée to critical acclaim. Her third album, Fires, Floods & Things We Leave Behind, was released in October 2018.
For more information about Melanie Brulée, please click here or check out Melanie's Facebook page.
Article by Kevin Lajoie
www.CornwallTourism.com