Museum launching guided historic walking tours
December 16, 2021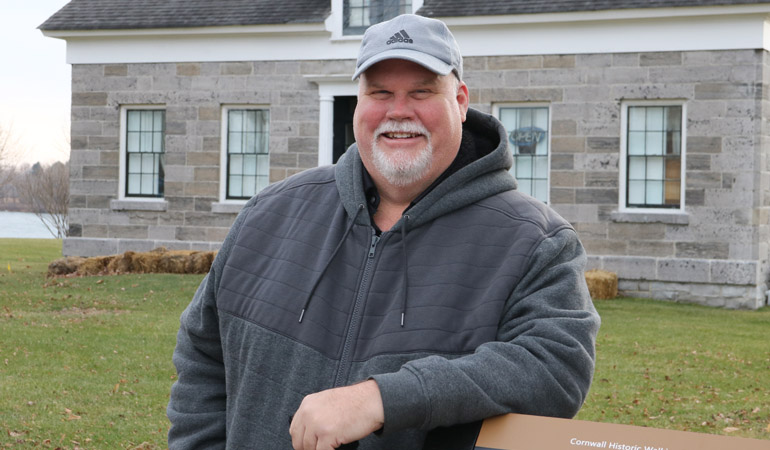 Cornwall's rich history will come alive in 2022 as the Cornwall Community Museum launches a new series of guided historic walking tours in the community.
The new initiative, which could also expand to include bicycle and virtual tours, was one of three new tourism ideas that were recently selected as finalists in the 2021 Spark Program for Akwesasne, Cornwall and SDG Counties. The three finalists have each been awarded a $3,000 grant and one-on-one mentorship support to help take their new tourism ideas to the next level of development.
The finalists include:
Historic Walking Tours (Cornwall Community Museum)
Anticipated to launch in May 2022, the tours will feature an amalgamation of historical facts, storytelling, plaques, murals, historic buildings, churches and the museum. Walking, bicycle and virtual tours are being planned.
Visitor Wow Moments (Native North American Travelling College)
The Native North American Travelling College on Cornwall Island will make improvements to the facility's gift shop and other in-person elements of the museum. The NNATC strives to promote and preserve Mohawk language, culture, and history.
Farm-to-Table Culinary Events (Paperboat Farms)
Paperboat Farms in Newington will be finishing their commercial kitchen in order to host cooking classes featuring their farm-grown products as well as a farm-to-table culinary event on the farm.
In addition to a source of seed funding and mentorship, selected applicants gain access to a network of tourism innovators, entrepreneurs and leaders across the province.
"Cornwall is proud to be part of such a collaborative program like Spark, which is aimed at bringing new tourism ideas to life in our region," said Cornwall Mayor Glen Grant. "I am eager to see the 2021 winners develop their initiatives and add to our region's standing as a great visitor destination."
This is the second time the Spark Program has been offered in the region, with three entrepreneurs previously selected in 2020.
"The Akwesasne, Cornwall & SDG Counties Spark Program is a very exciting project that encourages creativity, inclusivity and participation from all of our communities. These mentorships and grant programs have the potential to create long-lasting business relationships that will of course benefit all individuals but most importantly, all communities involved," said Abram Benedict, Grand Chief of the Mohawk Council of Akwesasne.
This year, a total of 11 applications were submitted with the top six applicants being invited to present their new tourism idea at a virtual Finalists' Pitch Session held on December 7th. A judge panel of partner representatives and a tourism entrepreneur from outside the region selected the three winning applicants – one each from Akwesasne, Cornwall and SDG Counties.
"This year the Akwesasne, Cornwall & SDG Counties 'Spark' Program received an array of submissions with some incredible ideas and concepts. The result is a program that brings with it a tremendous amount of success. I can't wait to see our winners grow their ideas for attractions that will increase our tourism footprint in the region," said Allan Armstrong, Warden for SDG Counties.
The Spark Program is a partnership between the Ontario Tourism Innovation Lab, Mohawk Council of Akwesasne, Cornwall Tourism, Cornwall Tourism Development Fund, and SDG Counties Tourism. Its goal is to find, foster and support new tourism ideas, experiences and partnerships that will enhance current offerings, address gaps or challenges, motivate travel and longer stays, and increase year-round visits in the region.
"We congratulate the three winners of the Akwesasne, Cornwall & SDG Counties Spark Program and are excited to work with them to help develop new and exciting tourism initiatives in the region," said Justin Lafontaine, Program Lead for the Tourism Innovation Lab.
Additional information
For more information on the program, please visit www.tourisminnovation.ca/ACSDG.
#ExploreCornwallON
Looking for other fun things to do in Cornwall? Check out the Explore section of our website for other fun-filled activities to keep you busy. Better yet, consider extending your stay with a night at one of our great accommodations!
Got a question?
Got questions? Need recommendations? We're here to help! Call or text us at 613-938-4748 or email us at info@cornwalltourism.com and we'll be pleased to help you with any questions you may have!
Also make sure to check us out on Facebook and Instagram for updates and more great reasons to visit Cornwall!