New banners add colour to Cornwall's streetscape
December 13, 2021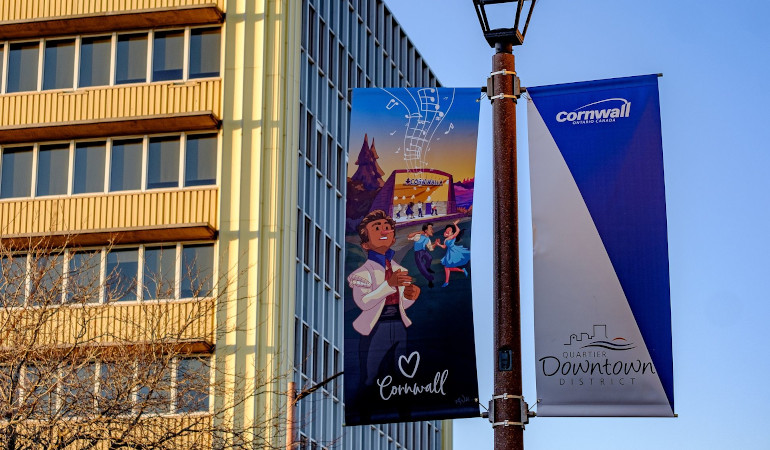 Cornwall's streetscape is gaining a little bit of colour with the arrival of new street banners throughout the heart of the city.
The new colourful banners feature six different themes including arts and culture, diversity, history, outdoor recreation, shopping and dining. Each banner carries the tagline "Heart Cornwall" and were designed by local artist and illustrator Anthony Wallace.
"The banners celebrate many of the things that people love most about Cornwall," says Mayor Glen Grant. "They are a great addition to our streetscape and will help welcome visitors to the city."
Once complete, 115 banners will grace the streets of Cornwall's Downtown, Le Village and Waterfront districts.
"Banners are an excellent way to add vibrancy to the streetscape, and the new series which displays the work of a local artist is a wonderful complement to the growing arts & culture scene in our Downtown," says Josh Casselman, DBIA President.
The themed banners will be paired with an orientation banner that will reinforce the sense of place in each district. The orientation banners were designed by local designer Olivia Barton.
This is the fifth series of banner designs erected in Cornwall since 2007. There are approximately 115 banners in the current series and they are expected to have a lifespan of 3-5 years.
The banner series is a Cornwall Economic Development project, supported by the Downtown and Le Village Business Improvement Associations. Additional funding support was provided by the DBIA. Installation of the banners is expected to be completed over the next two weeks.
#ExploreCornwallON
Looking for other fun things to do in Cornwall? Check out our Events Calendar as well as the Explore section of our website for other fun-filled activities to keep you busy. Better yet, consider extending your stay with a night at one of our great accommodations!
Got a question?
Got questions? Need recommendations? We're here to help! Call or text us at 613-938-4748 or email us at info@cornwalltourism.com and we'll be pleased to help you with any questions you may have!
Also make sure to check us out on Facebook and Instagram for updates and more great reasons to visit Cornwall!