New leader takes the helm of Aultsville Theatre
December 22, 2022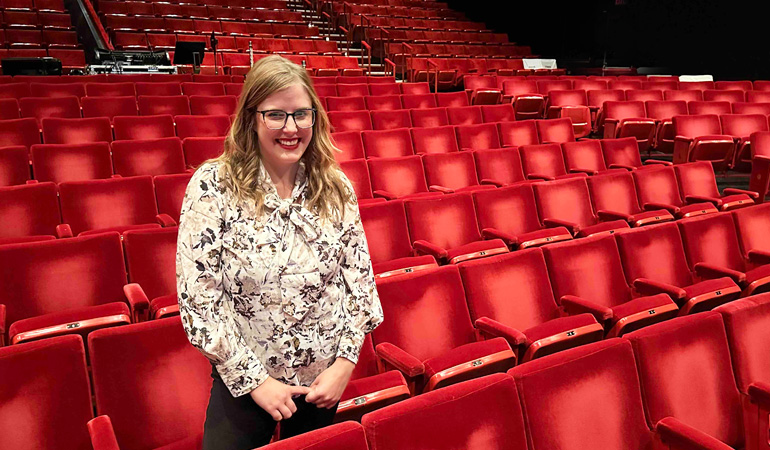 There's a new general manager heading up operations at Cornwall's Aultsville Theatre.
Brittney Waldroff has recently taken on the role of general manager of the 680-seat performing arts venue, and she is no stranger to the theatre – or the community.
Waldroff was born and raised in Long Sault and the pandemic led her family back home in 2021 after some time away where she built a successful career in events and communications.
"I'm thrilled to have joined the team here at the theatre and have been welcomed so warmly by our Board of Directors, staff, volunteers and patrons. For so many of us who grew up in the area, Aultsville Theatre has been the scene of milestone events whether it be seeing a favourite performer, performing in a dance recital or music festival or crossing the stage at convocation," Waldroff said.
Located on the campus of St. Lawrence College, Aultsville Theatre hosts dozens of concerts, plays and other special events throughout the year for the enjoyment of both local residents and visitors.
"I'm proud to be a part of the team leading the organization as we look to 2023 and beyond," Waldroff added.
It's already shaping up to be a big year at the theatre, with a number of performances already booked for 2023. In addition to the ongoing Cornwall Concert Series, fans can look forward to the Seaway Valley Theatre Company's presentation of The Sound of Music from February 17th to 25th as well as a concert by Hotel California, the original Eagles tribute, on March 30th.
About Aultsville Theatre
Aultsville Theatre is Cornwall's professional community theatre and road house. Since 1976, Aultsville Theatre has played host to a full spectrum of the performing arts. From local artists to world-class touring performers, audiences and artists alike appreciate the exceptional experience provided by this 680-seat performing arts space.
Located along the Highway 401 corridor between Toronto and Montreal, Aultsville Theatre is a popular stop for professional touring artists. Cornwall's close proximity to Akwesasne, SDG Counties and Ottawa, Montreal, and northern New York makes the city an ideal destination for audiences.
Aultsville Theatre is located on the campus of St. Lawrence College at 2 St. Lawrence Drive on the scenic St. Lawrence River.
For additional information on Aultsville Theatre, please check out the Aultsville Theatre website or check out their Facebook page.
#ExploreCornwallON
Looking for other fun things to do in Cornwall? Check out the Explore section of our website for other fun-filled activities to keep you busy. Better yet, consider extending your stay with a night at one of our great accommodations!
Got a question?
Got questions? Need recommendations? We're here to help! Call or text us at 613-938-4748 or email us at info@cornwalltourism.com and we'll be pleased to help you with any questions you may have!
Also make sure to check us out on Facebook and Instagram for updates and more great reasons to visit Cornwall!