New photo booth pops up in Lamoureux Park
March 24, 2021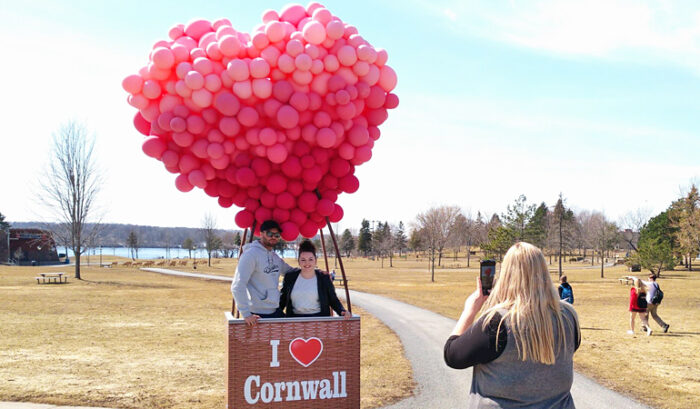 A new photo booth has popped up in Lamoureux Park to help spread some Cornwall pride and usher in the warmer weather.
The new I Love Cornwall hot air balloon photo booth has become an immediate hit, with people of all ages stopping to show their community pride and grab a pic in the colourful 12-foot high prop set against beautiful Lamoureux Park.
Cornwall Tourism spearheaded the initiative with assistance from the City of Cornwall's Parks, Recreation and Facilities departments. Local businesses Long Graphics and Balloon Babes were key in pulling it all together and providing the finishing touches to really give it a realistic hot air balloon look and feel.
"We wanted to create something that would be fun for residents and if it can help promote Cornwall at the same time, that's even better," said Amy Malyon, Tourism Coordinator for the City of Cornwall. "The hot air balloon image brings back fond memories for most people from the Lift-Off days, and the idea just sort of took off from there."
The photo prop will be set up in Lamoureux Park on select days during the spring and summer when the weather is agreeable.
Placemaking is a priority for the City of Cornwall and the new pop-up photo booth builds on previous efforts to create safe and fun experiences in public spaces. Last year, the City of Cornwall added colourful picnic tables to Lamoureux Park and Downtown Cornwall as well as the artistic pop-up sea containers for use by artisans.
"These projects all relate to placemaking and they help make Cornwall a little brighter," Malyon said.
The hot air balloon booth will be used in conjunction with an upcoming 'I Love Cornwall' testimonial campaign by Cornwall Tourism.
"We are asking people to share their photos in the hot air balloon along with a brief testimonial on why they love Cornwall. Submitted testimonials may be used in a number of publicity and advertising projects for the city and participants will have a chance to win some great I 'heart' Cornwall swag," added Malyon.
Residents are encouraged to use caution when photographing in the booth. The structure is stable, but is a temporary installation. The unit will be wiped down and sanitized daily, but users are encouraged to use hand sanitizer before and after getting in the basket.
Play it safe!
We all have a part to play in combating the spread of COVID-19. Residents are encouraged to wear masks, practice frequent hand washing and physical distancing, and stay home if not feeling well. For the latest guidelines and restrictions related to COVID-19, please visit the Eastern Ontario Health Unit website.
#exploreCornwallON
Looking for other fun things to do in Cornwall? Check out the Explore section of our website for other fun-filled activities to keep you busy. Better yet, consider extending your stay with a night at one of our great accommodations!
Got a question?
Got questions? Need recommendations? We're here to help! Call or text us at 613-938-4748 or email us at info@cornwalltourism.com and we'll be pleased to help you with any questions you may have!
Also make sure to check us out on Facebook and Instagram for updates and more great reasons to visit Cornwall!