New vintage fashion shop opens in Downtown Cornwall
October 23, 2020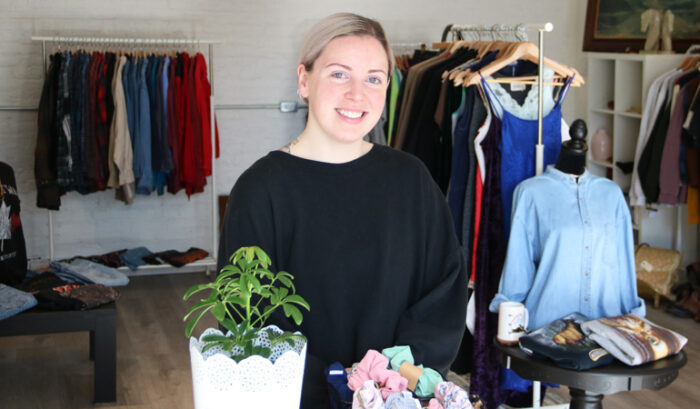 Cornwall has a new home for those in search of that one-of-a-kind vintage fashion item.
dg vintage has officially opened its doors at 5 First Street East, providing a new spot to seek out quality vintage items at affordable prices.
The business itself is not new, however the leap to a storefront location represents the next step in a lifelong passion project for owner Dayna Gunn.
"I grew up thrifting and antiquing with my dad," she recalls. "I've always loved going into vintage shops and thrift stores and I always wanted to have my own store."
The Cornwall native recently returned to her hometown and before long, an ideal retail space became available in Downtown Cornwall. Call it a case of perfect timing.
"This space is perfect for me," she added. "It all kind of just fell into place."
The beautifully-decorated space features a wide assortment of women's and unisex items – mostly from the 80s, 90s and early 2000s – that have been carefully selected and curated by Ms. Gunn.
Beyond providing great threads at a great price, it's also part of a larger philosophy to promote quality and recycling of garments over 'fast fashion' – a term Ms. Gunn uses to describe newer items that are made quickly and are less durable.
"Vintage stuff is going to last you forever," she said. "I handpick every single piece (of clothing)."
The young entrepreneur is excited to be part of Downtown Cornwall with its growing mix of retail shops and restaurants. She's also been heartened with the level of support she's seen from the community. This summer, she opened for two days at the Downtown pop-up containers and the response was great.
"The community is super supportive and it feels like they really want to support local," she said.
In addition to her one-of-a-kind items, dg vintage also sells scrunchies from Fringe by Meg as well as items from other makers and vendors like Casa 20 and Britt Co.
Additional information
dg vintage is open Thursdays and Fridays from 10 am to 2 pm and Saturdays and Sundays from 11 am to 4 pm and online sales are also available.
You can find out more by checking out their Facebook page and Instagram account.
Play it safe!
We all have a part to play in combating the spread of COVID-19. Residents are encouraged to wear masks in indoor public spaces and practice frequent hand washing and physical distancing. For the latest guidelines and restrictions related to COVID-19, please visit the Eastern Ontario Health Unit website.
#exploreCornwallON
Looking for other fun things to do in Cornwall? Check out the Explore section of our website for other fun-filled activities to keep you busy. Better yet, consider extending your stay with a night at one of our great accommodations!

Article by Kevin Lajoie
www.CornwallTourism.com