New virtual tour offers taste of Akwesasne culture
February 23, 2022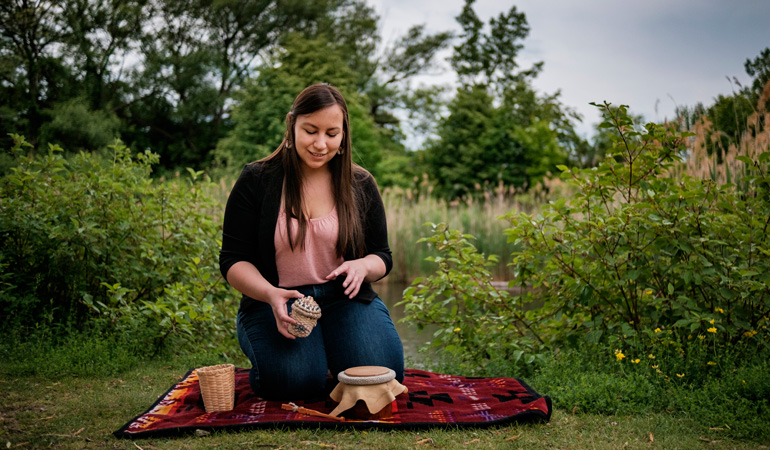 A new virtual tour allows viewers to travel to Akwesasne and immerse themselves in Mohawk culture – all from the comfort of home.
The Native North American Travelling College (NNATC) on Cornwall Island is once again offering a 'Living Culture with Mohawk Interpretation' online experience to give viewers a unique look at Akwesasne and its amazing history.
Co-hosted by NNATC staff members Lorna Thomas and Karonhianonha Francis, the virtual tour takes participants on an interactive journey of Mohawk culture starting with the Creation Story and ending with present day living. The co-hosts also teach a few Mohawk phrases and offer friendly guidance on pronunciation in addition to sharing music, insights into life in the Longhouse and Wampum belts, early records of stories and treaties and much more. Artifacts from the NNATC's expansive collection are also displayed and explained to tourgoers.
"It's pretty much like an introduction to Akwesasne," said Francis. "We try to make it a personal experience by sharing stories and details and we also save time to answer questions."
The online opportunity means people can attend from around the world, and Francis said they have already welcomed participants from as far away as Ireland and Scotland.
"Everyone walks away from it having learned something new," she added.
The virtual tour can be booked through Airbnb online experiences at a cost of $12 per person. The 60-minute tour is being offered on Monday, February 28th and select Wednesdays in March from 1 pm to 2 pm. Private bookings are also available for larger groups.
The response to the tours so far has been nothing short of amazing.
"Lorna and Mikayla were excellent hosts. They introduced Mohawk culture, arts and history in a very interesting and engaging way, and I learnt a lot from the experience. I really liked the way that they used a 'show and tell' of objects to illustrate aspects of the culture," wrote one reviewer online.
About the Native North American Travelling College
The NNATC is located just south of Cornwall on 3 acres of waterfront property on Cornwall Island in Akwesasne, connecting it to the St. Lawrence River, the backbone of this Mohawk community. Visitors are welcome to enjoy the NNATC's facilities which include a museum and Ista's Gift Shop. The NNATC continues to promote and preserve Mohawk language, culture, and history.
For more information on the NNATC, please visit their website or check them out on Facebook or Instagram.
#ExploreCornwallON
Looking for other fun things to do in Cornwall? Check out the Explore section of our website for other fun-filled activities to keep you busy. Better yet, consider extending your stay with a night at one of our great accommodations!
Got a question?
Got questions? Need recommendations? We're here to help! Call or text us at 613-938-4748 or email us at info@cornwalltourism.com and we'll be pleased to help you with any questions you may have!
Also make sure to check us out on Facebook and Instagram for updates and more great reasons to visit Cornwall!