Ontario East Municipal Conference returns to Cornwall
September 4, 2019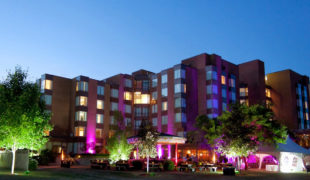 Over 500 municipal officials will be back in Cornwall this fall for the Ontario East Municipal Conference (OEMC).
"We had a very good experience in Cornwall last year and there was a clear consensus to return," says Dylan Boles, Executive Director with the Ontario East Economic Development Commission. "OEMC 2019 will once again offer a very compelling conference program."
OEMC is an annual conference that brings economic developers and municipal leaders from across Eastern Ontario together for three days to share best practices and learn from other experts on topics of interest for economic development in their communities. In addition to a busy 3-day schedule of seminars and workshops, OEMC also boasts a trade show and a robust social program that includes Taste of the Town – an opportunity for delegates to explore local restaurants.
"Cornwall looks forward to welcoming community leaders from across Eastern Ontario, from municipalities both large and small," says Bernadette Clement, Mayor of Cornwall. "Cornwall was a founding member of Ontario East and we remain committed to working with our neighbours for the betterment of the entire region."
The conference will held Wednesday September 11 to Friday September 13, 2019 at the NAV CENTRE, which is large enough to accommodate multiple concurrent sessions and allow delegates, speakers and exhibitors to stay on site. Registration is open now at OEMC.ca.
About the Ontario East Municipal Conference
Established in 1989, the Ontario East Municipal Conference (OEMC) has developed into the largest annual regional municipal conference east of Toronto. The Ontario East Economic Development Commission has delivered a dynamic program to share municipal knowledge and best practices and enhance economic opportunities and successes. Each year, 500+ delegates comprise a diverse group of elected officials, economic development professionals, entrepreneurs, municipal service providers, private sector business leaders and provincial ministry representatives.
For more information, visit the OEMC website or check out OEMC on Twitter.
About the Ontario East Economic Development Commission
Since 1988 the Ontario East Economic Development Commission has been a collective voice for economic development in Eastern Ontario. The Commission markets the region to key sectors, offering investors and site selectors a one stop location to connect with local economic development professionals.
For more information, visit the Ontario East website or find them on Twitter.
About the Nav Centre
Located on the scenic shores of the St. Lawrence River in Cornwall, the Nav Centre is a full service conference centre offering access to 551 guest rooms and 70 dedicated state-of-the-art meeting rooms, spa, fitness centre with indoor pool and an Irish pub with live entertainment. The Centre can accommodate small groups of five to large groups of up to 500. Learn more at www.navcentre.ca.
Additional Events
Looking for other fun things to do in Cornwall? Make sure to check out our Events page for info on upcoming events in the area!
Visit Cornwall!
Planning a visit to Cornwall? Cornwall Tourism can help. Email us at info@cornwalltourism.com to request a copy of our Visitor Guide or contact us at (613) 938-4748. You can also stop by the Cornwall Tourism office at the Cornwall Civic Complex (100 Water Street). The office is open Monday to Friday from 8:30 am to 4:30 pm – we would be happy to answer your questions and provide you with recommendations and information to make your visit to Cornwall even more memorable!
Follow Cornwall Tourism on Facebook
Follow Cornwall Tourism on Twitter