Visitor Centre opens for summer season
May 27, 2019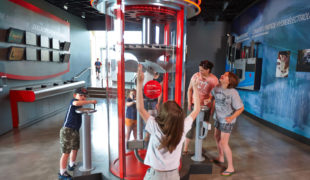 One of Cornwall's most popular attractions is opening for the summer season with a full slate of events to keep families entertained.
The Saunders Hydro Dam Visitor Centre officially opens on Tuesday, May 28th for its summer season and the venue has over a dozen free summer events planned. The centre will be open six days a week (closed Mondays) from 9:30 am to 5 pm from May 28th to August 28th.
"All of our programs are family-friendly and free," said Matt Mulvihill, Site Communications Officer with Ontario Power Generation. "Whether you're interested in science and technology, community service, environmental research or history, the Visitor Centre has something for you."
Located on the banks of the St. Lawrence River, the Saunders Hydro Dam Visitor Centre provides visitors with a chance to learn about the history of the St. Lawrence Seaway and Power Project, one of Canada's largest engineering projects. The Centre is equipped with interactive exhibits with explanations ranging from how electricity is generated to information about Mohawk and Native American culture.
The fascinating building not only has a spectacular view of the St. Lawrence and RH Saunders Generating Station, but it also offers a wide range of unique activities. Visitors have the chance to chase a virtual electric eel up a ladder, spin a turbine to create electricity, watch videos about the creation of the dam, and learn to balance power production first-hand by becoming an operator for the day.
Summer events
In addition to the exhibits, the centre offers a variety of free events throughout the summer. This year's schedule includes:
– Tackleshare – Saturday, June 15th
– Budding Scientists with the St. Lawrence River Institute – Saturday, June 22th
– OPG Environment Day – Saturday, July 6th
– OPG Family Fun Day – Saturday, July 13th
– Nocturnal Creatures Workshop with SLRI – Wednesday, July 17th (6:30 pm – 9 pm)
– OPG Science and Technology Day – Saturday, July 20th
– OPG Electricity Day – Sunday, July 28th
– Teddy Bear Picnic – Saturday, August 10th
– Wonderful World on Wildlife with SLRI – Saturday, August 17th
– Falling into Autumn with SLRI – Saturday, September 21st
– Earth Rangers – Saturday, September 28th (showtimes at 11 am, 12:30 pm and 2 pm)
For additional information on these summer events, please email powervisitorcentre@opg.com or call (613) 932-4563.
About the Saunders Hydro Dam Visitor Centre
The Visitor Centre is located on the bank of the St. Lawrence River east of the Robert H Saunders Generating Station. This 13,000 square foot gold level LEED building opened in the summer of 2010 and is the new home of OPG's many stories. It recounts the fascinating history of the St. Lawrence Seaway and Power Project and addresses its impact on specific communities such as the Mohawks of Akwesasne and the Lost Villages. There is a variety of video presentations available, and displays on hydroelectric, thermal and nuclear generation, safety around power facilities, the American eel and the St. Lawrence Seaway. As well, a community room is available for use by local organizations.
For more information, please check out their website or Facebook page.
Additional Events
Looking for other fun things to do in Cornwall? Make sure to check out our Events page for info on upcoming events in the area!
Stay with Us!
Planning to explore Cornwall? Extend your stay at one of our many great accommodations! For a listing of local accommodations, click here.
Additional Information
Planning a visit to Cornwall? Cornwall Tourism can help. Email us at info@cornwalltourism.com to request a copy of our Visitor Guide or contact us at (613) 936-0842. You can also stop by our seasonal Visitor Information Centre inside the Cornwall Community Museum in Lamoureux Park. The Museum is located at 160 Water Street West, just steps away from the children's splashpad and play structure. Free parking is available immediately north of the Museum along Water Street.
The seasonal Visitor Information Centre is open seven days a week (8:30 am to 4:30 pm) through the summer months.
Follow Cornwall Tourism on Facebook
Follow Cornwall Tourism on Twitter
Article by Laiah Pare
www.CornwallTourism.com