Pets take the spotlight at first-ever Unleash Pet Fest
May 29, 2023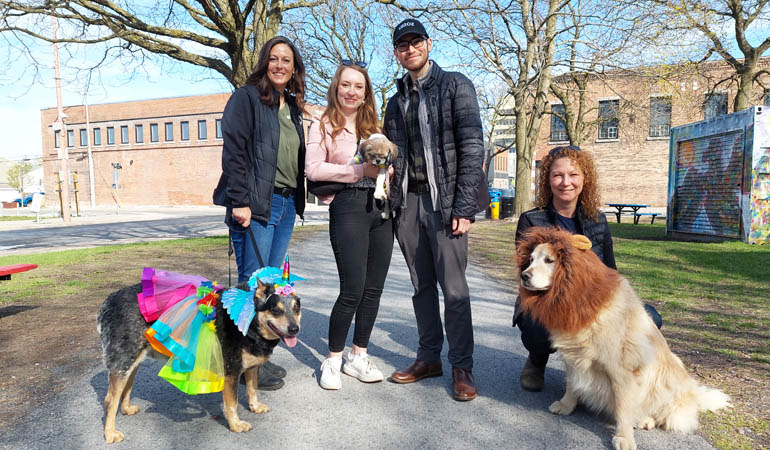 The first-ever Unleash Pet Festival is set to make its debut on Saturday, June 3rd in Downtown Cornwall.
Touted as a fun day for the whole family to play, shop and socialize, the Unleash Pet Fest will feature a Pet Parade, vendor market, special activities and much more. The festival runs from 11 am to 5 pm on Pitt Street in Downtown Cornwall.
Pet parade
The pet parade will kick off at 10 am at the corner of Pitt and First streets and run east to Sydney Street, north to Fifth Street and then south on Pitt Street to wrap up at the corner of First and Pitt streets. Pet owners can register their pet and dress them up for the occasion – the parade theme is unicorns and rainbows – and participants will have a chance to win some prizes courtesy of Stacy's Pet Depot.
Click here for more info on the Pet Parade
Pet Market
The Pet Market will run down Pitt Street from Second Street to First Street, which will be closed to traffic for the day for the event.
Over 20 different vendors – both pet-related and non-pet related – will be set up along the street showcasing their products and services for visitors enjoy!
Click here for more info on the Pet Market
Other activities
Visitors can also enjoy a variety of activities at the corner of Pitt and First streets including a kissing booth, obstacle course, cool down stations, an animal show by Ecofauna Zoo & Educational Shows, a catch-a-treat game and more.
There will also be pools for the four-legged friends to cool down as well as a water bottle refill station at Carrots N' Dates. The Happy Popcorn Co. and Fairy Sweet will have doggy snacks and treats for pets to enjoy and pet-friendly businesses like Life's Little Pleasures and Echo Trends will be open and ready to serve.
Event rules
Attendees are encouraged to keep the following rules in mind:
– All pets must be either on a leash, not exceeding 48" in length, or in a suitable harness/containment system
– No retractable leashes allowed
– Owner must clean up after his/her pet
– Pet owners must report any incidents to event staff and to First Aid immediately
– Pet owners must adhere to the event rules, and obey if asked to leave
– Your pet must meet all municipal by-laws
– Your pet must not be aggressive and have had incidents of biting or shown aggression in the past
– Your pet must not have ever caused bodily injury or property damage
Additional information
For more info on Unleash Pet Fest, please visit the official website.
#exploreCornwallON
Looking for other fun things to do in Cornwall? Check out the Explore section of our website for other fun-filled activities to keep you busy. Better yet, consider extending your stay with a night at one of our great accommodations!
Got a question?
Got questions? Need recommendations? We're here to help! Call or text us at 613-938-4748 or email us at info@cornwalltourism.com and we'll be pleased to help you with any questions you may have!
Also make sure to check us out on Facebook and Instagram for updates and more great reasons to visit Cornwall!