Pumpkinferno returns to Upper Canada Village
September 7, 2021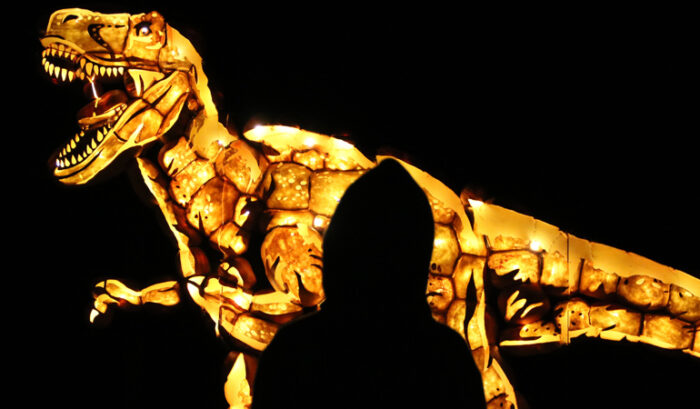 Pumpkinferno is back at Upper Canada Village!
The festive fall event will run nightly from Friday, September 24th to Sunday, October 31st and will feature new exhibits along with many incredible fan favourites from years past.
Now in its 10th season, Pumpkinferno is an all-ages luminary experience that allows guests to wander through a mesmerizing installation of over 7,000 hand-carved, glowing pumpkins set up along a curated self-tour path through the village.
This year's event will feature a variety of new displays such as The Roaring '20s and Area 51 as well as some of the most popular exhibits from past events such as Day of the Dead, Enchanted Forest, Mesozoic Monsters and Clown Town.
Read on for everything you need to know about attending this year's Pumpkinferno!
Make a night of it!
Enhance your Pumpkinferno visit and make a night of it with dinner and a stay in Cornwall just a short drive east of Upper Canada Village!
The Best Western Parkway Inn and Conference Centre, Ramada by Wyndham and Comfort Inn Cornwall are all offering 15% off their daily room rates to guests with Pumpkinferno tickets. Simply mention that you're visiting Pumpkinferno!
Accommodation details:
Best Western Parkway Inn and Conference Centre
1515 Vincent Massey Drive
613-932-0451
Website
Ramada by Wyndham Cornwall
805 Brookdale Avenue
613-933-8000
Website
Comfort Inn Cornwall
1625 Vincent Massey Drive
613-937-0111
Website
As for dinner, the options are endless in Cornwall. From fast food to fine dining and flavours from around the world, you'll find it all in the city! Check out our Eat section for more inspiration on where to dine in the city.
Hours of operation
Pumpkinferno will run from 7 pm to 10 from September 24th to October 17th and 6:30 pm to 10 pm from October 18th to October 31st.
Arrival timeslots are scheduled every half hour.
Tickets
General admission (ages 5+) are $20 (plus HST) and children 4 and under are free.
Tickets will go on sale as of September 7th and will be available to purchase online only at pumpkinferno.com. Tickets will not be available for purchase at the village entrance for capacity purposes.
Timed ticketing is implemented to ensure groups are spaced out and to maintain a safe maximum capacity.
Click here to purchase tickets online
Tips on arrival
Guests should arrive no earlier than 15 minutes prior to earliest check-in time indicated on their ticket.
Guests will be required to self-assess their health and will be encouraged not to visit if there is any possibility that they may have contracted or have come into contact with someone with Covid-19.
Ticketholders can enjoy Pumpkinferno at their own leisure and must follow physical distancing rules as mandated by the provincial government. People must stay six feet away from others. Staff will monitor and educate guests on physical distancing rules.
The Pumpkinferno tour takes place outdoors and is designed along an open route that will ensure visitors can maintain appropriate physical distance. All paths of the tour are navigable by wheelchair (though can be affected by weather conditions).
Face coverings or masks are mandatory within indoor spaces.
Accessibility Nights
Three accessibility nights will be held on October 5, 12 and 19 and they are available for bookings by phone only through Guest Relations at 1-800-437-2233.
Location
Upper Canada Village is located at 13740 County Road 2 in Morrisburg.
Additional information
For additional information on Pumpkinferno and Upper Canada Village, please visit the Pumpkinferno website.
Got a question?
Got questions? Need recommendations? Cornwall Tourism is here to help! Call or text us at 613-938-4748 or email us at info@cornwalltourism.com and we'll be pleased to help you with any questions you may have!
Also make sure to check us out on Facebook and Instagram for updates and more great reasons to visit Cornwall!
Play it safe!
We all have a part to play in combating the spread of COVID-19. Residents are encouraged to wear masks, practice frequent hand washing and physical distancing, and stay home if not feeling well. For the latest guidelines and restrictions related to COVID-19, please visit the Eastern Ontario Health Unit website.
#exploreCornwallON
Looking for other fun things to do in Cornwall? Check out the Explore section of our website for other fun-filled activities to keep you busy. Better yet, consider extending your stay with a night at one of our great accommodations!