Dragon boat registration now open for Waterfest
March 29, 2019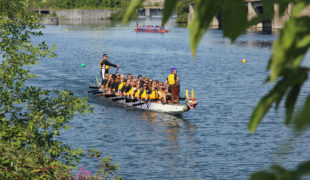 The historic Cornwall Canal is set to come alive once again on Saturday, August 10th with the return of Cornwall Waterfest. A staple of Cornwall's summer events calendar, Waterfest offers a mix of festivities, food, live entertainment and, of course, the popular dragon boat races.
"It's a great celebration of community right on our beautiful waterfront," said Waterfest Chair Lea Emard. "This is the 10th year of our event and it promises to be bigger and better than ever. We were thrilled with the turnout for last year's event which was a sold-out success."
Registration for the dragon boat races is now open and interested teams are encouraged to register early.
"Dragon boat racing offers both participants and spectators another unique way to enjoy Cornwall's beautiful waterfront," said Mrs. Emard. "There is no other outdoor event that offers the fun, excitement and spectacle of dragon boat racing."
The cost of registering a team is $840 which amounts to $40 for each of the 21 participant's team members. There is both a Community and Sport division to encourage people of all skill levels to participate. Every local team will be given the opportunity to practice prior to the event. There are also two racing divisions to suit every team's needs. The Community Division offers a chance for those seeking a friendly type of competition, while the Sport Division offers a chance for those seeking more of a challenge. For the first time last year, the Cornwall Waterfest awarded trophies in a Ladies' Division. Organizers are also encouraging youth teams to get involved.
"You don't have to have any experience," said Mrs. Emard. "It's a really fun activity. People of all ages and fitness levels try it out and they quickly develop a passion for the sport."
Click here for additional information on dragon boat registration
The deadline for registration is July 10th.
Fun for all
Along with the races, there will be food and drink vendors, a market featuring local artisans, and homegrown live entertainment performing on the Waterfest stage. The activities are based near the western end of the canal near Power Dam Drive and Second Street West.
A portion of the proceeds from the event will go to Hospice Cornwall. There are multiple other ways to donate to this year's charity, including a silent auction, 50/50 draw and collecting pledges.
For additional information on the event, registering a team, sponsorship or becoming a vendor, please visit the Cornwall Waterfest website.
Additional Events
Looking for other fun things to do in Cornwall? Make sure to check out our Events page for info on upcoming events in the area!
Stay with Us!
Planning to explore Cornwall? Extend your stay at one of our many great accommodations! For a listing of local accommodations, click here.
Additional Information
Planning a visit to Cornwall? Cornwall Tourism can help. Email us at info@cornwalltourism.com to request a copy of our Visitor Guide or contact us at (613) 933-0074. You can also stop by the Cornwall Tourism office inside the Cornwall Civic Complex at 100 Water Street East. The office is open Monday to Friday from 8:30 am to 4:30 pm.
Follow Cornwall Tourism on Facebook
Follow Cornwall Tourism on Twitter
Story by Laiah Pare
www.CornwallTourism.com