Savour Downtown Cornwall's food scene with Cornwall Food Tours
September 7, 2021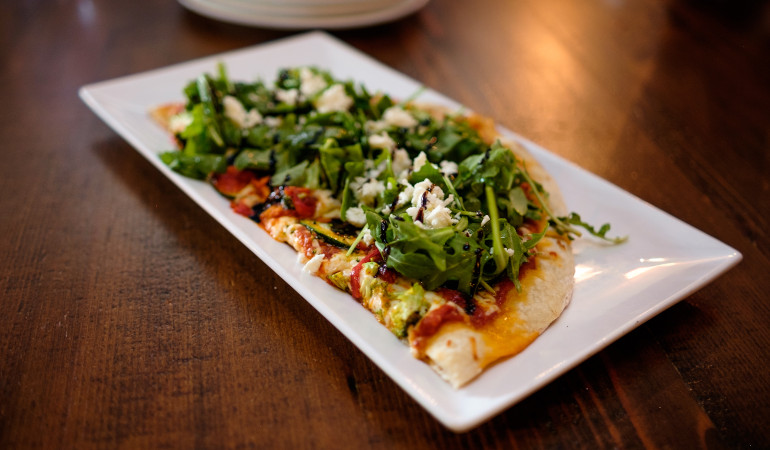 Cornwall resident Melissa Julien recently took part in the new Downtown Cornwall Food Tour from Cornwall Food Tours and offered to share a bit about her experience. Read on to learn more about her foodie-inspired adventure!
---
I booked my spot for the Downtown Cornwall Food Tour because I thought it was a neat idea to tour a bunch of our amazing Downtown restaurants with a group of people. It's not something I've ever seen here – only in big towns!
All I can say is wow. What an amazing day it was. If you are a food lover and like trying different foods and flavours, you are definitely going to love this tour.
It started at The Spicy Pearl with jerk chicken and a delicious spring roll. If you like spicy stuff, you'll love this. Cute place and super good food.
After that, we were off to Truffles Burger Bar for a sample of the Santorini Burger. Let's just say it is going to be my new go-to burger from there from now on.
We moved on to Fairy Sweet for some delicious chocolate before continuing on to Edward's Bistro for a taste of their smoked ribs with fries. They were fall off the bone ribs… so delicious.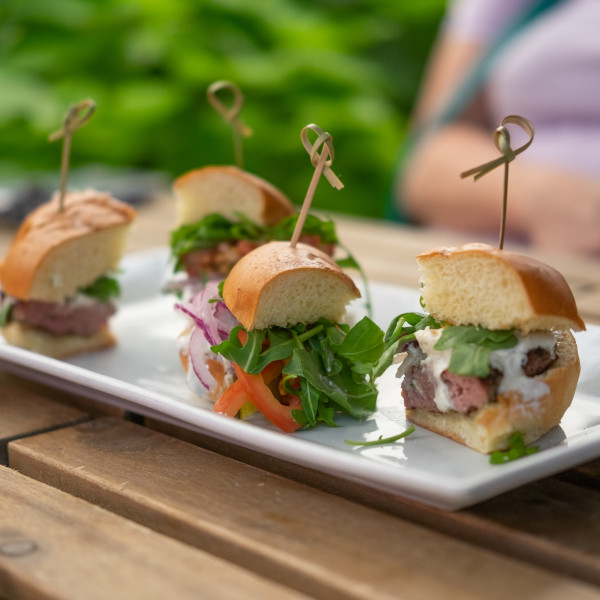 The best part was the tour was only at the halfway point!
From there, we walked to Shah's Halal Grill and Grocery and had a super amazing chicken roll. There were so many great bites but this was my favourite of the tour. Such great Middle Eastern flavours!
After that, our group made our way to Esca for an amazing veggie pizza topped with arugula and a balsamic glaze. This will be a new pizza I pick up when I go there in the future. We also got to sample some beer from Cornwall's own Rurban Brewing.
With our appetites beyond satisfied, we made one last stop to The Happy Popcorn Co. We were given a sample of their cheddar popcorn and I just couldn't resist buying some of their Pumpkin Spice popcorn. The story behind the shop's opening is so amazing!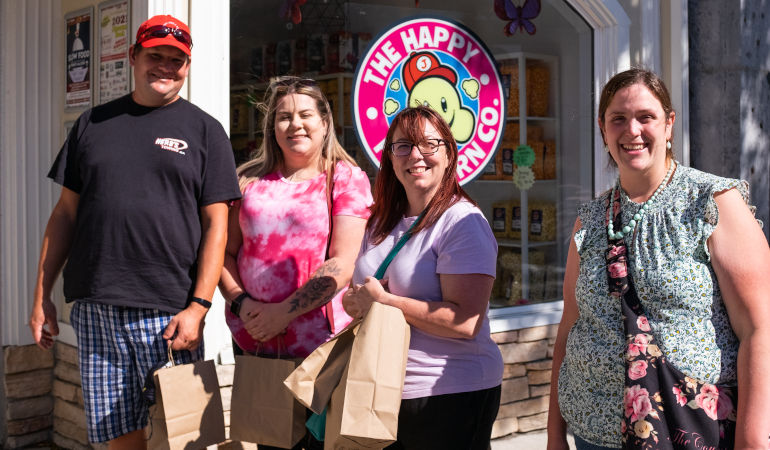 In addition to all of the great bites, we also learned a lot about Cornwall along the way. Vanessa from Cornwall Food Tours was an amazing host and she was so informative about the history of the Downtown area.
That was one of the biggest surprises to me because some of the history was totally unknown to me. Like who knew there was a (bomb shelter) bunker in the basement of the Cornwall Public Library?
The other big surprise of course was the food. I have eaten at most of the restaurants on the tour but the items we tried were typically items I wouldn't order. It was such an eye opener to see the diversity of food offerings that are available within a few blocks – and it was all so good. It reminded me the next time I'm out eating, I have to order something I've never tried before because our Cornwall restaurants are so amazing!
I would seriously give this tour a 100 out of 10. Everyone and their cousins need to take this tour and learn more about Downtown Cornwall and it's amazing restaurant scene. You won't regret it!
Book your tour today!
Hungry yet? Book your Downtown Cornwall Food Tour today!
Bring your walking shoes and come hungry to feast on local history and delicious food! The tour takes place Saturday afternoons starting at 1 pm and it lasts 2.5 to 3 hours.
On the tour, you'll get to try food and drinks from seven local restaurants. Savour some delicious Caribbean and Thai food, gourmet burgers, popcorn, BBQ, sweet treats, Middle Eastern fare, gourmet pizza and more!
The cost is $70 per person and $5 from every tour will be donated to Baldwin House, Cornwall's women's shelter.
The tour can accommodate a minimum of four guests and a maximum of eight guests at once.
You can book your tour online at www.CornwallFoodTours.com.
About Cornwall Food Tours
Cornwall Food Tours is an upstart business dedicated to sharing the love of food and the amazing food spots in Cornwall with others.
For additional information about the tours, check out the Cornwall Food Tours website or follow them on Facebook.
You can also contact them by email at info@cornwallfoodtours.com or by phone at 613-662-4696.
Got a question?
Got questions? Need recommendations? Cornwall Tourism is here to help! Call or text us at 613-938-4748 or email us at info@cornwalltourism.com and we'll be pleased to help you with any questions you may have!
Also make sure to check us out on Facebook and Instagram for updates and more great reasons to visit Cornwall!
Play it safe!
We all have a part to play in combating the spread of COVID-19. Residents are encouraged to wear masks, practice frequent hand washing and physical distancing, and stay home if not feeling well. For the latest guidelines and restrictions related to COVID-19, please visit the Eastern Ontario Health Unit website.
#exploreCornwallON
Looking for other fun things to do in Cornwall? Check out the Explore section of our website for other fun-filled activities to keep you busy. Better yet, consider extending your stay with a night at one of our great accommodations!