Savour local flavours with Hot Dog Love
August 21, 2022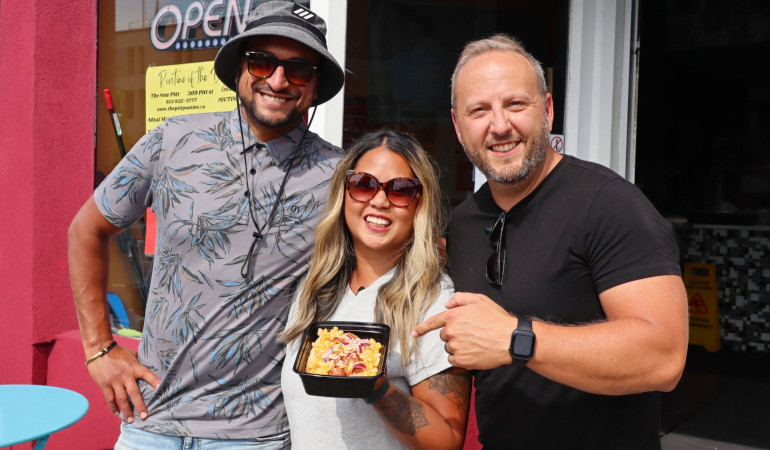 Hot dogs – just one more reason life is worth living. No matter how you top it, hot dogs are a summer treat that deserves its moment in the spotlight.
To that end, the Taste Buds are proud to present their newest event, Hot Dog Love!
Just like their other events, Hot Dog Love will run for 10 days, from Wednesday, August 24th until Friday, September 2nd. Everyone is encouraged to try as many as they can and then vote for their favourite at www.yourlocaltastebuds.ca.
For Hot Dog Love, nine local restaurants will be offering up some one-of-a-kind creations! This year's participants include:
Billy k's pulled pork hot dog
Classic Billy K's steamy using a Lester's Hot Dog, topped with pulled pork, chipotle coleslaw, crispy deep-fried jalapenos and bbq sauce all for $5.75
$11.70 (includes Pulled Pork Dog, fries & drink)
1131 Brookdale, Ave., Cornwall, ON
Cornwall Mexican Hot Dog
Jumbo Hot Dog topped with cheese, red peppers, onions, corn, cilantro, tex-mex seasoning with lime sauce all for $6.00 (add extra cheese – $1)
*Vegetarian option available.
Lamoureux Park, Cornwall, ON
(613) 551-1855
Floyd peppercorn poutine dawg
2 crispy Lester's hot dogs on a toasted bun with fried cheese curds, slow roasted chicken breast, bacon, peppercorn gravy and green onions. all for $12.00 
537 Pitt St., Cornwall ON
(613) 935-6397
Mac dawg
Jumbo hot dog on a toasted, garlic bread with cheese bun, topped with homemade mac n' cheese, bacon, onion and special sauce all for $7.95​
$10.95 Platter (includes Mac Dawg, fries & drink)
309 Pitt Street, Cornwall, ON
(613) 932-3777
Umami bomb
Ponzu glazed pork sausage on a brioche bun,  topped with kimchi ketchup, wasabi aioli, crispy onions, nori and bonito all for $10.00
150C Pitt Street, Cornwall, ON
(613) 330-0117
The carrot's dawg
Plant-based dawg topped with house-made organic coleslaw, pickled onions and creamy garlic drizzle all for $5.00
$9.00 with a side
*Vegan bun option available
116 Pitt Street, Cornwall, ON
(613) 935-3658
Saucy seguin
7″ Olymel hot dog on a toasted bun, topped with famous Seguin Patate fries, home-made meat sauce and St.Alberts cheese curds all for $5.00
$15.00 Platter (Includes 2 Saucy Seguins, fries and drink)
921 Marlborough St N, Cornwall, ON,
(613) 935-5954
The reservoir dog
Maple pepper sausage (from Joes Quality Meats) on a house-made brioche bun, topped with cucumber red pepper relish, pickled red onions and spicy dijon mustard all for $17.00 (served with fries)
317 Pitt St, Cornwall, ON, Canada, ON
(613) 935-5333
Kalamazoo
Spin on a classic Michigan dog. ​
Lester's Hot Dog, topped with cheddar cheese, home-made meat sauce, home-made creamy Greek dressing and chopped onion all for $4.50
$10.50 Platter (Includes Kalamazoo Dog, fries & drink)
335 Montreal Rd., Cornwall, ON
(613) 937-0004
(613) 937-0004
Additional information
Get more details and see the full line-up at www.yourlocaltastebuds.ca. Follow the Taste Buds on Facebook and Instagram as they unveil what each restaurant is cooking up for you.
Throughout the event, you will also have chances to win gift cards from the participating restaurants!
Grill them, boil them, fry them – cook 'em any way you want – they're still awesome!
Hot Dog Love is proudly sponsored by Cornwall Tourism.
#ExploreCornwallON
Looking for other fun things to do in Cornwall? Check out the Explore section of our website for other fun-filled activities to keep you busy. Better yet, consider extending your stay with a night at one of our great accommodations!
Got a question?
Got questions? Need recommendations? We're here to help! Call or text us at 613-938-4748 or email us at info@cornwalltourism.com and we'll be pleased to help you with any questions you may have!
Also make sure to check us out on Facebook and Instagram for updates and more great reasons to visit Cornwall!