Seasonal Visitor Info Centre now open
May 17, 2019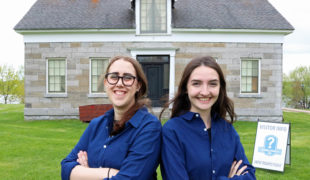 Visitors to Cornwall can now pick up travel guides and maps while touring Lamoureux Park.
Cornwall Tourism has opened its seasonal Visitor Information Centre in the Cornwall Community Museum in Lamoureux Park, just steps away from the children's play structure and splashpad and the celebrated Waterfront Trail. The Centre will be open 7 days a week (8:30 am to 4:30 pm) over the spring and summer months and staffed with two tourism students. Free parking is available immediately north of the Museum along Water Street.
"Many visitors naturally find themselves in Lamoureux Park and the Visitor Information Centre provides a one-stop location to find out more about what there is to see and do in Cornwall and area," says Kevin Lajoie, Tourism Officer with Cornwall Tourism. "Last summer we interacted with nearly 3,000 people at the Visitor Information Centre alone, with visitors hailing from Ottawa, Toronto, Montreal, and some from as far away as Germany and Australia."
The Visitor Information Centre is fully stocked with Visitor Guides, maps and brochures from area attractions and local businesses. Souvenirs are also available.
The Cornwall Community Museum is housed in a stone building originally built by the Wood Family, who were amongst the very first settlers in 1784. The building has acted as a museum for over 50 years and was moved to its current location in Lamoureux Park several years ago. The Museum is operated by the SDG Historical Society and offers a great window into what life in Cornwall was like many decades ago.
Admission to the Museum is free and guided tours are available from Thursday to Monday between the hours of 10 am to 4 pm.
"Our website and social media efforts reach people as they are planning their visit, however, once people are here they appreciate being able to chat about what's going on," says Mr. Lajoie.  "There are so many things to see and do in the park and Downtown. The museum is an excellent place to start your adventure."
Located along the shores of the St. Lawrence River, Lamoureux Park offers over 90 acres of parkland and amenities, including a bandshell, boat launch, splash pad, outdoor gym and play area. It is home to dozens of events, including the popular Arts in the Park series of outdoor concerts.
WiFi Hotspot
A free WiFi hotspot is now available at the Visitor Information Centre, and a number of picnic tables have been moved to the area to accommodate visitors who want to enjoy a picnic outside yet stay connected to the online world. The WiFi is courtesty of OntarioEast.net.
About the Visitor Information Centre
The Visitor Information Centre has a stock of Visitor Guides, maps and other information on area events, attractions, shops and restaurants. It is open 7 days a week, from 8:30 am to 4:30 pm, from Victoria Day weekend to Labour Day. Free parking is available.
About Cornwall Tourism
Cornwall Tourism is responsible for marketing Cornwall to attract new visitors. The office maintains a visitor information centre year-round at the Civic Complex. CornwallTourism.com is an online resource that provides current tourism news as well as a comprehensive calendar of events.
Additional Events
Looking for other fun things to do in Cornwall? Make sure to check out our Events page for info on upcoming events in the area!
Stay with Us!
Planning to explore Cornwall? Extend your stay at one of our many great accommodations! For a listing of local accommodations, click here.
Additional Information
Planning a visit to Cornwall? Cornwall Tourism can help – click here to request a copy of our Visitor Guide!
Follow Cornwall Tourism on Facebook
Follow Cornwall Tourism on Twitter
Article by Bob Peters
www.ChooseCornwall.ca