Shakespeare in the Park comes to Cornwall
July 18, 2019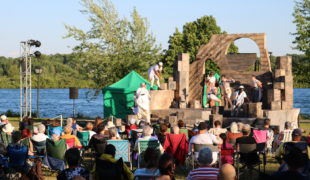 Shakespeare in the Park is back in Cornwall this weekend!
Montreal-based Repercussion Theatre is coming to Lamoureux Park with Measure for Measure – one of Shakespeare's later plays. The show will run on Sunday July 21st, with a mobile stage set up in the park. Lamoureux Park will serve as a beautiful backdrop to this exciting event! The show is for people of all ages and will begin at 7 pm; admission is by freewill donation. 
Repercussion Theatre's Artistic Director Amanda Kellock says: "Shakespeare's stories are multifaceted, reflecting the complexities of human behaviour and relationships; I think it's one of the reasons his plays still ring true so many centuries after his death." Following last year's gender-bent take on the classic love story of Romeo & Juliet, "it's a fitting choice [since the play is] rich with the kind of truthful humour that makes audiences cringe as they laugh."
Measure for Measure is a play about the Duke of Vienna, who is concerned by his city's moral depravity and puts his sternest deputy, Lord Angelo, in charge. The Duke roams the city in disguise, as Angelo launches a massive cleanse of the Renaissance "sin city." Angelo's approach to law enforcement is inflexible, and he quickly condemns Juliet's fiance, Claudio, to death for the crime of impregnating her out of wedlock. The story unfolds from there. 
The play highlights the hypocrisy of those in authority and how laws are not always fair for everyone; it shows a powerful man threatening a woman, confident that he will not face any consequences due to his reputation. The social and political aspects presented in this play are reminiscent of today's political climate. 
Repercussion Theatre is very excited to present this play since it's not done often. Their tour features 30 performances in parks throughout the Montreal area, Eastern Townships and eastern Ontario. 
Additional Show Information
■ The show will be presented in English
■ In the event of rain, the show will be moved indoors to the Civic Complex
■ For more information, please email: 411@repercussiontheatre.com
About Lamoureux Park
Cornwall's showcase park, Lamoureux Park runs along the shoreline of the St. Lawrence River in Downtown Cornwall. The park is named after Lucien Lamoureux, a former Member of Parliament for the Cornwall area and Speaker of the House of Commons from 1966 to 1974. The park plays host to dozens of special events each year and is home to numerous attractions including the Waterfront Trail, the Cornwall Community Museum, Cornwall Civic Complex and Aquatic Centre, the Lion's Club Bandshell and the Rotary Eco-Gardens.
About Repercussion Theatre
The mission of Repercussion Theatre is to deliver professional, classically based, visually dynamic theatre that is accessible to all, regardless of income, culture, language, age or education. Repercussion brings the performing arts to people in their communities, reaching new audiences and instilling in them a lifelong love of theatre. For more information, visit the web site: www.repercussiontheatre.com
Additional Events
Looking for other fun things to do in Cornwall? Make sure to check out our Events page for info on upcoming events in the area!
Stay with Us!
Planning to explore Cornwall? Extend your stay at one of our many great accommodations! For a listing of local accommodations, click here.
Additional Information
Planning a visit to Cornwall? Cornwall Tourism can help. Email us at info@cornwalltourism.com to request a copy of our Visitor Guide or contact us at (613) 936-0842. You can also stop by our seasonal Visitor Information Centre inside the Cornwall Community Museum in Lamoureux Park. The Museum is located at 160 Water Street West, just steps away from the children's splashpad and play structure. Free parking is available immediately north of the Museum along Water Street.
The seasonal Visitor Information Centre is open seven days a week (8:30 am to 4:30 pm) through the summer months.
Follow Cornwall Tourism on Facebook
Follow Cornwall Tourism on Twitter
Article by Chelsea Jodoin
www.CornwallTourism.com