Simply Jennifer expands into Downtown Cornwall
December 4, 2018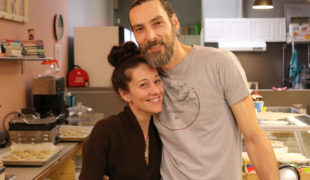 The holiday offerings just got sweeter in Downtown Cornwall with the arrival of Simply Jennifer, a plant-based café offering freshly made breakfast and lunch, meals-to-go, catering, and evening events.
After opening the business in 2016 at the Leduc Shopping Centre near Eleventh Street and McConnell Avenue, co-owners and operators Jennifer and Patrick Desnoyers recently decided to move their business to 110 Pitt Street.
"It was the right time for us to make the move," explains Jennifer.  "We were at the end of our lease and exploring different options for how to grow our business.  I really wanted to get back into the downtown, so when this space became available we knew it was meant for us."
The new location will continue to feature Simple Jennifer's signature style of wholesome plant-based food, while also expanding to offer vegetarian options like local cheeses and eggs.   The Desnoyers also host weekly cooking classes and bi-weekly boardgaming events during evening hours, two offerings they intend to continue at the new location.
"Our old space was great for establishing the business and customer base, but we felt very limited.  Patrick and I are really looking forward to expanding everything we've already been doing now that we're in a much larger space," adds Jennifer.
The Desnoyers note that the initial response to the new location has been very positive and encouraging.
"Our move happened really fast but the community has been overwhelmingly supportive during the transition," said Jennifer.  "I think Cornwall's food scene has evolved a lot over the past few years so that now we see a lot more residents interested in alternative foods and an openness for trying new things."
"Tourists and visitors are also making a point to find us," said Patrick.  "We had a lot of customers over the summer who were visiting the area from the U.S. or travelling along Highway 401 between Toronto and Montreal, who couldn't believe that a café like ours existed in Cornwall."
"At the end of the day, people are looking for options and we will be here to offer some tasty alternatives to the downtown offerings."
About Simply Jennifer
Simply Jennifer is located at 110 Pitt Street and is open:
Monday to Wednesday from 9am-3pm;
Thursday and Friday from 9am-5pm;
Saturday from 11am-1pm
Alternating Fridays from 9am – 9pm for Boardgame Night
Daily menus, special event information, and order details are available in store. You can also find out more by checking out the Simply Jennifer Facebook page.
Free Parking
Come shop, dine and play in Cornwall this holiday season! The City of Cornwall has approved free parking weeknights after 4 pm in all on-street spaces and municipal parking lots throughout December. Parking is also free on weekends. It's a great time to experience all that Cornwall has to offer!
Stay with Us!
Planning to explore Cornwall? Extend your stay at one of our many great accommodations! For a listing of local accommodations, click here.
Additional Events
Looking for other fun things to do in Cornwall? Make sure to check out our Events page for info on upcoming events in the area!
Additional Information
Planning a visit to Cornwall? Cornwall Tourism can help. Email us at info@staging.banfield.agency to request a copy of our Visitor Guide or contact us at (613) 936-0842. You can also stop by the Cornwall Tourism office inside the Cornwall Civic Complex at 100 Water Street East. The office is open Monday to Friday from 8:30 am to 4:30 pm.
Follow Cornwall Tourism on Facebook
Follow Cornwall Tourism on Twitter
Article by Kat Rendek
www.CornwallTourism.com