Step into nature at RRCA parks
May 18, 2019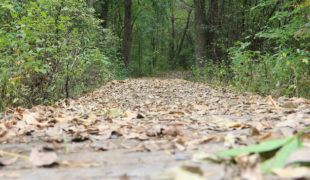 There are endless opportunities to get outside and step into nature in Cornwall and SDG!  The Raisin Region Conservation Authority (RRCA) maintains a network of local natural spaces, providing ample opportunities for family and group adventures.
Charlottenburgh Park, located on the St. Lawrence River just 19 km east of Cornwall along County Road 2, is now open for the season.  The Park offers a beach, playground, nature trails, camping sites, and more!  Surrounded by trees and wildlife, un-serviced and serviced lots along with a camping cabin offer campers an opportunity to relax and connect with nature.  Seasonal campers also enjoy the Park's serenity all summer long.  Bookings can be made online at www.rrca.on.ca.
Cooper Marsh Conservation Area, also located east of Cornwall along County Road 2, is open year-round, but is a popular destination come spring as it comes to life with frogs, birds, and turtles that can be found along the nature trails and boardwalks.
"Visitors will notice many recent upgrades to the Marsh including new nesting platforms, viewing blinds, and ponds.  Cooper Marsh attracts visitors from all over Eastern Ontario and Western Quebec; we are proud to offer local eco-tourism opportunities," says Lisa Van De Ligt, RRCA Communications Specialist.
Closer to Cornwall is Gray's Creek Conservation Area located at the corner of County Road 2 and Boundary Road.  It is a hub for boating, cycling, and hiking and is a popular destination for large group gatherings at the picnic area and shelter.
"We are proud to offer many local opportunities for the public and large groups to access and get up-close with nature.  All of our Parks can accommodate large group bookings from family picnics to school groups.  Contact us today to plan your 2019 summer adventures!" adds Van De Ligt.
For additional information on the Raisin Region Conservation Authority's outdoor amenities, please visit the RRCA website.
Additional Events
Looking for other fun things to do in Cornwall? Make sure to check out our Events page for info on upcoming events in the area!
Stay with Us!
Planning to explore Cornwall? Extend your stay at one of our many great accommodations! For a listing of local accommodations, click here.
Additional Information
Planning a visit to Cornwall? Cornwall Tourism can help. Email us at info@cornwalltourism.com to request a copy of our Visitor Guide or contact us at (613) 936-0842. You can also stop by our seasonal Visitor Information Centre inside the Cornwall Community Museum in Lamoureux Park. The Museum is located at 160 Water Street West, just steps away from the children's splashpad and play structure. Free parking is available immediately north of the Museum along Water Street.
The seasonal Visitor Information Centre is open seven days a week (8:30 am to 4:30 pm) through the summer months.
Follow Cornwall Tourism on Facebook
Follow Cornwall Tourism on Twitter
Article by Kevin Lajoie
www.CornwallTourism.com