Taco Love comes to Cornwall
April 26, 2023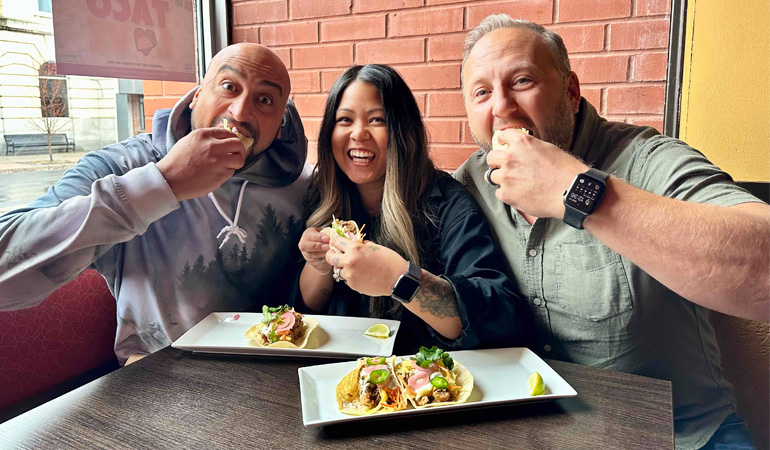 The Taste Buds in partnership with Cornwall Tourism are excited to announce Taco Love, a 10-day fiesta celebrating Cinco de Mayo and Cornwall's vibrant culinary scene.
From Wednesday, May 3rd to Friday, May 12th, taco enthusiasts are invited to embark on a flavourful journey as seven of Cornwall's top restaurants showcase their unique and mouth-watering taco creations.
The Taco Love event promises an unforgettable experience that will delight your taste buds and showcase the creativity of Cornwall's culinary talents. Each participating restaurant has crafted a one-of-a-kind taco creation, ensuring an array of diverse and delectable options for everyone to enjoy. From savory to spicy and everything in between, there's a taco for every palate.
The Taste Buds, a trio of local food lovers, have joined forces to bring this delicious event to life. They believe that there is no better way to unite the community than through the universal love of food, and Taco Love aims to do just that.
"This event is a unique opportunity to showcase the diverse culinary talents in our city, while also encouraging the community to come together in celebration of Cinco de Mayo," said Pat Larose of Taste Buds.
To add to the excitement, the public is encouraged to vote for their favorite taco creation throughout the event. By visiting www.yourlocaltastebuds.ca, taco enthusiasts can check out the full lineup of scrumptious offerings and cast their vote for the ultimate Taco Love champion.
---
The Taco Love entries
---
---
---
---
---
---
---
Time to savour!
Don't miss out on this tasty adventure! Gather your friends, family, and fellow taco aficionados, and join the Taste Buds for 10 days of incredible flavours, good times, and Taco Love.
Additional information
For more information, including a full list of participating restaurants and their unique taco creations, visit www.yourlocaltastebuds.ca. Follow the fun by connecting with the Taste Buds on social media via @YourLocalTasteBuds.
About the Taste Buds
The Taste Buds are a group of three friends and food enthusiasts who share a passion for Cornwall's culinary scene. Their mission is to create fun, engaging, and delicious events that bring the community together to celebrate local talent and the joy of food.
Connect with them at www.yourlocaltastebuds.ca or on social media for updates on upcoming events and adventures.
#ExploreCornwallON
Looking for other fun things to do in Cornwall? Check out the Explore section of our website for other fun-filled activities to keep you busy. Better yet, consider extending your stay with a night at one of our great accommodations!
Got a question?
Got questions? Need recommendations? We're here to help! Call or text us at 613-938-4748 or email us at info@cornwalltourism.com and we'll be pleased to help you with any questions you may have!
Also make sure to check us out on Facebook and Instagram for updates and more great reasons to visit Cornwall!