The 2023 Explore Cornwall Visitor Guide has arrived
April 21, 2023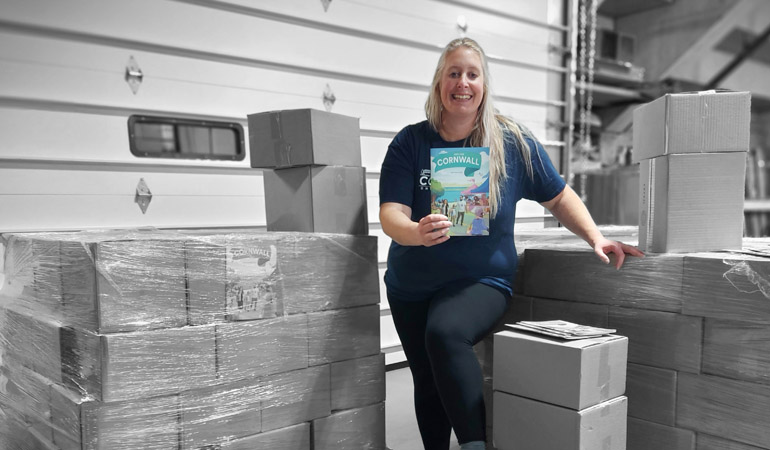 The 2023 Explore Cornwall Visitor Guide is now available to visitors to assist in finding their way to some of Cornwall's top attractions, accommodations, shops and restaurants.
The 72-page bilingual publication features information on seasonal activities, attractions, accommodations, restaurants, shopping and more. The content is complimented by advertisements from a variety of local businesses and organizations.
"The new guide offers a great overview of all the attractions and things to see and do in our great city," said Kevin Lajoie, Tourism Officer with Cornwall Tourism. "We hope the guide will encourage even more people to visit the city and experience all that we have to offer."
The guide's cover builds off the success of last year's colourful illustration by local artist Anthony Wallace, by adding a live element, a local family. The cover is play on the Mary Poppins style adventure taking real people into an animated world.
"We wanted to showcase Cornwall as a place with endless possibilities and I think the illustration really captures that," said Amy Malyon, Development Officer with Cornwall Tourism. "The imaginary world is fun, bright and welcoming just like Cornwall and I hope visitors will be drawn to it to learn more about visiting the city."
Get Your Copy!
A total of 40,000 copies of the guide will be distributed before the end of the year, via brochure racks throughout the city, region and beyond. Hard copies can be requested via the Cornwall Tourism website. The guide can also be picked up at the Cornwall Tourism office inside the Cornwall Civic Complex (open Monday to Friday from 8:30 am to 4:30 pm) or other public buildings like the Benson Centre, Aquatic Centre and City Hall.
The visitor guide will also be handed out at several tourism trade shows this spring.
"Cornwall hosts tens of thousands of visitors each year, including families, sporting groups and business conferences," said Lajoie. "The visitor guide can often be found in the hands of visitors as they choose how to spend their free time in the city."
About Cornwall Tourism
Cornwall Tourism is responsible for marketing Cornwall to attract new visitors. The office maintains a visitor information centre year-round at the Civic Complex. CornwallTourism.com is an online resource that provides current tourism news as well as a comprehensive calendar of events.
#ExploreCornwallON
Looking for other fun things to do in Cornwall? Check out the Explore section of our website for other fun-filled activities to keep you busy. Better yet, consider extending your stay with a night at one of our great accommodations!
Got a question?
Got questions? Need recommendations? We're here to help! Call or text us at 613-938-4748 or email us at info@cornwalltourism.com and we'll be pleased to help you with any questions you may have!
Also make sure to check us out on Facebook and Instagram for updates and more great reasons to visit Cornwall!