The Gala Juste pour rire arrives in Cornwall
March 21, 2022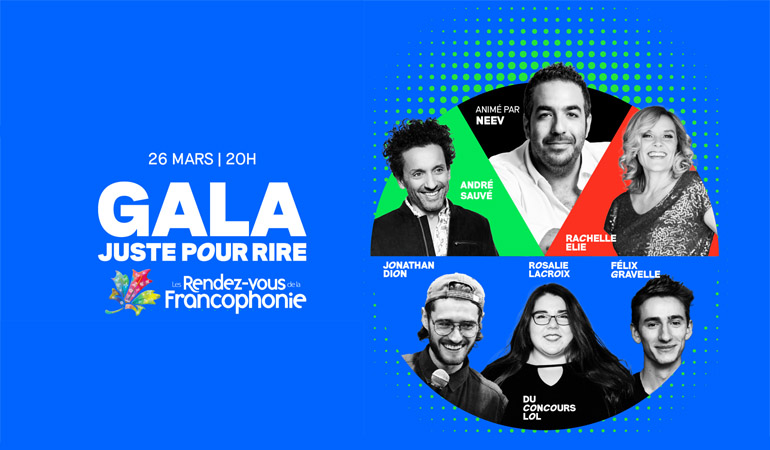 As part of the Rendez-vous de la Francophonie (RVF) 2022, ACFO SDG is proud to host the 6th Just for Laughs Gala at the Aultsville Theater on Saturday March 26 at 8 p.m.
"After Halifax, Vancouver and Winnipeg, we are so proud that Cornwall is hosting this major national event. Finally, we will be able to get together to laugh out loud in French," underlined the president of ACFO SDG, Ms. Dianne Poirier.
"Since 2014, La Fondation canadienne pour le dialogue des culture and the Rendez-vous de la francophonie have been partners of choice for the Desjardins LOL-Mort de rire Contest. We are so proud to host this 6th Just for Gala Juste pour rire at our home. Opening for André Sauvé and Rachelle Elie, Ontario's francophone community will be represented on stage thanks to Félix Gravelle and Rosalie Lacroix, finalists of the Competition and both students at the École Nationale de l'Humour, and Jonathan Dion, trainer at the Contest and comedian from the Ottawa area. This unique event will be hosted and presented to us by Neev," said Ms. Céline Baillargeon-Tardif, Executive Director of ACFO SDG.
Note that admission is free, however a voluntary contribution is requested in support of the Collective for the Cornwall Arts Centre. In addition, the Just for Laughs Gala will be broadcast live on the Web.
About
ACFO SDG
Bringing together Stormont, Dundas and Glengarry, ACFO SDG offers innovative community, cultural, recreational and economic services within a proud and diverse community. For several years, ACFO SDG has been developing LOL-Mort de rire, a language development project that has transformed the lives of thousands of young people. Its flagship project, the Concours LOL-Mort de rire Desjardins, promotes Francophone expression and the development of critical thinking in young people through humor.
For more information, please click here.
LOL-Mort de rire
LOL-Mort de rire offers comedy initiation workshops in the classroom, humorous animation training in schools or communities, FrancoMic for career development in humor, accessible digital resources, intensive 12-hour training and coaching by professional comedians, the LOL-Mort de rire Troupe, and more.
For more information, please click here.
Les Rendez-vous de la Francophonie (RDV)
The RDV is part of the cultural events surrounding the International Day of La Francophonie (March 20), organized each year to promote the French language and its many expressions across Canada. This 24th edition is overseen by the Canadian Foundation for Cross-Cultural Dialogue, which aims to promote and support dialogue and rapprochement between Francophone and Acadian communities and all communities in Canadian society. From March 1 to 31, the Canadian francophone community is celebrating! Hundreds of activities will take place across Canada: multicultural encounters, shows, film screenings, contests, educational activities… All presented in an innovative way, pandemic requires. In short, everything is an excuse to celebrate.
For more information, please click here.
#ExploreCornwallON
Looking for other fun things to do in Cornwall? Check out the Explore section of our website for other fun-filled activities to keep you busy. Better yet, consider extending your stay with a night at one of our great accommodations!
Got a question?
Got questions? Need recommendations? We're here to help! Call or text us at 613-938-4748 or email us at info@cornwalltourism.com and we'll be pleased to help you with any questions you may have!
Follow us on Facebook and Instagram for additional information and other great reasons to visit Cornwall!