The Happy Popcorn Co. 'pops' into new space
February 11, 2022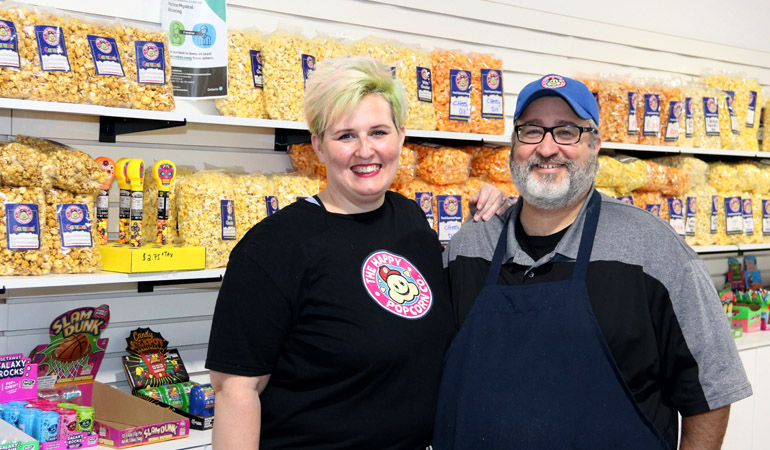 Business is popping for The Happy Popcorn Co., and their sweet new space in Downtown Cornwall is proof of that.
The popular gourmet popcorn shop has moved into a larger space at 150 Pitt Street, just up the street from the previous two locations they had outgrown. At 4,400 square feet, the new shop provides ample retail space for their ever-growing selection of popcorn and classic candy as well as a larger area for popping, bagging and storing their namesake product.
The bigger space comes with bigger plans for the family-run business. They are working with one local school board to have their popcorn in schools throughout eastern Ontario as part of the school's nutrition programs. They also have plans to launch a fundraiser program where local charities and groups can use the product to raise funds for their own benefit.
"The fundraising program was actually part of our original business plan and we see it as a great way to give back to the community," said Kristin Davey, the owner of The Happy Popcorn Co. along with partner Bill Halman. "We definitely have the room now (to meet the growing demand)."
The larger space also means more room to satisfy the collective sweet tooth of candy lovers from both near and far. In addition to their growing offering of retro candy, artisan sodas, ice cream and other goodies, the shop has about 30 different varieties of popcorn that make their way onto the store shelves at any given time. That number is expected to grow even larger with new flavours and combinations taking up space on the shelf in the near future.
"We probably have 30 more (flavours) that we're working on," said Halman.
Having just celebrated its second anniversary, the couple said they were confident the business would be successful however the response has exceeded their expectations. And the sales are just one part of the equation. The other part is family, and more specifically, the couple's son, Jack. Jack is on the Autism spectrum, and as parents, Davey and Halman wanted to plan for his future and create a place of inclusion – not only for Jack but for others too. Today, Jack is a frequent helper in the store along with 10 employees – some with recognized disabilities – and three co-op students who are enjoying an environment of inclusion and purpose to go along with the smiles from the many candy-loving customers.
Equally rewarding is seeing their business become a part of other families' traditions.
"It's great to see families coming in and grabbing popcorn and snacks for the weekend," said Halman. "If we can be a part of their Friday or Saturday night movie tradition, that's amazing."
Additional information
The Happy Popcorn Co. is located at 150 Pitt Street. You can find out more by check out their website or following them on Facebook or Instagram.
#ExploreCornwallON
Looking for other fun things to do in Cornwall? Check out the Explore section of our website for other fun-filled activities to keep you busy. Better yet, consider extending your stay with a night at one of our great accommodations!
Got a question?
Got questions? Need recommendations? We're here to help! Call or text us at 613-938-4748 or email us at info@cornwalltourism.com and we'll be pleased to help you with any questions you may have!
Also make sure to check us out on Facebook and Instagram for updates and more great reasons to visit Cornwall!