The Jingle Box returns – just in time for the holidays
December 5, 2021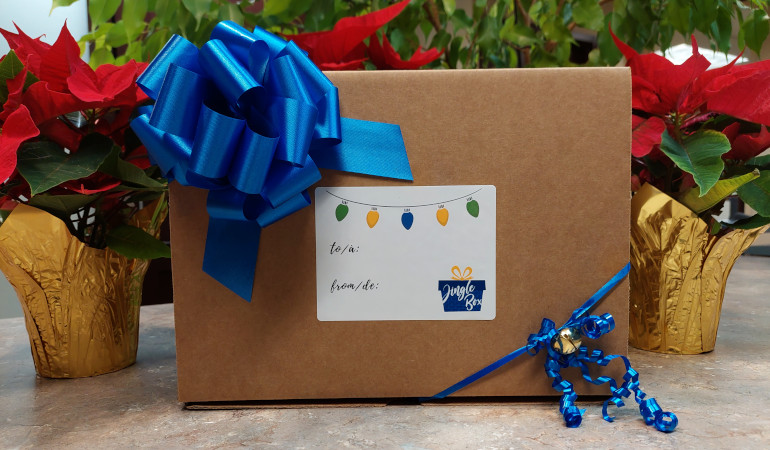 The Jingle Box back – just in time for the holidays!
Once again, Cornwall Economic Development has partnered with dozens of local businesses to offer the Jingle Box program, an easy way to shop and give local this holiday season. Customers will be able to purchase Jingle Boxes in store on Saturday, December 4th, with pre-orders accepted by participating merchants starting today.
"Picking up a Jingle Box is a great way to shop local and support our smaller independent merchants," says Bob Peters, Division Manager of Cornwall Economic Development. "We are very happy to welcome over 10 new merchants to this year's program. Together with the merchants returning from last year, shoppers will have a Jingle Box gift option for everyone on their list."
The Jingle Box is a decorated box filled with items to meet the fondest dreams of that special person on your shopping list. As a special Merry Cornwall surprise, each Jingle Box comes with a complimentary bottle of Glengarry maple syrup and a Merry Cornwall Scratch & Win card, along with a couple other Cornwall goodies from the Economic Development team.
Last year over 325 Jingle Boxes were sold, generating nearly $22,000 in sales and driving hundreds of shoppers to local businesses.
2021 Jingle Box – Participating Businesses
Each box will be unique and available exclusively from the participating store. Prices range from $35 to $125. At the current time, there are 36 participating businesses:
Relax Renew Refresh Box – $100
Above and Beyond
404 Cumberland Street
30 minute relaxation massage, shellac manicure and pedicure, and more!
Bike Lover Box – $50
Bicycle World
24 Ninth Street East
Winter gloves, sunglasses, winter bicycle lube, bike patch kit, rear light, and more!
Bud's Christmas Box – $50
Bud's Records
375 Eleventh Street East
One rock band t-shirt, $30 gift cards, stickers, and more!
The Captain's Box – $40
Captain George's Fish & Chips Cornwall
1159 Second Street West
Gift card, bag of candy, coupon for free meal & fudge, and more!
Tumble My Otterbox – $50 – $75
Coleman's Mod & Repair
115 Pitt Street
Choice of 10oz or 20oz Otterbox tumbler, custom engraved ornament, and more!
Cowan's Treats Box – $50
Cowan's Dairy Cornwall
1195 Second Street West
Pound of fudge, fudge fondue, bag salt water taffy, Take & Bake pizza coupon, gift card, and more!
The Java Jingle Box – $35
Cristill Rock
1140 Brookdale Avenue
Teapigs tea, Teapigs cold brew, coffee card, 2 boxes of Mother Parkers coffee K-cups, & more!
Holiday Play Time! – $75
Dazzling Costumes & Party Store
305 McConnell Avenue
Party supplies, game, gift card, and more! Custom themes available for "naughty adult fun", families, and children.
Must contact store in advance to customize.
dg vintage Box – $70
dg vintage
5 First Street East
Vintage gold chain necklace, size xl vintage tee, locally made soaps from Sea n Salt, $25 gift card, and more!
Firecracker Box – $50
Fence Depot
3045 Pitt Street
Enjoy a wide selection of fireworks to Celebrate New Year's Eve … or for any other day of the week.
Proudly Canadian Box – $55
Floral Expressions
516 Pitt Street
Maple candies, chocolate, tea, candle, mittens, and more!
Pamper Yourself Box – $50
Flowers Cornwall
1325 Pitt Street
Candles, bath products, and more!
The Joyous Box – $75
Gordon Jewellers
13 Second Street West
Silver pendant and earrings, $50 gift certificate, and more!
Spiritual Cleansing Box – $50
Healing Wishes
117 Eleventh Street West
Crystals, smudging products, Himalayan bath salts, and so much more!
The Classic Wet Shave Box – $50
Kings and Little Ones
231 Pitt Street
Handmade all natural wet shave soap, aftershave spritz, badger hair shave brush, heavy hand balm, lip balm, and more!
The Jingle Jangle Box – $100
Laser Advance Spa
112 Pitt Street
Gift certificate for laser treatment with a scarf and organic moisturizer for skin tightening!
The 2021 All Canadian Care Box – $70
Life's Little Pleasures
108 Pitt Street
Shower Steamers from Bath Intentions, Ground Soap, moisturizing lip balm, essential oil spray, scented soy candle. All local &/or Canadian made!
The Lovelee Box – $65
Love & Lee
111 Pitt Street
2oz soy wax candle, a pair of statement earrings, a trendy claw hair clip, and more! All local &/or Canadian made!
Mike's T Box – $45
Mike's Printing and Apparel
145 Pitt Street
Cornwall T-shirt and a $25 gift card to design and order a custom t-shirt.
Light My Fire! – $60
Mrs. B's Gifts and Home Decor
609 Pitt Street
Candle, scarf, bath bomb, skin care package, and more!
Let's Do Brunch! – $60
Once Upon A Coffee Shop
820 McConnell Avenue
Brunch for 2 box consisting of waffles, croissants, orange cranberry bread, yogurts, fresh berries, granola, chicken Salad & choice of coffee beans, tease tea or 2 hot chocolate bombs.
Must contact 24hours in advance to order.
Be Dazzled Box – $99
Pommier Jewellers
6 Second Street East
This years United Way Christmas Angel, Pommier gift card, the ever-popular Pommier Mug, beautiful pen, polishing cloth and a secret surprise that only Santa knows about.
Self Love Box – $99
Pure Organic Spa
137 Pitt Street
It's a surprise! Contact us so we can help you customize a Jingle Box for your special someone.
Sweet Reads Box – $50
Red Cart Books + Marrow & Spice
812 Pitt Street Unit 52
Gift cards for Red Cart Books and Marrow and Spice, sweet treats, journaling pen, and more!
Be of Good Snack, and Cheers Box – $44
Rurban Brewing
412 Cumberland Street
6 assorted craft beer, Rurban glass, Mi Cocina Chips & Salsa & more!
Simply Be Merry Box -$75
Simply Jennifer
110 Pitt Street
Bridgehead coffee, Algonquin tea, mug, SJ merch, an extra special surprise from 613Plants and more!
The TasTEA TURTLE Box -$60
Sip & Scoop Canada
720 Fourteenth Street West
Rare snacks and goodies, Sip & Scoop gift card, and more!
Sky Fitness Box -$55
Sky Studios Fitness
3050 Pitt Street Unit C
Two Gift Cards for your choice of class (Aerial Hoop, Pole Fitness, Strong & Flexy, Indoor Cycling), Sky Studios printed tank top, key chain, and more!
The Glam Box – $40
Studio 101 medi spa
127 Augustus Street
Choice of Young Again Kevin Murphy shampoo or conditioner, OPI nail polish, lip-gloss & more!
Tee Box – $125
Summerheights Golf Links
1160 South Branch Road
2022 Summerheights Golf Links SUPER Value Card, special golf surprise & more!
Get Poppin' Box -$50
The Happy Popcorn Co.
109 Pitt Street
2 bags of gourmet popcorn, Boylan's soda, Peace by Chocolate sliders, assorted candy, a gift card, & more!
Zero Waste Holiday Box – $55
The Local Fill
1515 Pitt Street
Work towards a zero-waste lifestyle with this custom kit. See store for details.
Squire Bundle Box – $89
The Squire Shop
113 Pitt Street
Woolk wool hat and scarf set, $25 gift card, and more!
Men and women selection available.
Holiday Lit Tea Box – $65 – $85
TKO Nutrition
319 Montreal Road
Lit Tea holiday survival kit, customized 32oz mug, accessories, and more! 2 box sizes available.
Nutrition, Comfort & Joy Box – $50
Total Cyclery
241 Pitt Street
Butt'R Chamois cream, GU gels, Nuun drink mix tablets & more!
Silent Night Box – $75
Unwind & Co.
Delivery options
Driftwood candle, Little Hanson xmas mug, voucher for private Split Milk photo session, local gift cards, sweat treat, and more!
Jingle Boxes are available for a limited time, while quantities last. The contents of the Jingle Box may vary. Please check with the merchant for complete details.
#ExploreCornwallON
Looking for other fun things to do in Cornwall? Check out our Events Calendar as well as the Explore section of our website for other fun-filled activities to keep you busy. Better yet, consider extending your stay with a night at one of our great accommodations!
Got a question?
Got questions? Need recommendations? We're here to help! Call or text us at 613-938-4748 or email us at info@cornwalltourism.com and we'll be pleased to help you with any questions you may have!
Also make sure to check us out on Facebook and Instagram for updates and more great reasons to visit Cornwall!