THE LIST: 11 fun activities to ring in summer
June 19, 2020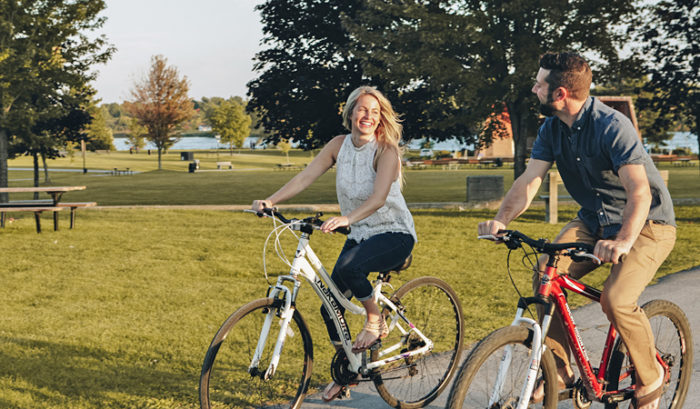 Saturday marks the first official day of summer – and there's plenty of reason to celebrate.
Given the challenges brought on by COVID-19, we can all use some extra reasons to smile. Summer's mix of sunny skies and warm temperatures should definitely help with that.
To help usher in the season, we've compiled a list of 10 amazing outdoor activities to keep you and the family busy while enjoying the summer rays. Enjoy!
Stay safe!
While more businesses and community amenities are opening to the public, residents are encouraged to continue to follow public health guidelines and practice physical distancing and frequent hand washing. For the lastest COVID-19 updates in Cornwall, please click here.
THE LIST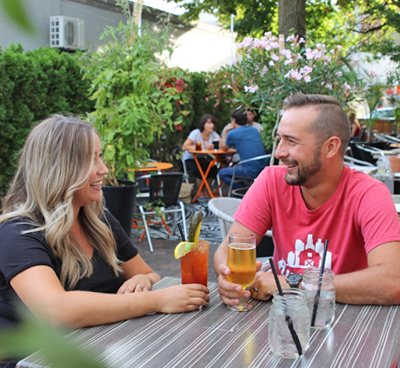 Soak up some sun
What better way to catch some rays than with a cold drink in hand on an outdoor patio? Patio season is back and local restaurants and ready and willing to serve you while keeping public safety top of mind. In light of COVID-19 restrictions, many establishments have expanded their outdoor areas – or created entirely new ones – to serve sun-craving customers. The patios in Downtown Cornwall at Schnitzels European Flavours, Truffles Burger Bar (pictured) and ESCA are always great bets to begin your patio adventures.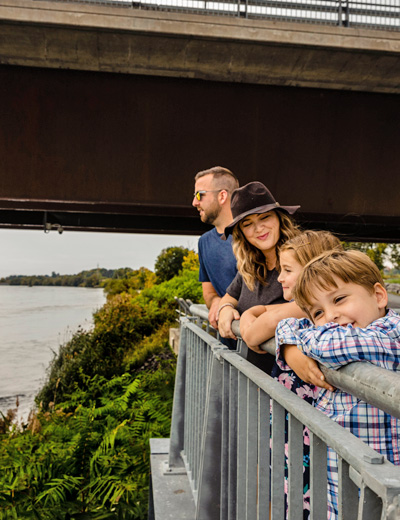 Waterfront wonders
The Waterfront Trail is a true gem. Walk or roll the entire length of Cornwall's waterfront, enjoying cool landmarks and rest areas along the way. The lookout next to the international bridge (pictured) is a popular spot to take a break and enjoy the surroundings. The Waterfront Trail extends much further than Cornwall too. In fact, you can cycle all the way to Upper Canada Village and it's entirely off-road and separate from traffic. It's the perfect place for your next cycling adventure – check out our Cycling Page and starting planning your own!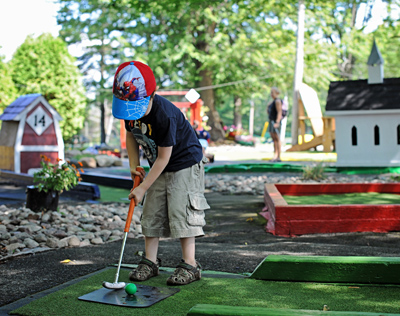 Putt-er around
There's nothing that says summer like a visit to local landmark Archie's. Enjoy a round of mini-putt on the vintage course with the family (they have implemented added safety measures, call 613-932-8255 to reserve a time) before cooling down with a visit to the ice cream stand. If you're searching for the full golf experience, Summerheights Golf Links is ready to welcome you with 36 holes in one location! Call 613-938-8009 to book a time or book online. Other area courses like Cornwall Golf and Country Club (613-931-1122) and Upper Canada Golf Course (613) 543-2003 offer exceptional golf experiences as well.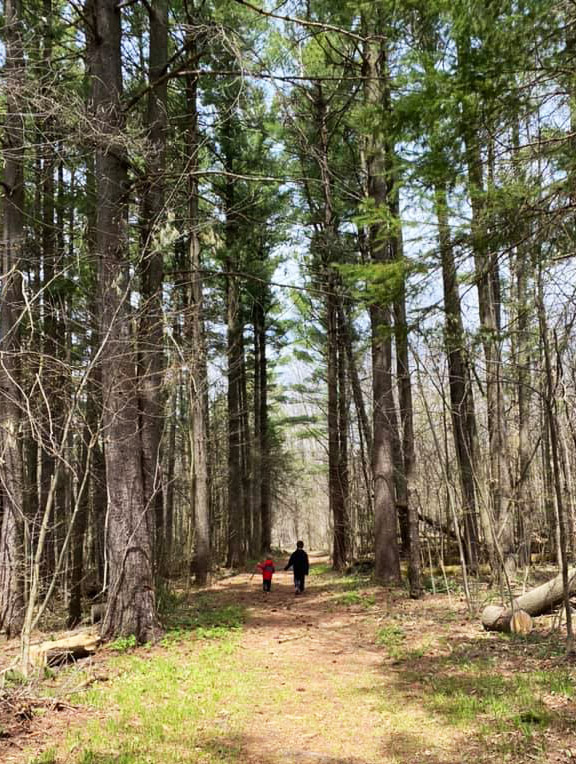 Get lost in the trees
There's something rejuvenating about getting outside and surrounding yourself with the sights and sounds of nature. One of the best places to do that is in Guindon Park. This hidden gem on the western edge of Cornwall features beautiful nature trails winding through giant trees and creeks – all just minutes from the city. Get lost in the outdoors and enjoy a simple adventure that the kids are sure to love!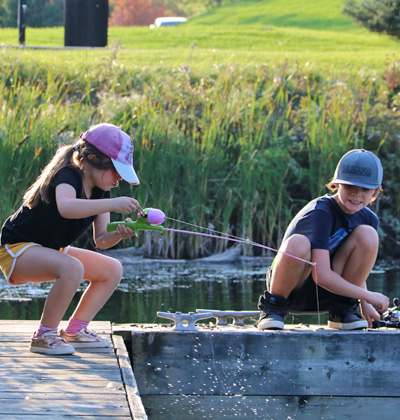 Get hooked
The St. Lawrence River is the backbone of the Cornwall region, and fishing is one of the area's most popular hobbies. It's a fun, affordable and safe pastime and the kids will have a blast! Whether it's catching perch or sunfish or maybe even a trophy bass or pike, the St. Lawrence is an angler's paradise. You can enjoy it from shore too as there are a bunch of great shoreline fishing spots. In Cornwall, the bay behind the RCAFA Wing 424 (pictures) and the point near the boat launch in Lamoureux Park are two good places to start, especially if you have kids in tow.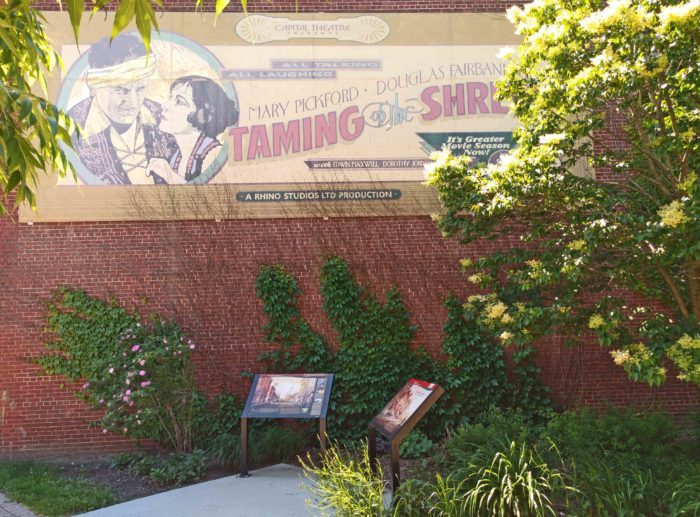 History at every turn
Cornwall's rich history comes to life in the Downtown area through a series of beautiful murals and heritage plaques that each tell an interesting tale from the city's past. The plaques are part of the Cornwall Historic Walking Tour, a project featuring over 40 different installations throughout the city. Each plaque jumps to life through the work of local artist Pierre Giroux. Make a day of it and explore the works around the Downtown – and save time to visit some of the amazing shops and restaurants!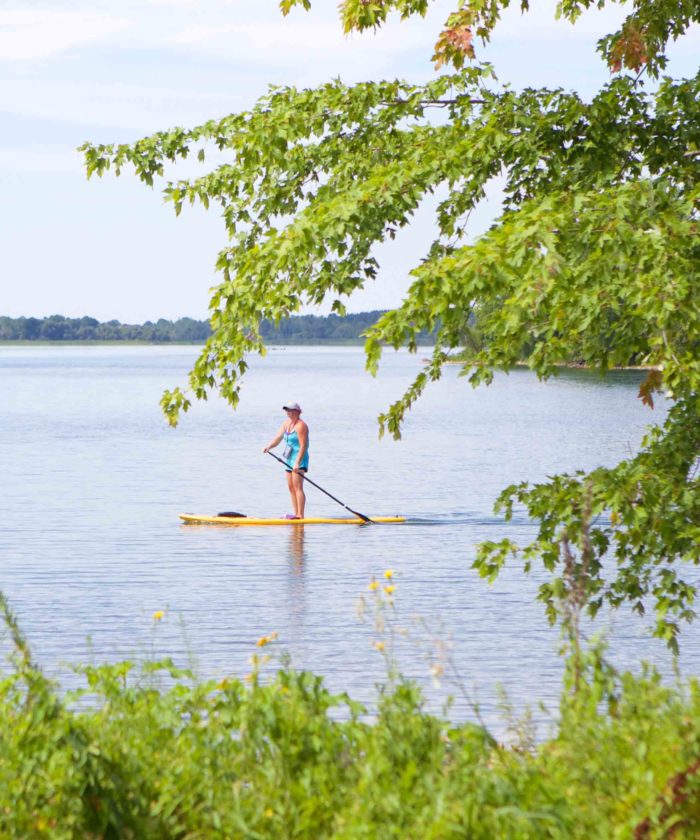 Get paddling
Let your sense of adventure be your guide as you explore the St. Lawrence on a paddle board. Play It Again Sports rents easy-to-carry paddle boards that you can use to explore the water in a whole new perspective! The boards are available for rent Thursdays, Fridays and Saturdays and each rental includes the board, paddle and pump, a safety pack, bag and a life jacket. Play It Again has other sports items for rent too but supplies are limited! Call 613-936-2020 for more information.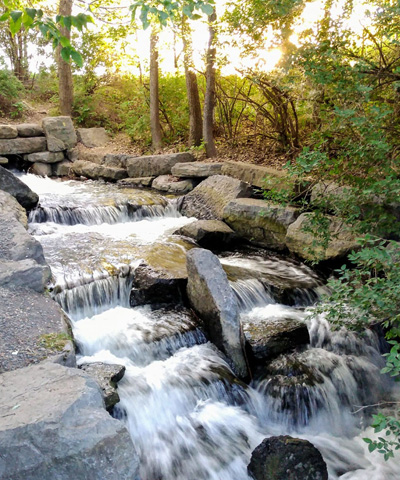 Photo-worthy parks
Looking for an Instagram-worthy backdrop? You'll find it in Lamoureux Park, Cornwall's showcase waterfront park with beautiful vistas of the St. Lawrence River, shady picnic areas, fun landmarks and attractions and so much more. It's also just steps away from the many great restaurants in Downtown Cornwall – a perfect place to enjoy a meal on the go. The Rotary Eco Gardens west of the boat launch, the bridge lookout and Marina 200 are just a few of the great photo-worthy locations in Lamoureux Park.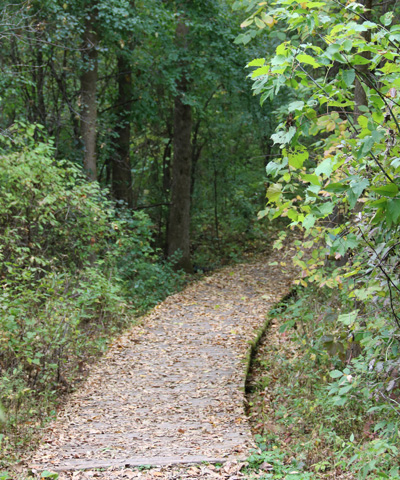 Into the wild
Gray's Creek Conservation Area offers a natural oasis on the eastern edge of Cornwall. There's over 6 kilometres of trails where you are sure to spot a variety of animals, songbirds, amphibians and waterfowl. Geocaches are also hidden within the trail system. Visitors can enjoy cycling, hiking and walking their pets both on the nature trails and the paved bike path. Please note the trails are open however the play structure and washrooms are currently closed in light of COVID-19.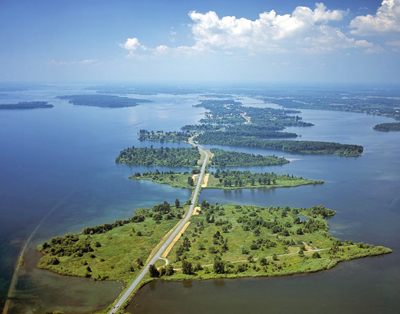 Ride the Parkway
The Long Sault Parkway is a magnificent piece of beauty and history wrapped up in one. This series of 11 islands – connected by a common causeway – were created from high points of land left after the flooding of the St. Lawrence as part of the massive Seaway and Hydro project of the 1950s. Today, it's a paradise for outdoor adventures, with amazing camping, beaches and so much more. At this time, due to COVID-19, the Parkway is only open to drive through traffic only. Day-use areas such as boat launches, beaches and picnic tables are still closed. However, visitors are allowed to walk, jog or cycle through – and trust us, it's worth the trip!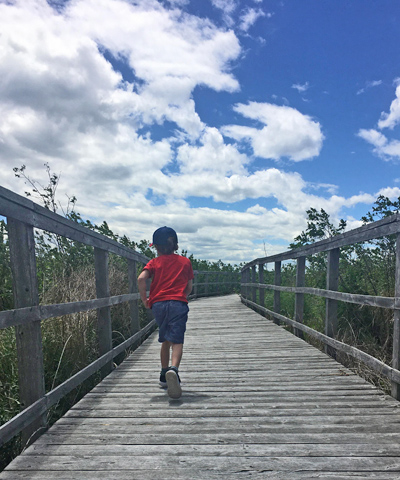 Savour the outdoors
Experience nature in a whole new way with a visit to Cooper Marsh Conservation Area. One of the most significant wetlands in all of Ontario, Cooper Marsh will immerse you and the family in nature and wildlife – and it will leave you wanting to return again and again. Follow the wetland boardwalks to explore the marsh and isolated ponds and climb the viewing platforms and visit the viewing blinds to enjoy more than 130 species of birds that call the marsh home. Leave plenty of time to savour the open air and big skies.
Article by Kevin Lajoie
www.CornwallTourism.com