THE LIST: Cornwall's pop-up vendor schedule
July 21, 2020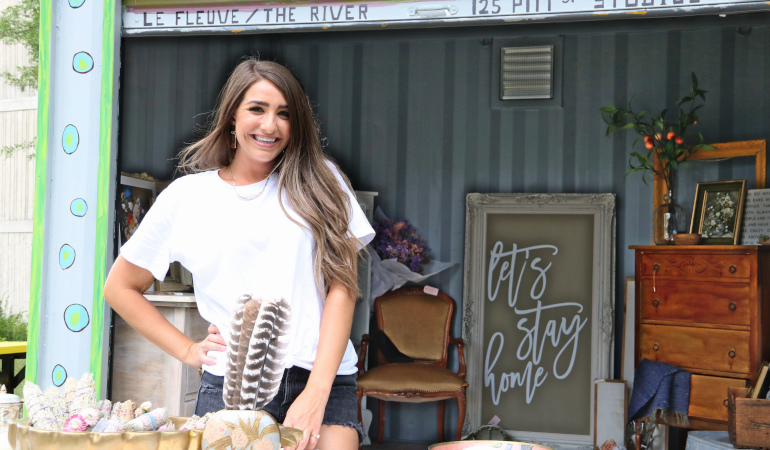 Cornwall is home to so many amazing artists and makers. From beautiful works of art to trendy fashion accessories and home decor items, these creative minds are adding a big stamp of originality and beauty to the city's cultural make-up.
With the new pop-up shops in Downtown Cornwall, the local arts and maker scenes have a brand new venue to showcase their talents and creations in person. You'll be seeing many of them pop up in the beautifully-decorated pods over the summer. The containers – named Le Fleuve, Kizis and Village Place – are located in the Cornwall Square parkette at the southwest corner of Pitt and First streets. The containers were beautifully painted by local artists, creating unique pieces of urban art that are worth a visit to see on their own!
To help guide you on Cornwall's pop up journey, we've put together a handy vendor schedule to help you plan your visit to the pop ups. And don't forget to pair it with a visit to the many amazing shops and restaurants just steps away in Downtown Cornwall and Cornwall Square!
Have fun shopping and exploring!
Play it safe!
We all have a part to play in combating the spread of COVID-19. Residents are encouraged to wear masks in indoor public spaces and practice frequent hand washing and physical distancing. For the latest guidelines and restrictions related to COVID-19, please visit the Eastern Ontario Health Unit website.
THE LIST
Please note dates and vendor appearances are subject to change. Vendors are continuing to book so this list will be regularly updated – make sure to check back often!
Last update: Thursday, October 1st
Interested in being a vendor? Click here for details!
Friday, October 2
Find out about health, wellness and social services for youth aged 12 – 25. Spin the wheel for prizes!
Friday, October 2
Out of the Woods features homemade wooden projects, coasters, door hangers and more!
Saturday, October 3
Hillam House & Quilling It @ Le Fleuve
Hillam House offers re-cycled, up-cycled, homemade and repurposed items into "new" items for home decor while Quilling It features handmade earrings created with real porcupine quills, leather and beads – a uniquely perfect statement piece.
Saturday, October 3
Children's Aid Society of Stormont, Dundas and Glengarry @ Village Place
Find out more about the important work that the CAS provides in our community.
Saturday, October 3 & Sunday, October 4
Happy Goth Creations offers beautiful handmade items using new and recycled materials!
Sunday, October 4
Soft Play & Empathy Dolls @ Le Fleuve
Check out some beautiful dolls that are made with 100 % organic cotton and polyester.
Monday, October 5
Stop by to learn more about this important organization and the services it provides as part of Alliance Health and Wellbeing Week from October 5th – 9th.
---
#exploreCornwallON
Looking for other fun things to do in Cornwall? Check out the Explore section of our website for other fun-filled activities to keep you busy. Better yet, consider extending your stay with a night at one of our great accommodations!

Article by Kevin Lajoie
www.CornwallTourism.com