THE LIST: Local reads to enjoy during the lockdown
January 16, 2021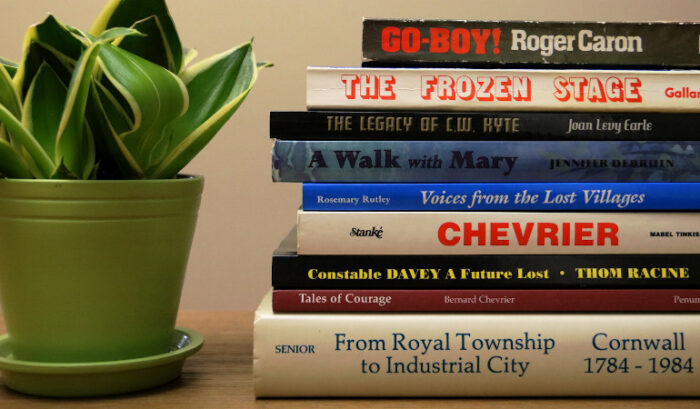 The stay-at-home emergency orders mean we're all spending more time in our own quarters. Many are using that extra time in their cozy confines to discover – or rediscover – the joy of reading. And for good reason.
There's nothing like getting lost in a good book, when each turn of the page brings new thoughts and ideas to fill the mind and replace the usual worries of the day – even for a brief period.
For those bookworms who may want to add some local content to their reading list, there's certainly no shortage of options.
From fiction to non-fiction, famous titles to hidden gems, Cornwall and area has an extensive offering of local authors and books for readers to enjoy.
Case in point – there are more than 60 books by local authors available to borrow right now from the Cornwall Public Library! And borrowing has never been easier. Simply reserve your books at the Cornwall Public Library website and library staff will contact you to set up a time for you to pick up your items.
If you prefer to buy your books, you will find great selections at both Red Cart Books on Pitt Street and Coles in the Cornwall Square. Coles is currently closed and Red Cart is operating with reduced services due to the lockdown however be sure to keep an eye on their Facebook pages (Coles and Red Cart Books) for updates.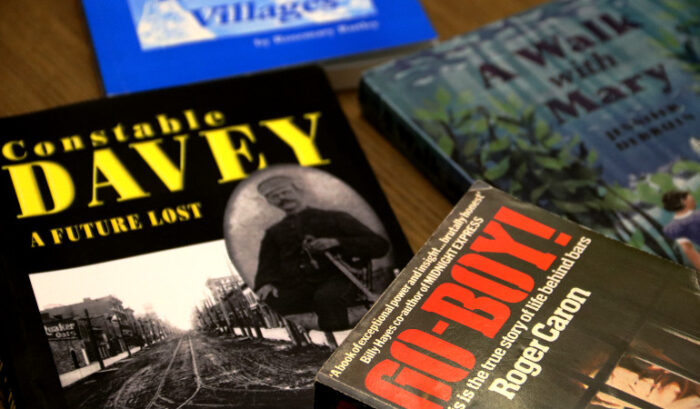 THE LIST
With the help of Sonja Irving, Head of Circulation at the Library, we've put together a list of local authors and books that are sure to entertain and inform. You'll find everything from Canadian classics and award-winning reads to stories rich in local history and culture.
Happy reading!
Ian Bowering
Learn more about Cornwall's past with one of the selections from local historian and author Ian Bowering. Books like Cornwall Scrapbook, Cornwall: From Factory Town to Seaway City and The Living River: Secrets of the St. Lawrence give readers a unique glimpse into the settlement and development of our fair city, from its origins as a Loyalist settlement to its emergence as an industrial centre and beyond.
Roger Caron
Cornwall native Roger Caron had spent over 20 years in prison when he decided to pen the influential prison memoir Go-Boy! The book was awarded the 1978 Governor General's Award for non-fiction and was widely praised for its insights into prison life. It went on to sell more than 600,000 copies. Caron, who passed away in 2012, followed it up with Bingo!, another behind-the-bars memoir detailing the 1971 Kingston Penitentiary riot, the most violent prison riot in Canadian history – and one he lived through. He filled out his writing resume with Jojo, his only work of fiction.
Doug Carpenter
For local sports fans, there's few names more common than Doug Carpenter. The local hockey player turned coach led the Cornwall Royals to the 1980 Memorial Cup before moving up the coaching ladder to coach in the NHL for the famed Toronto Maple Leafs. His amazing hockey travels were detailed in a 2016 memoir A Royal Career: Conversations with Doug Carpenter. It's a must-read for any local hockey fan.
Bernard Chevrier
A member of Cornwall's famed Chevrier family, Bernard Chevrier has written a number of books detailing key figures and aspects of Cornwall's past, from his father Lionel – a key architect of the massive St. Lawrence Seaway project of the 1950s – to the growth and evolution of Cornwall's francophone community. Tales of Courage: Stories from Eastern Ontario's Remarkable Past is a great place to start. The book provides well-researched vignettes of key local figures like the explorer Simon Fraser and John Sandfield Macdonald, Ontario's first Premier.
Ralph Connor
Born in 1860 in Glengarry Country, the Rev. Charles William Gordon went on to become one of Canada's best-known novelists using the pen name Ralph Connor. His second novel, The Sky Pilot, gained him international attention in 1899 and he went on to publish dozens of novels, selling millions of copies combined. Books like The Man from Glengarry and Glengarry School Days continue to be inspirational reads – and a fierce source of Glengarry pride – to this day.
Jennifer DeBruin
Cornwall native Jennifer DeBruin combines her passion and experience in writing, education, history and genealogy to write fact-based historical fiction that puts a human story to our rich ancestral roots. Her books, Daughter of Conflict, Shadows in the Tree and A Walk with Mary share rich characters and plots set against historic backdrops like the American Revolution, Loyalist resettlement and the Lost Villages.
Ginette Guy
With Unforgotten: Mary Mack, Cornwall's First Lady, Ginette Guy takes readers on a trip back in time and brings to life the story of one of Cornwall's most remarkable citizens. A world traveller, artist and the first female to be elected to Cornwall City Council, Mary Mack made an indelible mark on the city that is felt even to this day. The extensively-researched book shows just how far-reaching Mack's impact on Cornwall was – from the arts and social development to politics, industry, heritage and beyond.
Erin Lee
Teacher Erin Lee is the writer and illustrator behind Maggie the Magnificent, a story about a child who uses her not-quite-perfect magic tricks to win over classmates at her new school. Despite some challenges, Maggie's efforts result in a magical ending. It's a book for children but the message is sure to resonate with adults as well. The new release will be in circulation at the library in the near future and it can also be purchased locally at Kids Korner and Love and Lee. Check out her Facebook page for more info on the book.
Leah Lindeman
Leah Lindeman's dream was to become a surgeon until the calling of words grew within her. She's the author of Redeemed From the Ashes, Wisps of Gold, Ghost of My Heart, and Scathed Bones. The first two form part of her ambitious Canadian Reminiscence Series, a project to publish 13 novels – each one set during a certain historical period in each province and territory of Canada. Redeemed From the Ashes is steeped in the aftermath of the Halifax Explosion of 1917 while Wisps of Gold follows the trail of murder and intrigue during the Cariboo Goldrush of 1871.
Thom Racine
Retired Cornwall police officer Thom Racine didn't venture far from his work world to find the inspiration for his first literary effort. Constable Davey: Future Lost takes the reader through the tragic events of September 6, 1892 when Cornwall Constable Robert Davey's life was tragically cut short. His second effort was equally personal for Racine. Moe the Toe: Never my Dream is a memoir of his father Moe Racine's incredible journey from Cornwall to superstar and Grey Cup champion with the Ottawa Rough Riders.
Michael V. Smith
Michael V. Smith was nominated for the Books in Canada First Novel Award in 2002 for his original debut novel Cumberland, which tells the story of a group of individuals coming together in a small industrial city facing hard times. Now living in Kelowna, the Cornwall native had a second novel released in 2011, Progress, in addition to several poetry books and a memoir, My Body is Yours.
Maggie Wheeler
Known as the Seaway Valley's Queen of Crime, Maggie Wheeler is the author of the best-selling Lost Villages historical murder mystery series which has garnered a nomination for the Ontario Premier's Awards for the Arts. Her work showcases the tremendous social, cultural and psychological impact of the St. Lawrence Seaway and Power Project of the 1950s, a project which transformed the face of the Cornwall region and led to the inundation of several communities west of the City (known as the Lost Villages). Her books A Violent End, The Brother of Sleep, All Mortall Things, On a Darkling Plain and All My Worldly Goods have been passionately consumed by a devout legion of followers.
Melissa Yi
By day, Dr. Melissa Yuan-Innes is an emergency physician. Outside the hospital, she's Melissa Yi, an award-winning writer who has been recognized by Maclean's, CTV, CBC and other media outlets. Her 2017 release Human Remains was selected as one of the great must-read mysteries of the summer by Canada's national book show, CBC Radio's The Next Chapter, while her latest work, The Sin Eaters, was an Arthur Ellis Award finalist. Her series of medical thrillers are guaranteed to keep readers on the edge with each subsequent chapter.
Other local authors
Robert Alvo
Being a bird in North America, north of Mexico (Volume 1)
Kyle Arsenault
Valthorn's Quest
J.T. Alan Bain
The Kimberlite Adventure: the Search for Larsen's Gold
Debra-Lynn Bellefeuille
One cup at a time: finding coffee, love and happiness
Lindsay Below
Lurkers
Jessie G. Boyd
Still Kicking, but Not as High
Bernard Brunet
Mon Miracle
Angie Dilaj
Apple Cores
Dwight Dugas
Empire of Magnus: Memories of the Mongrel King
G.P. Gadbois
Caught Between Worlds
Stephen Gill
For a Peaceful Future
The Coexistence: A Novel
John Gleed
Earth's New Beginning: the Sleeping Death Contagion
K.M. Greffe
Between Wrong and Right
Wendy Louise Huggins
Two Trails of a Rainbow: Poetry
Katalin Kennedy
The Women Gather
Guylaine Knupp
By My Window
Annette Labelle / Annette Walker
The Unknown Truth
Converge
Guy Lauzon
From Lawbreaker to Lawmaker
Robert Leroux
Dead in the Water
Murder in the Glen
Roger Levac
L'affaire Pluche
Joan Levy-Earle
Jack's Farm
Susanne Matthews
Hello Again
June Gibson Mody
Life, Love & Laughter
Suzanne Mondoux
How I Became a Dragon
Lynne Pagé
The Maiden and the Unicorn
Paul Prud'Homme
Kosovo – et l'amour
Apolline
Gilles Renaud
Speaking to Sentence: A Practical Guide
Suada
Qadi al-Fadil: the Eminent Judge
Steve Thompson
Master of the Erik
Watchers, Moles and Assassins
Richard Claude Valdez
Aperture
East of Goodbye
Play it safe!
We all have a part to play in combating the spread of COVID-19. Residents are encouraged to wear masks in indoor public spaces and practice frequent hand washing and physical distancing. For the latest guidelines and restrictions related to COVID-19, please visit the Eastern Ontario Health Unit website.
#exploreCornwallON
Looking for other fun things to do in Cornwall? Check out the Explore section of our website for other fun-filled activities to keep you busy. Better yet, consider extending your stay with a night at one of our great accommodations!
Article by Kevin Lajoie
www.CornwallTourism.com