The pipes are calling everyone to Glengarry
July 13, 2023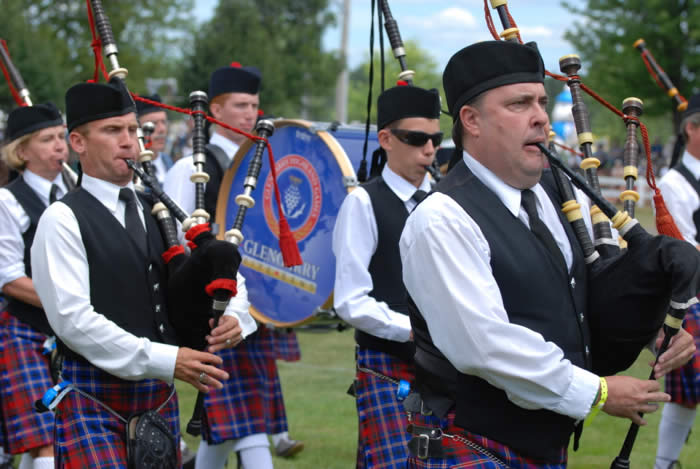 Across North America, pipe bands are preparing for their trek to Maxville and the Glengarry Highland Games this August 4 and 5. The Games are home to the North American Pipe Band Championships™ and this year the competition brings together three previous champions to vie for that prestigious title leading up to the World's Championship in Glasgow, Scotland. Travelling from Florida is the City of Dunedin Pipe Band, winners in 2019, the 78th Fraser Highlanders from Burlington, Ontario (2022) and the 78th Highlanders (Halifax Citadel) from Halifax, NS (2014). Pipe band fans will be well entertained as these three fight it out for top spot. Matt Goral, Director of Pipe Bands is thrilled to announce that 42 pipe bands will compete this year with 32 bands from Ontario, New Brunswick and Nova Scotia and 10 bands from New York, New Jersey, Vermont, and Connecticut. There are several new bands coming to Glengarry this year to add an interesting mix to the competitions.
The Grades 1, 2, 3, 4 and 5 Band Competitions will take place on Saturday, August 5, 2023. On Friday, the amateur solo piping and drumming competitions are held and then on Saturday, it's the turn of the professional solo and drumming as well as the tenor and bass drum contests. Full details are available on the Pipers and Pipe Band Society of Ontario (PPBSO) website. Massed pipe bands performances on Saturday will be held at 1:00 p.m. and then the grand finale occurs at 6:00 p.m. when results are announced and awards are presented. The massed bands performance on Saturday evening will be an awesome sight as 1200 pipers and drummers play and march in unison across the infield. The sound and the sight of the massed bands is one of those moments that cannot be replicated or forgotten.
For a different style of piping, take in the Piobaireached (pronounced "Peebrock"). This is the music of pipers who summoned the clans to battle, celebrated sweet victory and terrible loss, commemorated murder and lamented the deaths of their chiefs and heroes. The Piobaireachd Society Gold Medal (Canada) competition draws the best pipers from Canada, the United States and abroad and has become one of the premier solo-piping contests in North America. The Amateur solo competitons take place on Friday with the Professionals on Saturday and are held in churches in downtown Maxville.
While pipe bands and piping are what the Games are known for there is much more to entertain visitors over the two days of the Games. Certainly this year, the RCMP will be front and centre during the Games as they mark the 150th anniversary of the force. There will be lots of opportunities to see the famous red serge uniform as the Mounties take part in activities throughout the Games.
All this plus thrilling heavyweights events, highland dancing, Scottish fiddling, the Kilt Run, the Highland Regiment Tug of War, the Wee Bairns area and the finest in celtic music fill out two days of all things Scottish. It's just a wee taste of Scotland packed into two full days of traditional Scottish events. Admission is $30 per day and children under 12 are free. Parking is free and the site is accessible for all. Please leave your pets at home.
See you at the Games on August 4 & 5. Full details on the Games website (GlengarryHighlandGames.com) and for updates, check Facebook and Instagram.
#exploreCornwallON
Looking for other fun things to do in Cornwall? Check out the Explore section of our website for other fun-filled activities to keep you busy. Better yet, consider extending your stay with a night at one of our great accommodations!
Got a question?
Got questions? Need recommendations? We're here to help! Call or text us at 613-938-4748 or email us at info@cornwalltourism.com and we'll be pleased to help you with any questions you may have!
Also make sure to check us out on Facebook and Instagram for updates and more great reasons to visit Cornwall!