The Price is Right Live is coming to Cornwall
February 10, 2023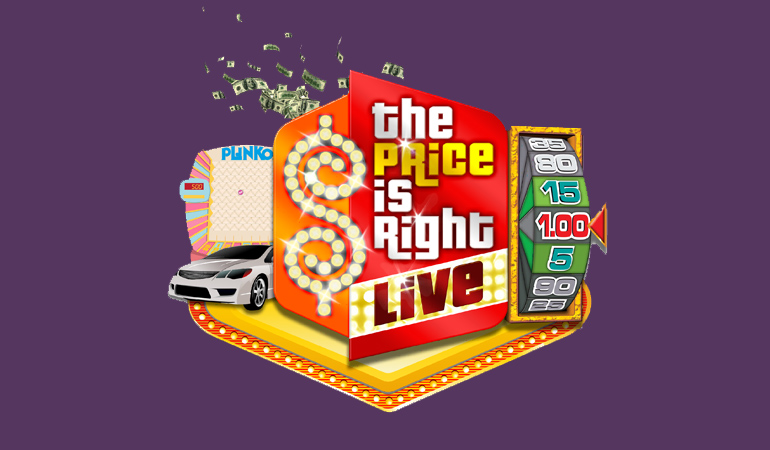 The Cornwall Civic Complex will play host to The Price is Right Live stage show on Tuesday, October 10th at 7:30 pm. Doors will open at 7 pm. Come on down to the Ed Lumley Arena and see the world's most popular game show, just like on TV!
Tickets for the October 10th event are priced on the floor at $76.50 and tickets in the stands are $66.50 or $56.50 each. Tickets go on sale Tuesday, February 14th at 10 am. They can be purchased online at www.ticketpro.ca or by phone at 1-888-655-9090. Tickets can also be purchased in person at the City of Cornwall Box Office (at the Aquatic Centre) or by phone at 613-938-9400.
The Price Is Right Live is the hit interactive stage show that gives eligible individuals the chance to "Come On Down" and play classic games from television's longest running and most popular game show. Contestants can win cash, appliances, vacations and possibly even a new car by playing favorites like Plinko, Cliffhangers, The Big Wheel and the fabulous Showcase.
Playing to near sold out audiences for more than ten years, The Price Is Right Live has given away over 12 million dollars in cash and prizes to lucky audience members all across North America.
The Price is Right is the longest running game show in television history and loved by generations of viewers This on-stage travelling version gives fans the chance to experience the same fun and winning excitement up close and in-person.
Be a contestant!
To be a contestant on the The Price Is Right Live stage show, only a simple check-in will be required starting at 4 pm and ending at 7 pm in Salons ABC at the Civic Complex on show day. There, Cornwall Optimist Club Volunteers will ask you for your name, birth date, email address, country of residence, and you must show a valid government issued photo identification. You can register only once, and you must be 19 years of age and older.
Sponsorship opportunities
For the first time ever, sponsorship opportunities are also available for the show to create community goodwill. For the $500 package, businesses will receive their logo on the arena clock during the show and tickets at the value of the sponsorship. Call Janice Robinson at 613-930-2787 ext. 2543 for more details. A very special thank you Weaving Baskets Group and the Foot and Ankle Clinic for choosing a sponsor package to showcase their goods and services.
The Price Is Right is produced by FremantleMedia North America and licensed by FremantleMedia.
Additional information
Want to play? No purchase necessary. To enter the arena to watch the show a ticket purchase is required. Ticket purchase will not increase your chances of being selected to play. Odds of being selected are based on number of registrants. For an opportunity to be selected as a contestant guests must register in accordance with the following: in person on the day of the show, Tuesday, October 10th, in Salon ABC from 4 pm to 7 pm. Contestants will be selected in a random draw. Must be 19 years or older to register. Residents of Quebec, and Puerto Rico are ineligible to participate as contestants. Approximate number of prizes available per show: 60.
Approximate potential retail value of prizing per show: US $36,000. All potential winners will be required to correctly answer a time mathematical skill-testing question. Subject to all federal, state, provincial and local laws. Void where prohibited. For complete show rules visit the Box Office at the Cornwall Aquatic Centre or the Benson Centre. Price is Right Live is a trademark of FremantleMedia Operations BV. © 2017 FremantleMedia North America. All Rights Reserved.
About Cornwall Civic Complex
Situated in scenic Lamoureux Park on the banks of the St. Lawrence River, the Cornwall Civic Complex is a highly versatile and modern facility. The heart of the Civic Complex is the Ed Lumley Arena, a modern ice rink that boasts seating for up to 5,800 people for concerts and special events.
The Civic Complex has hosted a number of special events such as Cirque du Soleil – Axel, the 2022 World Junior A Challenge, the RBC Cup National Junior A Hockey Championship and concerts by Nickelback, Great Big Sea, Alice Cooper and Blue Rodeo to name just a few.
#ExploreCornwallON
Looking for other fun things to do in Cornwall? Check out the Explore section of our website for other fun-filled activities to keep you busy. Better yet, consider extending your stay with a night at one of our great accommodations!
Got a question?
Got questions? Need recommendations? We're here to help! Call or text us at 613-938-4748 or email us at info@cornwalltourism.com and we'll be pleased to help you with any questions you may have!
Also make sure to check us out on Facebook and Instagram for updates and more great reasons to visit Cornwall!