The Sound of Music takes centre stage at Aultsville Theatre
February 2, 2023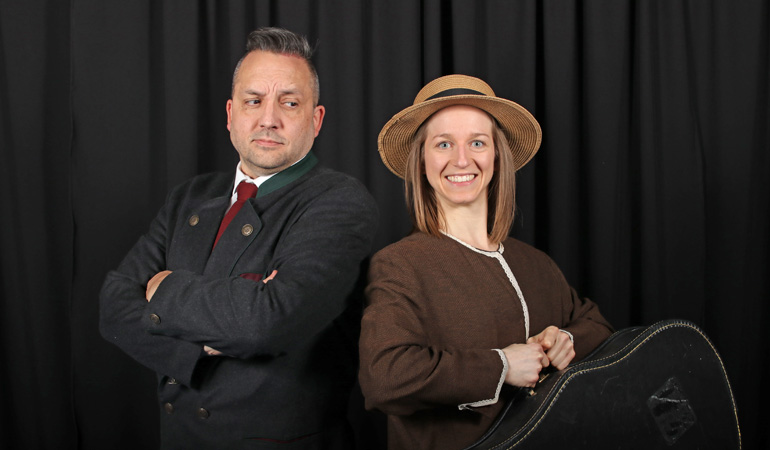 Cornwall's beautiful Aultsville Theatre will be filled with The Sound of Music this month as the Seaway Valley Theatre Company presents the beloved musical for all to enjoy.
Featuring a trove of cherished songs, The Sound of Music has won the hearts of audiences worldwide, earning five Tony Awards and five Oscars. The inspirational story follows a cheerful aspiring nun who serves as governess to the seven children of the imperious Captain von Trapp, bringing music and joy to the household. But as the forces of Nazism take hold of Austria, Maria and the entire von Trapp family must make a moral decision.
For the Seaway Valley Theatre Company, it marks the first major show at Aultsville Theatre since the pandemic – and it's been a long time coming. The group had actually started auditions and work back in 2021 but complications with dates and Covid-19 forced a pause. Most of the cast returned for the restart together with some new faces, and they have been rehearsing since the fall.
"We wanted to make sure (the production) was something that was recognizable to everyone," said Director Corey Disotell of the theatre company's return to the Aultsville stage. "Definitely, The Sound of Music fits that bill. It's a show that's well known, it's been around for a long time and it's one of those classics that everyone loves."
Disotell said the musical's appeal grew even larger following its re-release with singer Carrie Underwood several years ago.
"It kind of brought it back to life to a newer generation (of fans)," he added.
For their part, Disotell and company are pulling out all the stops to bring the musical to life on the Aultsville Theatre stage. Together with Musical Director Elizabeth Caddell, Choreographer Amanda Marini-Rohde and Producers Christiane Taylor and Shirley Robertson, Disotell and his cast of 35 are set to thrill crowds with a show that includes a wide variety of song and dance, an orchestra, special lighting and sound effects and much more.
"It's a powerful and angelic mix and everything is live performance," the Director said. "I couldn't have asked for a better cast."
Show dates
The Sound of Music will have five evening presentations – February 17, 18, 23, 24 and 25 – at 7:30 pm along with two matinees, on February 19 and Family Day February 20, beginning at 1:30 pm.
Ticket information
​Advance tickets are now available online via the Seaway Valley Theatre Company website or by phone at 613-933-3998. They will also be available at the door from one hour before curtain time.
​The Aultsville Theatre is wheelchair accessible. If you require wheelchair seating, please contact Seaway Valley Theatre directly by phone (613-933-3998).
​It is strongly recommended that you buy tickets in advance and get them early to avoid disappointment. All sales are final; no refunds or exchanges.
Additional information
For additional information on Seaway Valley Theatre's presentation of The Sound of Music, please click here.
#ExploreCornwallON
Looking for other fun things to do in Cornwall? Check out the Explore section of our website for other fun-filled activities to keep you busy or check out our Event Calendar to find out about upcoming festivals and events in the community.
Got a question?
Got questions? Need recommendations? We're here to help! Call or text us at 613-938-4748 or email us at info@cornwalltourism.com and we'll be pleased to help you with any questions you may have!
Also make sure to check us out on Facebook and Instagram for updates and more great reasons to visit Cornwall!